FAD magazine spoke to freelance journalist Alice Johnston about what it takes to break into the London media scene. We first met Alice when she was running the PR campaign for Instagram darling Sarah Bahbah's first London solo show, and since then has continued to rack up impressive experience and bylines across media and culture.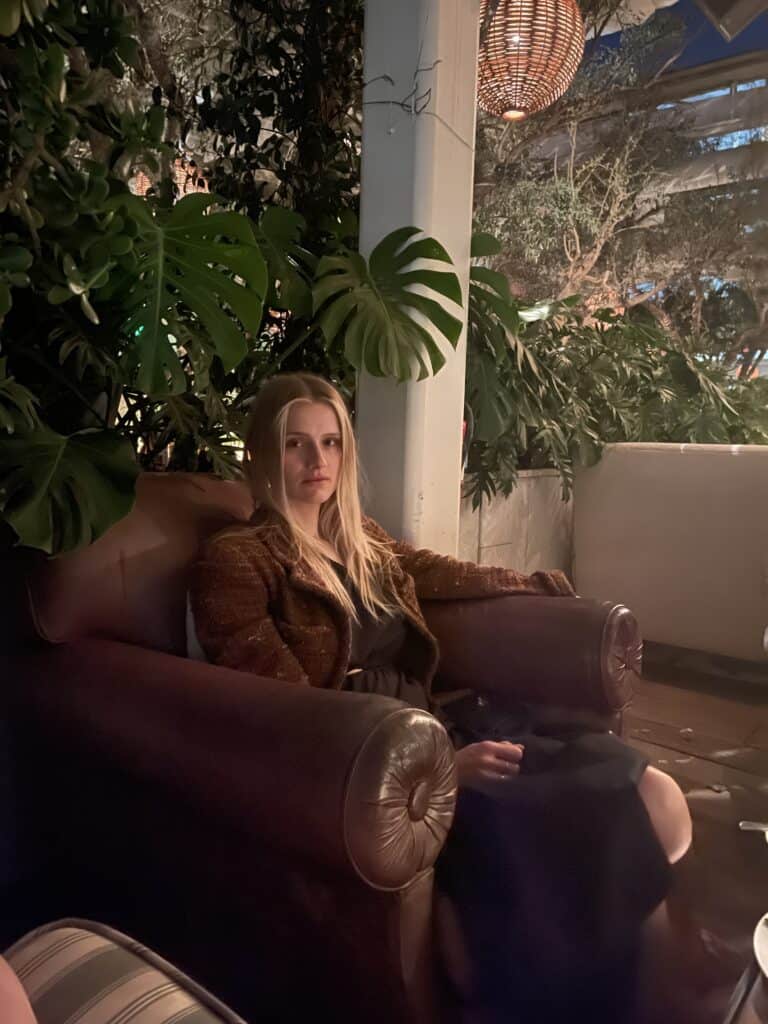 Tell me about yourself. Who are some of your favourite young contemporary artists?
I live in Notting Hill in London. Apart from writing, editing and social media and content management, I love reading, travelling, cooking and the occasional hip hop night at the Old Queens Head in Angel. I'm also big into surfing.
Kate Pincus-Whitney is probably my favourite emerging painter at the moment. She has been smashing it since graduating from RISD in 2020 and I'm fortunate enough to have been to her studio and really soaked up her vibe. I'm also a big fan of Alison McKenzie. She works with paper cutouts and I have one of her playful, bright pieces in my living room.
How did you get started?
I first became obsessed with journalism as a teenager when I started reading The Guardian cover to cover every weekend. After reading English at Bristol, doing a ton of local journalism internships and pitching anyone and everyone I could track down, I did the Newspaper Journalism MA at City University London. Two weeks after graduation I was working at the Daily Mail. Let's just say that two years of working in Northcliffe House prepares you for anything.
What are some of your career highlights?
Interviewing Sarah Jessica Parker for the Mail was definitely a big one. We have a photo together that is a bit cringy if I'm honest, but still adorable.
I'm very proud of some of the longreads I wrote as the Food Editor at Culture Trip. My favourite interview was speaking to Asma Khan at her restaurant the Darjeeling Express in London. She employs only women in her kitchen – such a rarity in the industry – and her Chef's Table episode on Netflix is inspiring.
At Culture Trip I also wrote for and was on the founding team of their award-winning food series Hungerlust, which was an incredible opportunity and so much fun to boot. We spoke to fascinating people all over the world about their country's unique food traditions. The series was honoured with Lovie Awards, Muse Creative Awards and Telly Awards, which are all great achievements in the industry.
The eight years that I've been a journalist, I've had the privilege of working for The Guardian, Metro.co.uk, CNN, Business Insider and Hearst Magazines, to name but a few. It can be a hard industry to make it in, but seeing my bylines in the publications I read as a kid is truly a dream come true.
Going freelance was also a huge milestone. I had been working towards it for a couple of years, and the freedom of being able to make my own schedule and work with so many clients and editors at once is very rewarding.
Any advice for young would-be journalists?
Hard work and dedication, if I'm honest. The industry can be tough and biased, and making it takes time, patience and a lot of graft – but I think it's worth it.
Don't be afraid to widen your scope of interest when considering what and where you want to work. Some of my favourite jobs have come not from traditional media outlets but smaller or more niche artists and individuals. There are lots of ways to be a journalist, and you can't know what you love until you try it.
I really recommend that all students see if their university has a mentoring programme that matches students with alumni in their prospective career field. I've been a mentor on a programme like this for the University of Bristol for a few years now, and I think talking to someone who is where you hope to be in a few years time is a great resource.
Categories
Tags