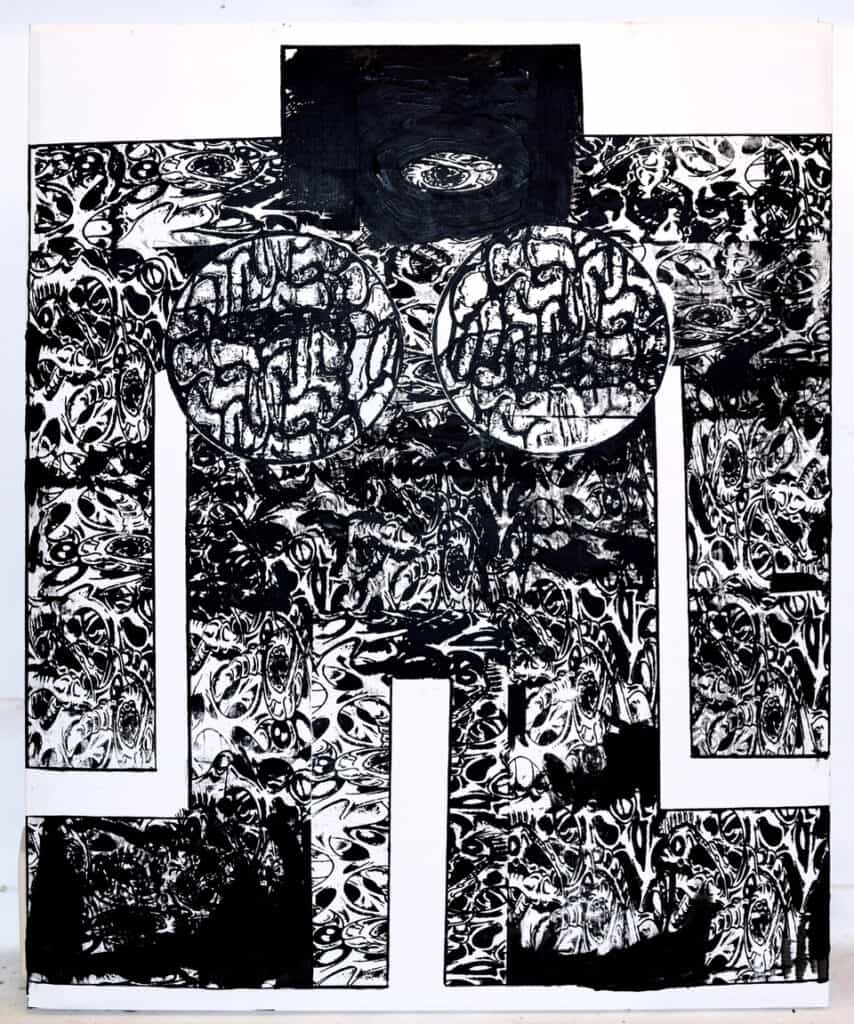 In this expansive exhibition, Daniel David Freeman magnifies his approach to collage and embellishment through studious exploration into the prophetic world of biomech.
Biomechanical art (also called Biomech) is a surrealistic style of art that combines elements of machines with organics. Rendered with distinct realism, biomechanical art expresses an internal fantasy world, most typically represented with human or animal anatomy where bones and joints are replaced with metal pistons and gears, but infused with muscles and tendons. Biomechanical art was popularised in 1979 when Swiss artist H.R. Giger designed the alien creatures in the 1979 feature film Alien.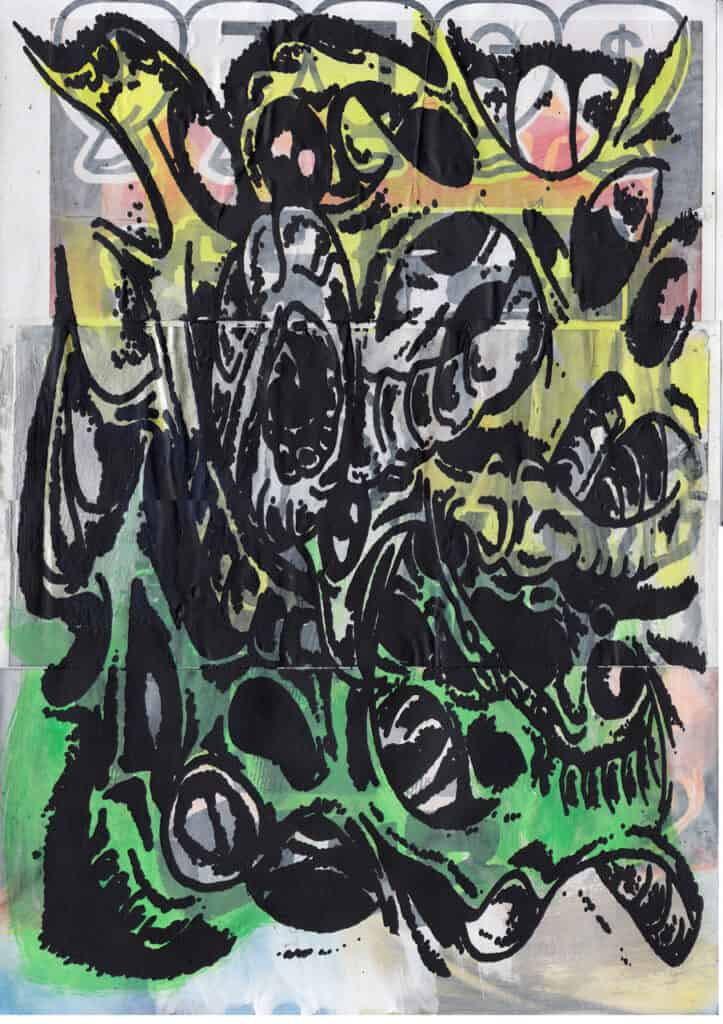 In addition, Giger's colossal influence on the world of tattooing sparked a unique Biomech tradition – starting in the 1980s and now considered classic in its own right. Today the majority of online biomechanical art resides on fantasy and sci-fi community website Deviantart; arguably the largest hub for self-taught artists on the internet. These two facts confidently signalling Biomech as the perfect folk and outsider art for our technological times. 
Having always been predominantly influenced by image-making outside of the gallery yet always looking for a way in – the illustrative worlds of biomech offered DDF the perfect transcendence. By employing this overlooked yet ever-present genre Freeman has championed his passion for sci-fi through a neo-futurist painting practice. Hence: "BIOMECH CHANGED MY LIFE." The work endeavours to employ collage as an overall practice as opposed to just a mark-making process. By embellishing carefully sourced materials the work poses vital questions on ownership in a time where the found has become so universal. Does the appeal lie within the familiarity of the graphics or the unique selection of them or perhaps what even is the role of a graphic artist in these standardly derivative times?  
The part Cronenberg, part Giger, part William Gibson inspired graphics appear on numerous collections of printed matter, garments and canvas as various mutations of a singular image across dimensions. Also heavily influenced by the futurist sculptures of Boccioni his abstractions challenge the viewer in identifying humanity within the aggressively surreal.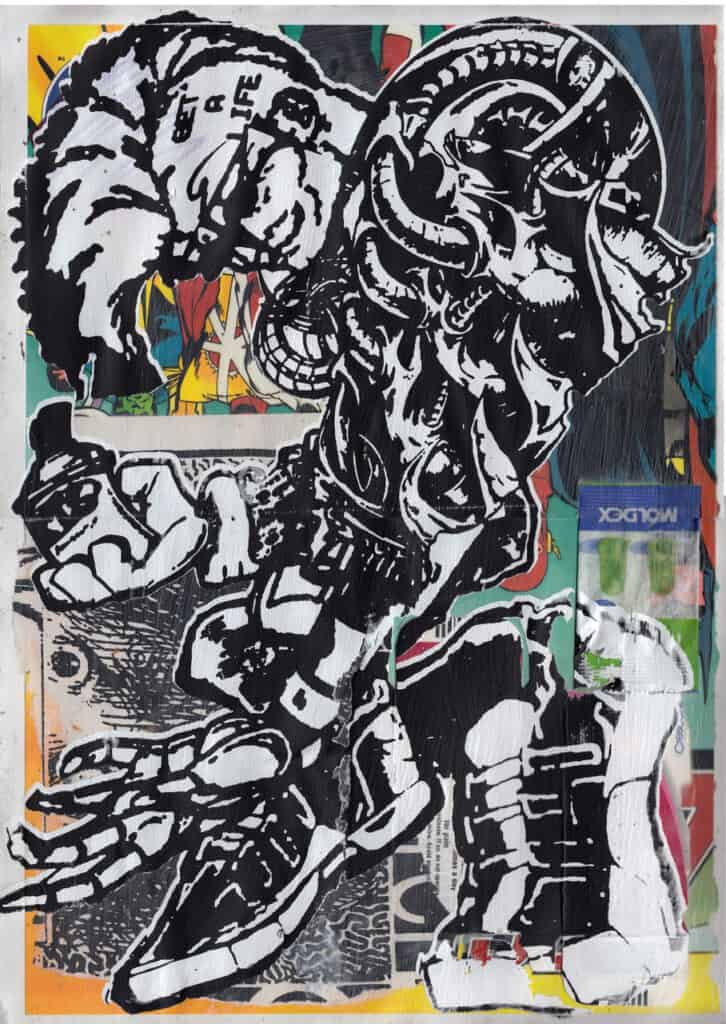 Although DDF's DIY vision is steeped in nostalgic traditions of hardcore punk his imagination is always on the future. Therefore the other exciting focus of the show is how 2d illustration can creatively infiltrate the endless capacity of contemporary digital art. The recent catapulting of online exhibitions to the mainstream makes this the perfect time to experiment in real life vs the digital. By collaboratively illustrating the work of digital creatives DDF has been able to stamp his claim on new 3d worlds. By enlisting talented designers who have worked on anything from visuals for the Prometheus movie all the way to digital clothing his imagery has reached a new fascinating and future-focused potential.
ARTISTS
Daniel David Freeman (DDF) & Sam Coldy, Jesse Pimenta, Patrick Savile, Sara-Lovise Ewertson, Jack Sachs Will Samuel
BIOMECH  CHANGED MY LIFE  DDF + Friends 10/02/2022 – 20/02/2022
At GALLERY 46  Private View 10/02/2022 6PM-11PM  RSVP
PRESENTED BY FAD bazaar
Categories
Tags