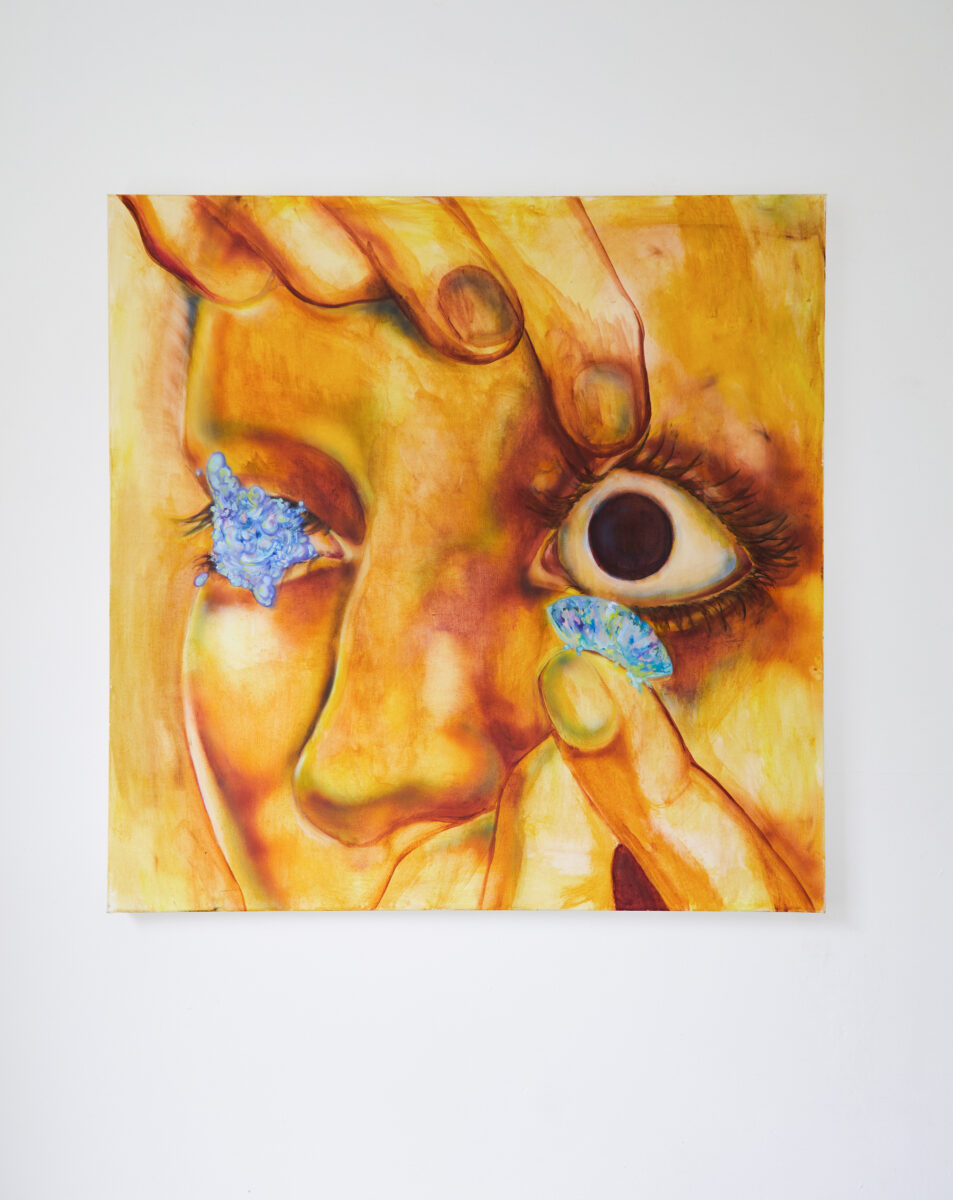 Don't Write Our Names In Red showcases the work of Izu Chung with supporting artwork from their sibling Matthew Chung. The duality in both their work unfolds a new and hybrid form of identity with aesthetics and cultural influences from the East and West. The showcase welcomes you into a discovery about ownership of the self by taking a closer look at the canvas, at the eyes that stare back. 
'Don't write our names in red' stems from a Korean cultural taboo. Writing one's name in red is traditionally believed to indicate death and is associated with the ending cycle of life.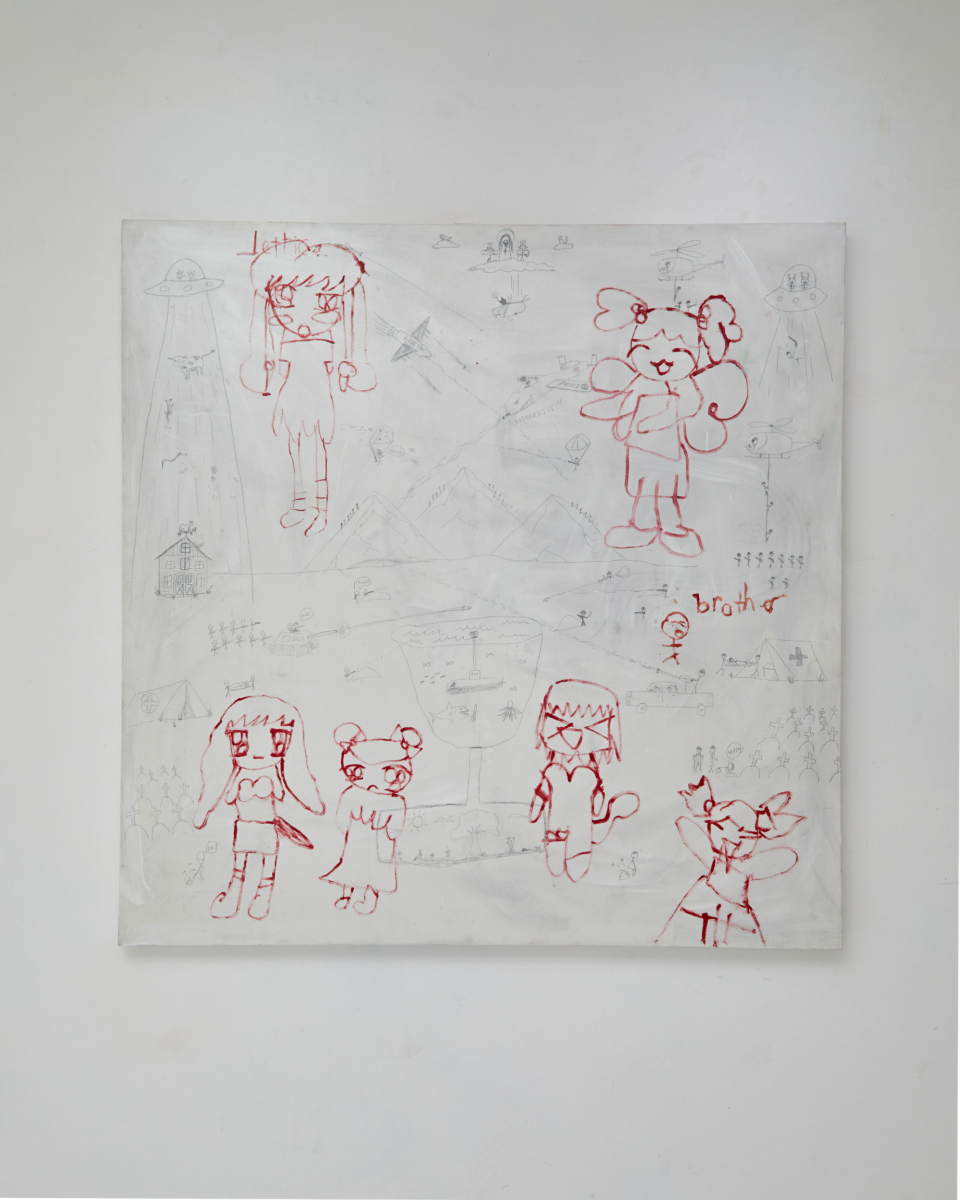 Our mother is a very anxious and superstitious person and said never ever to write names in red, but I always did secretly because red was my favourite colour. Korean superstitions were never in my favour…but I thought it didn't apply to me because I was never given a real Korean name.

Izu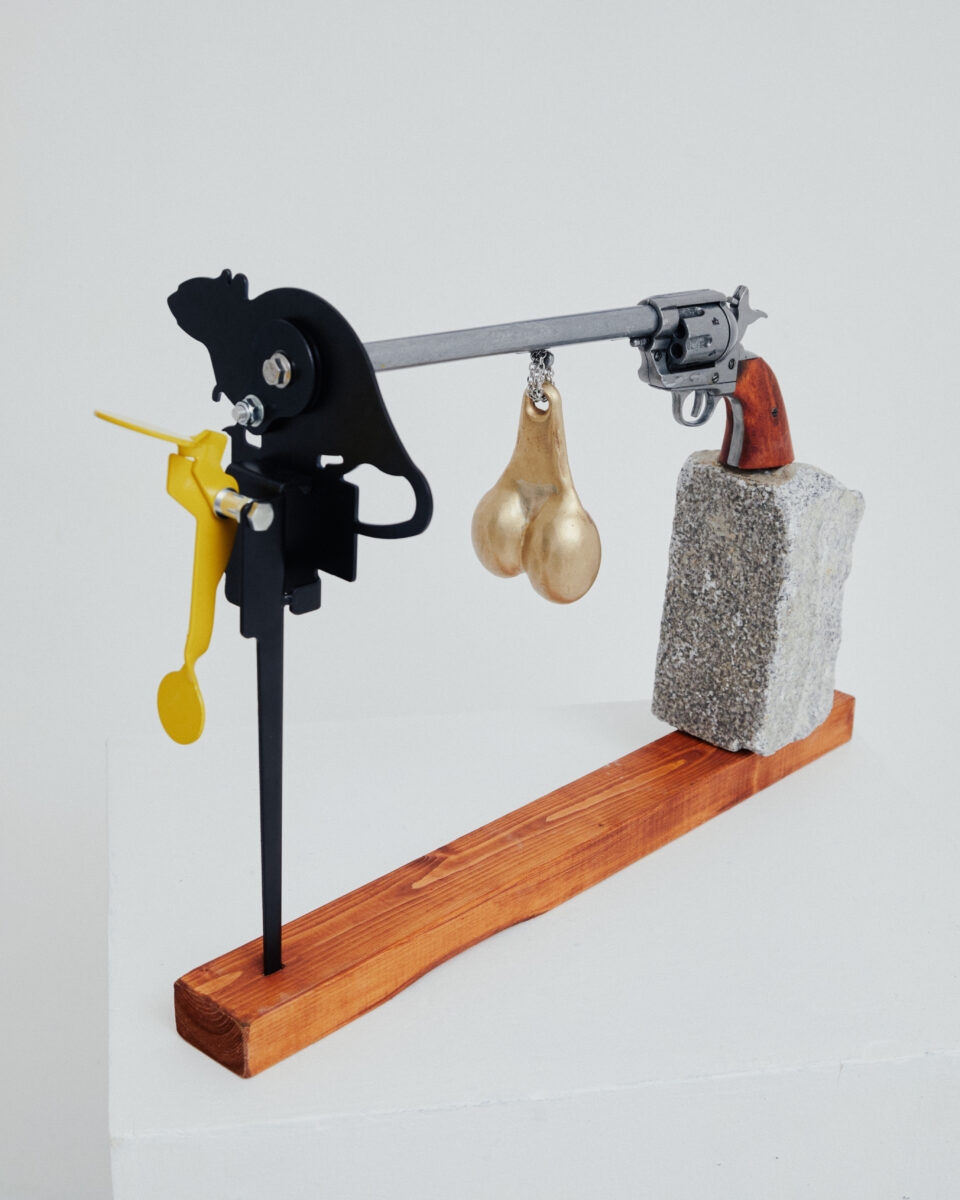 Foreign Object in collaboration with Gallery46 invites you, the audience, to weave, tangle and untangle yourself amongst the mysterious and complex nature of the self. To tie and tear the layered identity in both internal and external worlds by assimilating to the polarities around. The Self as a distortion, an amalgamation of happenings and a longing to belong. Having grown up in the US as the children of a Korean immigrant family and navigating the Western landscape, Izu and Matthew Chung incorporate elements of both cultural selves to create a new and viewable embodiment of the human experience through both a queer and gendered(less) lens in their completely different yet similar assimilation process.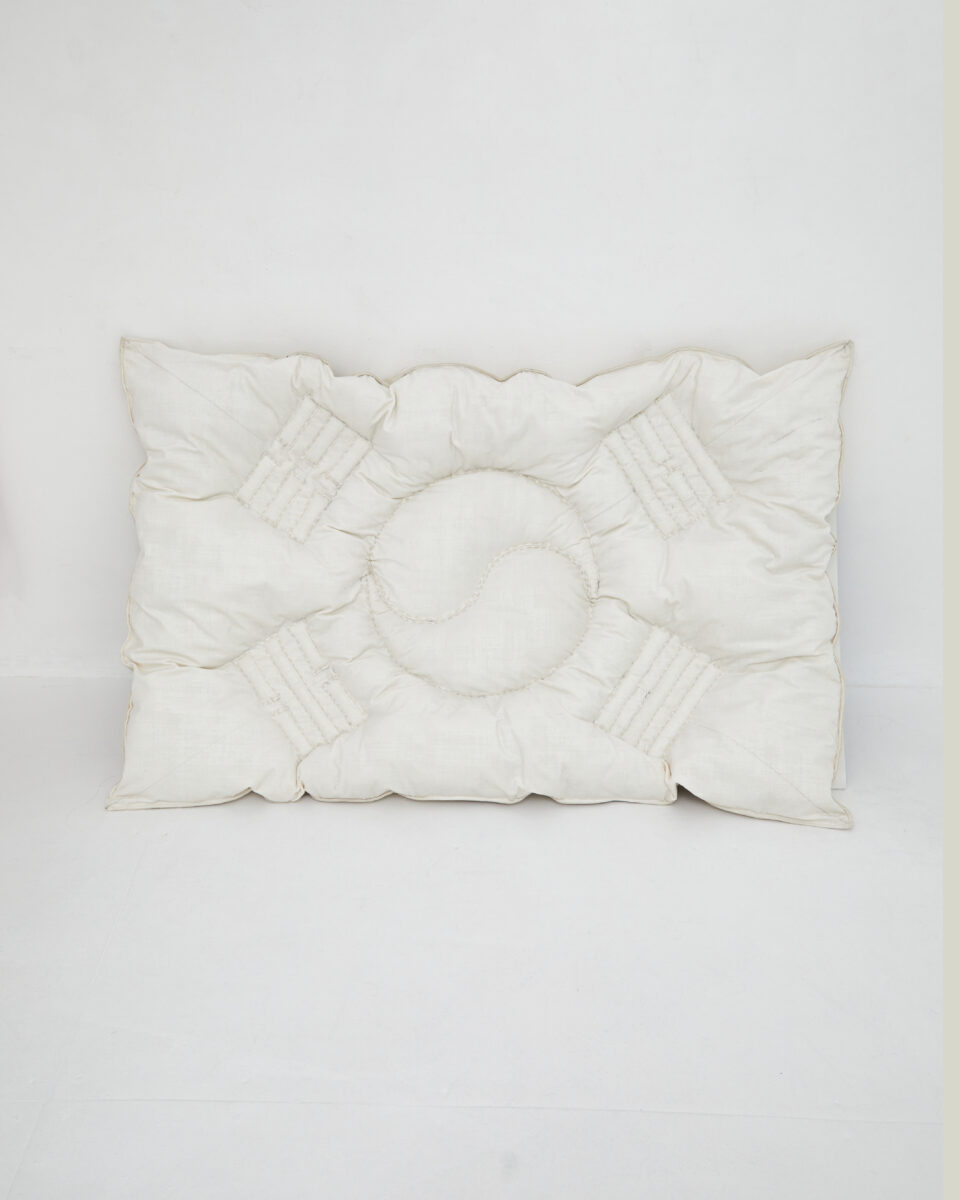 'Don't write our names in red', – October 22nd, 2023, Gallery 46.
Artist-led finesage, October 22nd 12-5pm
About the artists
Izu Chung (b.2000) is a Korean American non-binary artist who has in recent years been based in London after graduating from Central Saint Martins and is relocating back to their home, in Los Angeles where they will continue their practice. 
Born in the flux of the Information Age, they spent their childhood in the underbelly of online spaces which permeated their mind with a plethora of digital artefacts that manifest into contemporary abstractions. They mainly focus on the digital-physical crossing of archaic and ultramodern subcultures through a techno-orientalist 'Gen Z' perspective. Their work is an amalgamation of both high and low art, using 'post-irony' and 'memes' as templates to create a physical 'memetic-mimesis' from the collective unconscious of the internet. 
Izu's work concentrates on the Westernisation of Asia and Asian infantilism through the lens of an Asian American. There is a paradoxical nature to their practice as they try to criticize and ridicule the misogynistic and fetishistic ideologies held by these archetypes and subcultures, whilst being held in these categorisations as well. This results in Izu creating a blurred state of self-fetishisation and abjection on the yellow body through different mediums and visual languages. 
The themes in their works include ornamentalism, asiafuturism, Jungian symbols and occultism. They consider themselves an alchemist of transmuting ontologically absent symbols into hyper-physical present vessels. Izu's main mediums are oil painting and airbrushing. Just like their layered identity,  their artistic processes consist of layers and layers of redaction and iteration. Through the appropriation of previous works, Izu creates new, fragmented and fractured subjects, emphasizing the grotesque or uncanny qualities that were latent within the work from the beginning. These subjects—often distorted, bloated bodies—are not reducible to simple (gendered or racialized) categories. Izu's visual characteristics are human-like forms, anime-esque facial features, and anthropomorphism.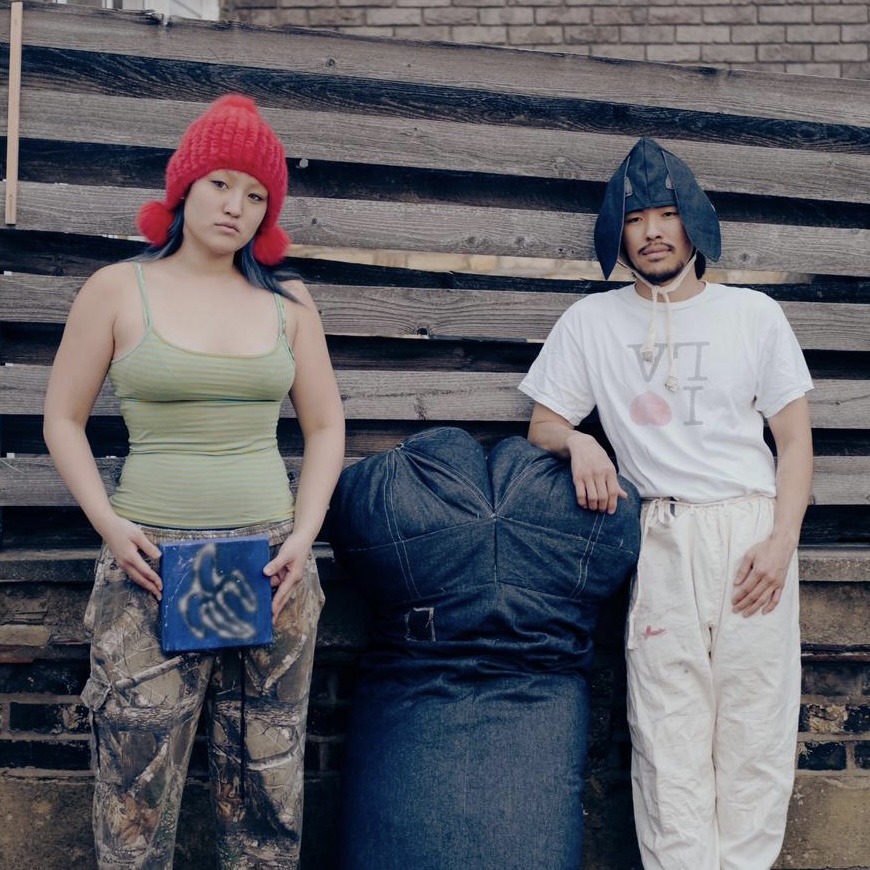 Matthew Chung (b. 1996) is a Korean-American artist from Los Angeles and is currently based in London. 
Matthew employs a diverse range of both traditional and novel mediums through his multidisciplinary practice. Embracing the exploration of ideas through the interplay of material and digital technologies, using them as instruments to expand the horizons of perception and human experience. He aims to resonate with a broader audience and ignite a sense of shared meaning through his practice. By drawing upon his Catholic upbringing, Korean heritage, and American nationality, Matthew becomes a silent observer of his own journey for home and belonging. 
Matthew's artistic journey began when he stumbled upon his father's long-forgotten camera and dedicated himself to the alchemical art of film photography. As his passion for photography continued to grow, Matthew's creative tools expanded to printmaking and moving image. 
His systematic and iterative creative processes came from engineering, when he enrolled in a high school robotics course, immersing himself in the intricate worlds of electronics and coding. In this unexpected twist, he discovered fresh avenues for creative expression, and what had initially been mere academic electives to fulfill graduation requirements soon evolved into the genesis of his journey as a dedicated artistic practitioner. Matthew recently graduated from the Royal College of Art where he studied Information Experience Design and further developed his practice in communicating through artistic mediums. 
At the core of Matthew's research-led creative process lies a constant dialogue with himself and the world around him. Through keen observations and interactions with both tangible and intangible elements, he mines a wealth of questions, ideas, and revelations that spark his curiosity. By treating documentation as a form of art, Matthew tries to translate his thought process into a tangible creation. He shapes his experiences in a diverse spectrum of subjects, such as cultural, technological and socio-political affairs in order to translate it to our collective human experience.
Foreign Object is a creative studio and nomadic gallery that represents and manages a collective of young artists from under-represented communities by bringing forward a platform that features visual arts. Through curated projects, our mission is to bring a new generation of creatives to international acclaim by encouraging a worldwide conversation to bridge the gap between artists, institutions and collectors.
Led by creative duo, Amina Nugumanova and Elmira Ishmukhamedova who produce, curate and direct independent projects alongside their own commercial work. foreignobject.world
Categories
Tags