This multi-sensory, theatrical exhibition by the Turner Prize-winning Lubaina Himid is a thought-provoking and engaging journey through the mind of the artist and cultural activist. Himid is only the 4th living British artist to be honoured with a Tate Modern retrospective.
Himid won the coveted Turner Prize in 2017 for her 2017 exhibition at Spike Island in Bristol, and her work can also be found in the brilliant and informative 'Life Between Islands' exhibition at Tate Britain.
Alongside her artistic practice, Himid has curated exhibitions to showcase underrepresented Black artists, and she describes herself as 'a painter and cultural activist'. Her multi-faceted work explores black British identity and representation. In 2018 she was made a CBE for her contributions to the arts, an accolade which recognised how pivotal she has been since the 1980s in the UK and international art world for her contributions to the British Black arts movement, and her continued efforts to provide a platform for expression of the Black experience and women's creativity. 
Tate Modern's relatively new Blavatnik wing is the venue for her comprehensive exhibition, which debuts new work and includes selected highlights from her career dating back to the 1980s when, as a black woman artist she fought hard through her artistic practice to be seen in a white-male-dominated art world.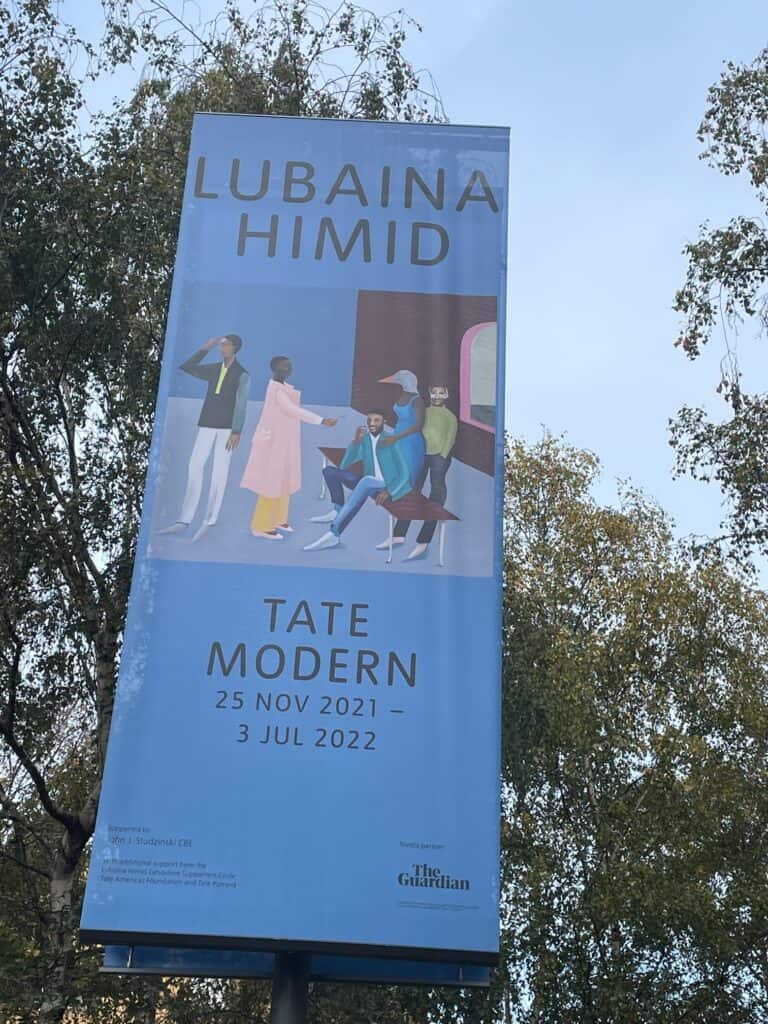 Dominant themes of Himid's work include black identity, the power of the sea and the deplorable legacy of the slave trade and colonialism. At the entrance to the Tate Modern solo exhibition hang a series of colourful flags made from East African Kanga fabrics, created by Himid in 2018 and embroidered with uplifting and melancholy slogans such as 'How do you spell change?'  The exhibition features many large scale figurative paintings and portraits, and demonstrates why Himid has gained international recognition for her exquisite figurative paintings and the exploration of often overlooked histories of the African diaspora.  She questions the historical role of portraiture and the neglected stories from history, redressing the cultural imbalance of our history books that is the shameful legacy of colonialism and slavery, by depicting black heroes and heroines, providing a platform for the cultural contribution made by people of colour, that is too often not remembered in history books.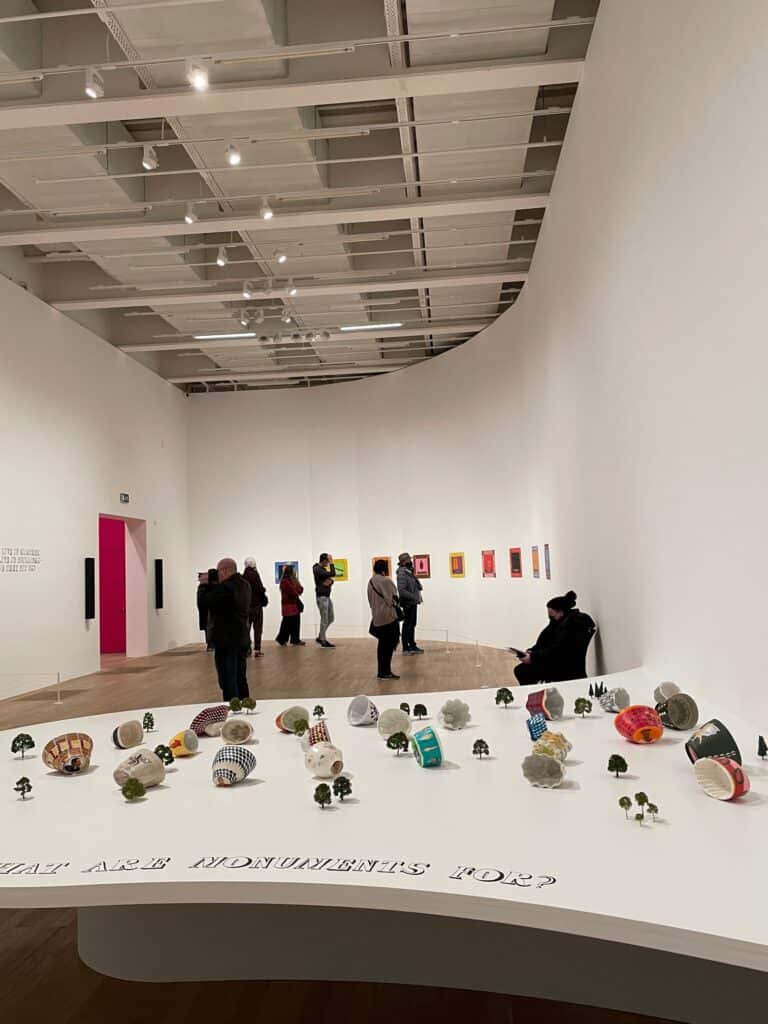 Inside the galleries, the exhibition continues to juxtapose paintings with text, such as wall texts in Humid's own hand-drawn font, and also features beautifully painted ceramics, large-scale paintings, sound art, installation and sculpture using found objects decorated in the artist's signature colourful portraits and images of fish and insects. The sound element of the exhibition has a soothing quality, accompanying visitors through the exhibition and complementing the beautiful works on the walls, including a room dominated by shades of blue.
In the blue-themed room, Himid weaves a narrative between time, music, history and literature, by exhibiting unusual objects such as a banjo alongside a clock and an obituary of jazz musician Buddy Collette, a hand-painted blue banner featuring flying swallows leading to a scroll of sheet music hand-painted with geometrical shapes in shade of blue.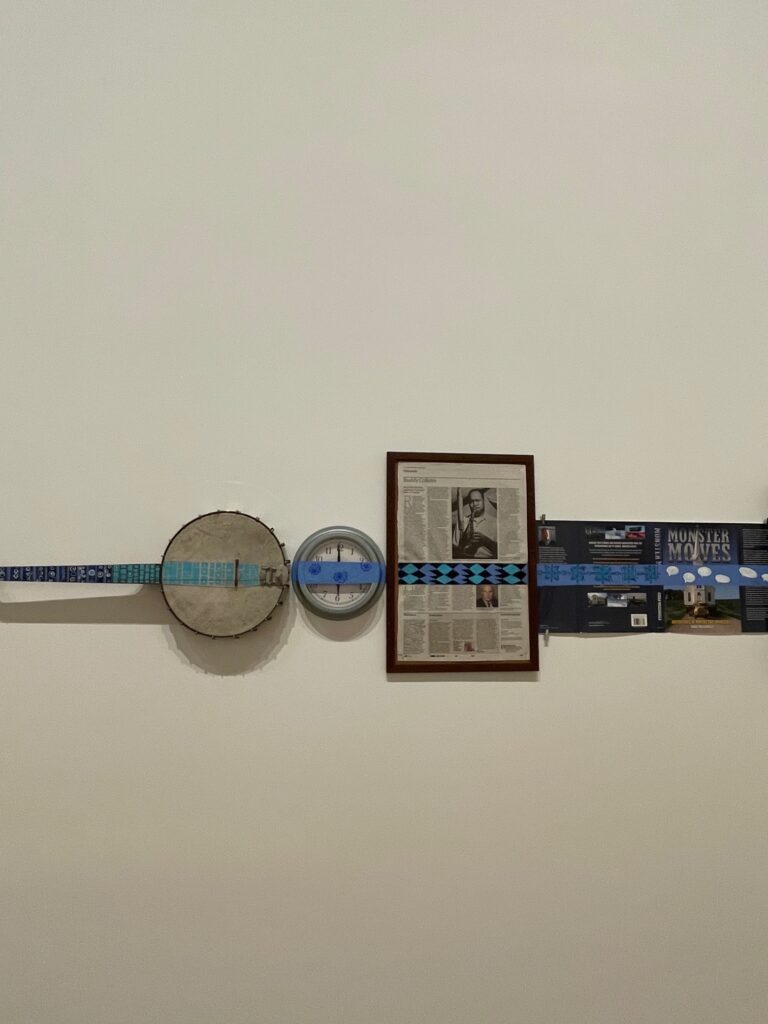 Text on the wall such as 'What does love sound like? 'is bought to life by the sound installation – a collaboration with sound artist Magda Stawarska-Beavan which runs an invisible thread through the exhibition, sometimes comforting, and at other times evoking the power of the sea, with sad echoes of slavery through the ghosts of slave ships crossing oceans.  
Himid's early studies of theatre design can be felt in the exhibition, in the form of the installations featuring cardboard cut outs of bodies with collaged fragments from newspapers and historical texts and novels. The overall effect of the exhibition is one of a journey through unchartered waters, a discovery of untold narratives and the revelation of seeing unsung heroes and heroines whose stories deserve to be told.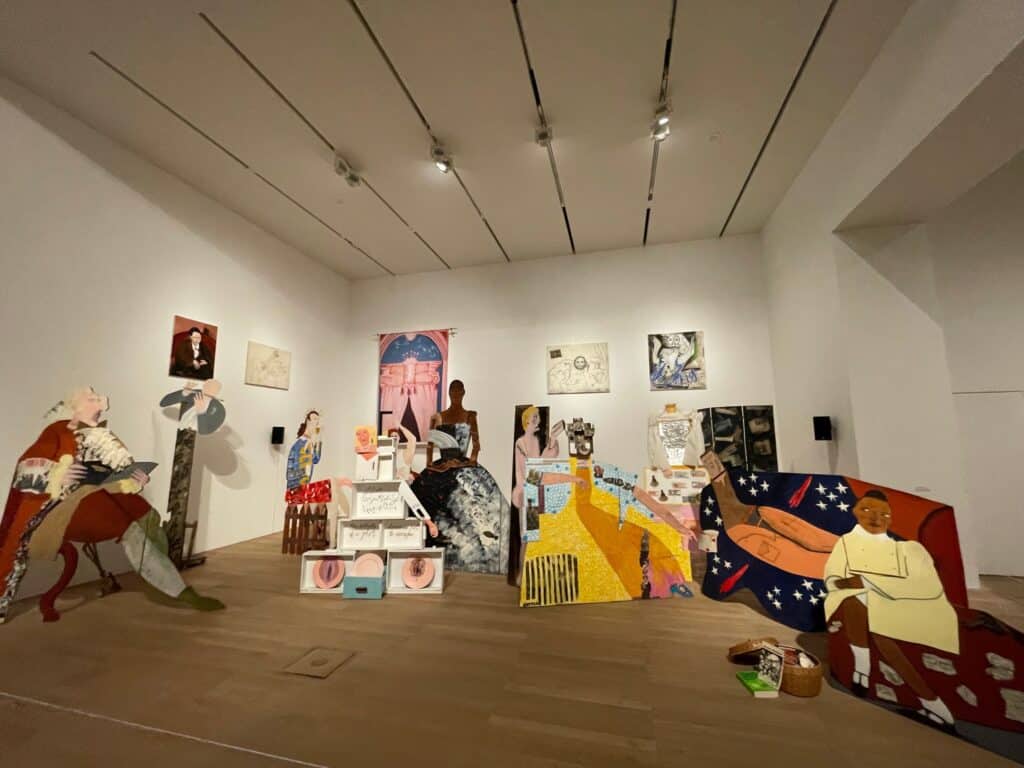 Born in Zanzibar in 1954, Hamid studied Theatre Design at Wimbledon College of Art, going on to graduate from the Royal College of Art with an M.A in Cultural History. As well as her artistic practice, she is a curator and former director of the Elbow Room (1986-1990), and she holds the position of Professor of Contemporary Art at the University of Central Lancashire
Lubaina Himid is at Tate Modern until 3rd July 2022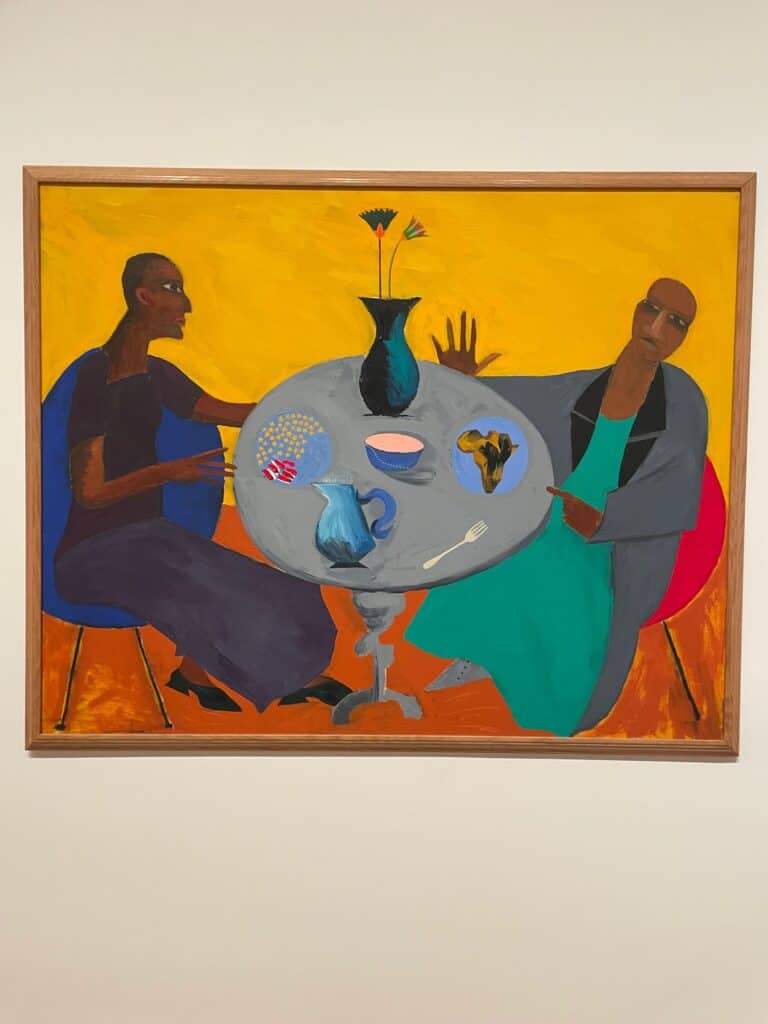 Categories
Tags