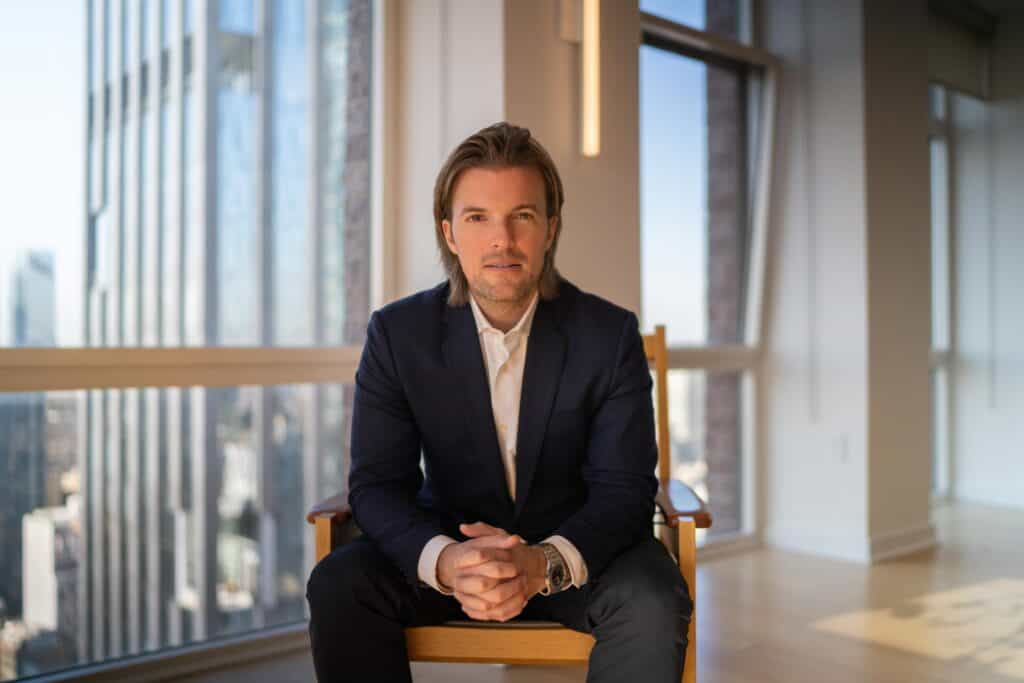 Always wanted to invest in art but didn't know where to start? MagnusClass can help. 
So "Is MagnusClass worth it?" We have taken the class to find out.
Below you can find more details but in summary; – MagnusClass is a brilliant online class that can help you collect art successfully. It contains all the relevant subjects and content a new collector needs to start their journey in the art world. Think of it as "Art Collecting 101". Our favourite part: It's short. Within 4 hours you are equipped with the know-how needed to navigate the art world and start building your collection.
If you are thinking you'd like to take the course, we've negotiated a 10% discount on the full price just use coupon code: FAD10 (Valid until the end of January 2022). Sign Up Here
What is the MagnusClass:
MagnusClass (www.magnusclass.com) is an online course for anyone, at any level, interested in buying artworks at any budget. Instructored by Magnus Resch, one of the world's leading experts in art management, Ivy League Professor and best-selling author. Magnus takes a practical approach to art business education. The course consists of lectures, expert interviews, and additional documents. MagnusClass's objective is to teach new and existing collectors how the art market works and give them the tools to start or continue building their collection.
Watch an introduction here: https://www.youtube.com/watch?v=9Xru_5tkkkw
What will I learn?
A lot. In a very short time. Our key learnings were:
Understanding how to build and grow an art collection
Savvy in identifying artists to invest in
Knowledge of where to start 
Knowledge of how to navigate the art market and its key players
Understanding which tools to use to manage your collection 
Quick discernment of fakes and forgeries
Understanding NFT Art And Blockchain
Who is Magnus Resch?
Professor Magnus Resch is one of the world's leading art market experts. He teaches art economics at Yale University and has published 6 books on the art market. Magnus is also an art market entrepreneur. He partnered with Leonardo DiCaprio to launch an app that functions like Shazam for art. He also co-founded the leading art collector database, larryslist.com.
Magnus' career has been portrayed in publications such as The New York Times, WSJ, Vanity Fair, and The Financial Times. Magnus understands the art market on a global level; He completed his PhD in Hong Kong, and has lived and worked in Berlin, London, and New York.
Who should take the class?
The class has two target audiences. The first is someone with no experience in the art world but interested in starting to collect, regardless of the price point. All the while, art world professionals like ourselves can benefit greatly from the learnings of the course, allowing us to polish our skills and rethink our collection strategy 
How much time do I need to invest to watch it?
The beauty of the course is it is highly efficient. In just 4 hours, you will work through the extremely concise lectures. If you like to dive deeper, the expert interviews provide additional know-how. There are 20+ expert interviews, which last on average 20 mins.
How is Magnus' teaching style and how well is the syllabus prepared?
We all remember lectures in school that made us fall asleep. MagnusClass is the opposite. Magnus' teaching style is entertaining, fun and encouraging – you will never feel bored. He is certainly not the old-school type of professor and you can clearly feel that he has been teaching for 10 years. His examples are vivid and realistic, his language clear and to the point. Slides in the background help to support his argument. The syllabus is structured very well. Viewers never feel lost. Overall, the presentation and course structure is very professional with a high production value.
What you get:
Lectures
You will have access to 37 concise and comprehensive lectures, each roughly 7 minutes long. Magnus answers questions such as: what artist should I buy? Is art a good investment? How do I start building my art collection? Am I overpaying? Will the price increase? How do I get VIP tickets to Art Basel? And who are the gallerists I should trust? 
A full list of topics can be found here: https://www.magnusclass.com/course-content/How-To-Start-Art-Collection
Watch an example lecture here: 
Expert Interviews
There are also over 20 expert interviews that give insight into the perspective of the key players in the art market: gallerists, collectors, artists, NFT&Crypto experts. We particularly enjoyed the interview where Magnus consults a data scientist to discuss trends in the art market and shares what we can expect in the future. These interviews are each approximately 20 minutes long. Magnus asks industry experts including artist Marylin Minter, legendary superstar gallerist Jeffrey Deich, superstar collectors Susan & Michael Hort and Don & Mera Rubell questions such as: What artists do you buy? How do you find them? What's your overall collection strategy and how has it changed? What is a good investment? What advice do you have for aspiring collectors?
Full list of experts here: magnusclass.com
Watch an example expert interview here: youtube.com
Final Verdict:
Pros
*Practical and realistic advice to start your collection you can't find anywhere else
*Very up-to-date with lectures and expert interviews on NFTs and Blockchain / Crypto Art
*Crucial insight into the current state of the art market from someone in the centre of the art world
*Great for full-time professionals as it's presented in a straightforward manner from an experienced educator
*Inexpensive, especially compared to university or offline courses
*Easy to navigate interface
*Accessible on the mobile app (just log in with your MagnusClass credentials)
*The courses, documents, and interviews are always available to re-watch so you can refer back to them as you progress in your career
Cons

*Requires legwork to go from the classroom to actually spending time to see the art
*No guarantees that you will find artworks that will appreciate
Summary:
MagnusClass (www.magnusclass.com) is absolutely worth the money. It is packed with valuable information essential for collectors of every stage – newbies and experienced art buyers alike will benefit tremendously from this course. You will walk away feeling prepared and informed, knowing all the right places and having listened to the most relevant people (expert interviews) to start buying your first artwork – at every price level.
We've negotiated a 10% discount on the full price just use coupon code: FAD10 (Valid until the end of January 2022). Sign Up Here
Categories
Tags