As we slowly return to normalcy, unfortunately, we must give those fuzzy house slippers a rest. Instead, it's about that time to revamp your footwear with styles that are more appropriate for going out, whether that's your corporate job or campus life. However, that doesn't mean you should limit yourself to only traditional men's dress shoes like leather loafers. Since the onset of the pandemic, the latest menswear trends have only increased athleisure's popularity. Blending the lines between office attire with loungewear, today's cool men's shoes combine practical comfort with contemporary silhouettes.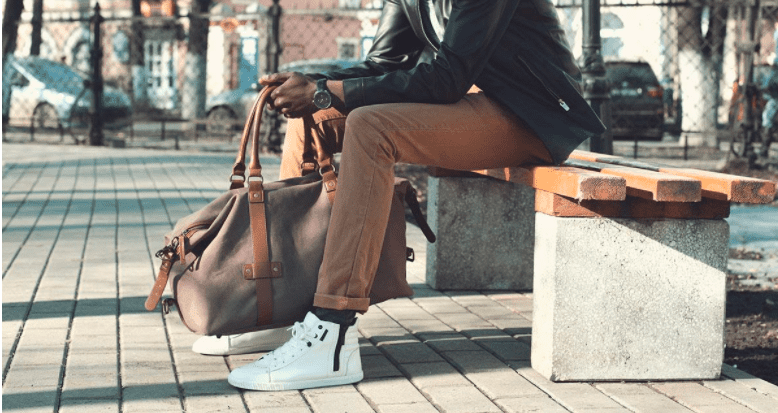 Word of advice: keep your eyes on the ground this summer because you're about to spot a ton of stylish shoes for men. More than ever, people are expressing themselves by wearing new designer sneakers with unique fits, tones, and textures. Curious to know the ins and outs of what to expect for cool shoes for men this season? Here are the top five men's footwear trends you can expect to see from the catwalk to the streets.
Colorblock Sneakers
Today's cool shoes for men are loaded with bursts of color from deep blues to neon yellows to pastel purples. Literally the opposite of muted, neutral tones, these stylish mens shoes take on vibrant and unique designs that will inject life into your spring and summer wardrobe. Moreover, sneaker fans are preferring colorblock sneakers designed with separated blocks of colors along the tongue, soles, and panels. Available across stylish men's clothing stores online like Differio, you can usually find these cool mens shoes in both high top and low top silhouettes.
Puffer Slide Sandals
Although the future is looking bright, you might still miss the muteness and comfort of your comfy quarantine house slippers. Not to worry – you can still get the same level of comfort with today's puffer slide sandals. Designed with no buckles or ties, you simply "slide" your feet into the puffer band that's made from the same material as puffer jackets. Even better, these cool mens shoes are among the hottest urban streetwear trends right now, especially paired with graphic tees and cargo jeans. Feeling that 90s nostalgia yet? You can definitely attribute this popular trend to the surge in throwback hip-hop fashion from the early 90s.
Lace-Up Canvas Sneakers
With the rising popularity of early 2000s shoe trends, it's no surprise that skate-inspired canvas sneakers are back on the scene. Once popular in skate culture, this particular trend has resurfaced as a footwear style that's now more heavily worn by the streetwear scene. With its easy lace-up design, these cool shoes for men have been restyled heavily since the hit song "Sk8ter Boi" topped the charts. Unlike decades ago, canvas sneakers are now available in vegan-friendly sustainable fabrics, including recycled rubber and organic cotton.
Chelsea Sneaker Boots
Chelsea boots have one of the sleekest footwear silhouettes great for virtually any occasion. However, if you're looking for a more streetwear-inspired style, chelsea sneaker boots are a great option. They're one of the few stylish shoes for men that you can actually wear all year round, as they're much lighter than traditional boots. Similar to slide sandals, chelsea sneaker boots have the same slide-and-go wearability that's designed with the signature elastic gore paneling on the sides. You can find these stylish men's shoes available in faux leather to rich suede with a comfortable rubber sole that'll complement any streetwear outfit.
Chunky Platform Sneakers
If you're looking for stylish shoes for men with some added height, you definitely need to check out today's chunky platform sneakers. Popular during the 90s, these cool mens shoes have also made a serious comeback but revived with a contemporary twist. The chunky soles add an eye-catching edge while also doubling down on comfort. Since they're constructed with a chunky sole, there is usually extra-comfort footbed padding, which is great for guys with arch issues. You can find these cool shoes for men modernized with textural designs along the outer soles for a space-age vibe.
Categories
Tags