Any space in your home can bear witness to both the happiest and most stressful moments in your life. Because of this, it's only fitting to decorate it in a way that can provide you with the emotional energy you need and make you feel supported and comforted while you're in that space.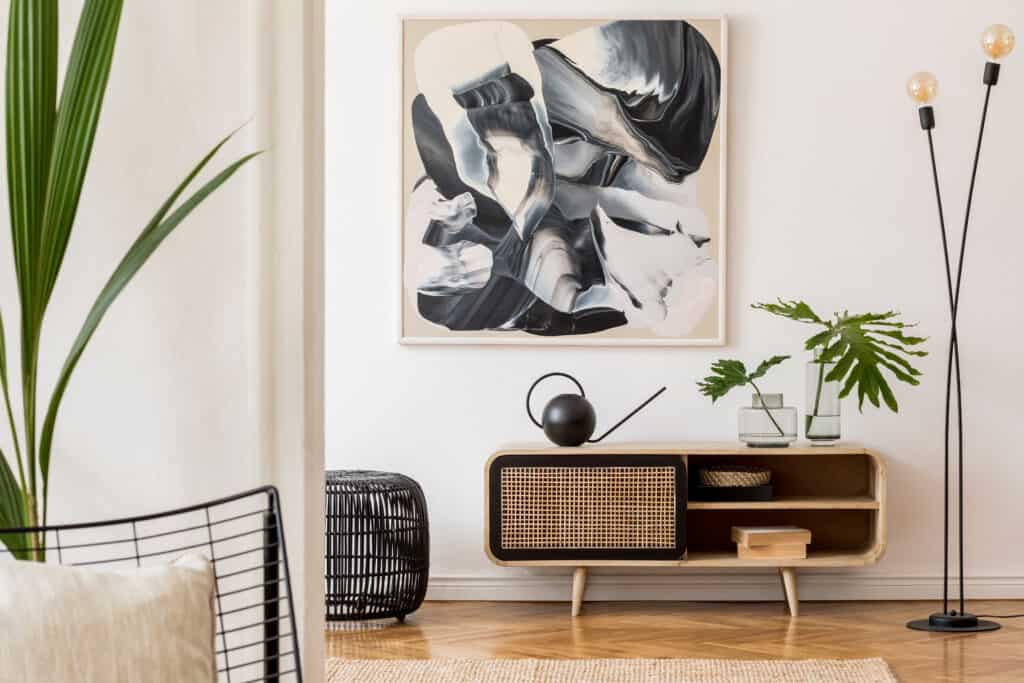 One way to decorate any area in your home is to incorporate art, specifically abstract art. This type of art expresses various moods as it can take charge of a room through its bold form and color. Also, abstract art may help stimulate the part of the brain responsible for creativity and imagination. So the more abstract art you have placed, the more brain exercise you'll receive. (1) 
Regardless of the style of abstract art, you're planning to use as decoration, you can find a way to incorporate it with your overall theme. But if you're not sure where to begin, here are some things to keep in mind when decorating with abstract art.
Match it with the vibe
When choosing any piece of wall art for a room, remember the concept "transform versus conform." To transform is to use the vibe of the art as the basis for the overall design of a room. On the other hand, to conform is to select a piece of art that would complement the existing theme of the room. (2)
When it comes to designing a room with art, it's best to conform than to transform. For instance, if your walls and furniture are in shades of grey, choose a piece of abstract art with a similar shade. Doing this would allow your art piece to blend with the room's overall theme. There's plenty of abstract art available in the market, so you'll find no shortage of options if you want a piece of art that can easily conform to your space's overall vibe. (2)
Use the art piece as a focal point
If you want to have an oversized yet colorful decoration in a room, abstract art would be a perfect choice. Since this type of art is open-ended, it won't interfere with the room's narrative. Also, because of its eye-catching composition, it would help create depth and movement in the space.
With all these factors, abstract art can be the perfect focal point in a room. In interior design, the focal point is the area of emphasis whose aim is to capture the viewer's attention. Because of this, a focal point can be a good conversation starter, which is perfect if you love entertaining guests. (3)
Fill the space
Since abstract art has no derivation from objects or figures, people can interact with it purely for its aesthetic value. For this reason, a large abstract art can produce a visual theme in any room, which can be carried through the entire space. Whether the work is expressive, textural, or minimal, the use of bold colors and shapes in abstract art allows it to easily complement various interior designs.
Also, the smooth flow of paint can bridge that gap between two or three pieces of art, especially if they're created by the same artist, giving the illusion of space in the room. Hence, it won't look too crowded. If you have sufficient blank space, consider filling it with abstract art. To have a uniform look, get in touch with a specific artist and inquire if they can commission a painting for you.
Adapt the mirror effect
A mirror effect is basically producing a reflection of something. Opting for large-scale abstract art than mid-sized pieces can produce this effect. With the mirror effect, you'll be able to fill up any blank walls you have. And you can ensure there won't be any conflict with your art pieces and the room's overall theme.
It's also best if the furniture below the abstract art is made of glass when adapting the mirror effect. This way, the pieces can mirror each other, and also the content of the art will be reflected below, filling the entire space with color.
Final words
Collectors and admirers of abstract art display their possessions because they feel the pieces can invoke an emotional response or they have a connection with the art. Abstract art can generate this feeling because of its form and the color and texture inherent in the artwork. (4)
So if you want to feel emotionally connected with every area of your home or want to transform your house into a home, try investing in abstract art. With the tips mentioned above, you now have an idea of how to properly display your art pieces and enjoy your investment to the fullest.

References
Categories
Tags