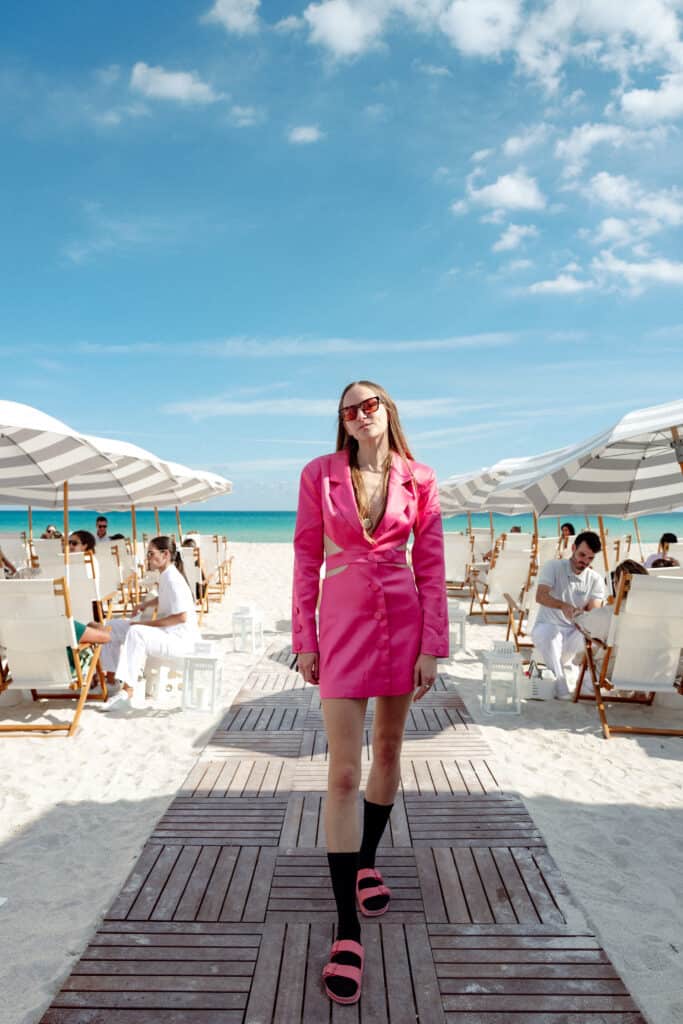 Includes links to:
People you should follow
Exhibits you should see
Talks you should listen to
If you know my work, you know it is all work is all about aspiration and using the combined power of programming and visualization to hack systems of power, including the art world.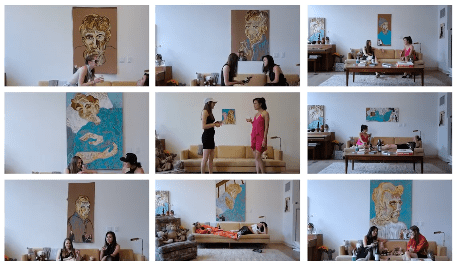 In 2019 I created a video series Art Basel Miami Beach, Dress for the Job You Want, Not the One You Have, which began zoomed in on my paintings, as if at the art fair, and slowly zoomed out to show me and a friend "practicing" being there by dressing up, hanging out in my studio, and drinking lots of champagne. I used these videos to hack the search results for Art Basel in December 2019.  
Now here we are. Just two years later and not only is my work internationally exhibited, my artwork about wanting to be at Art Basel Miami Beach was shown at the week's Satellite Art Show.  And I was actually there. Similar outfits. Similar quantities of champagne. But actually in Miami.  Actually invited.
It was the end of October and I was wrapping up a year that spanned two museum exhibitions, my first commercial solo show, a residency at The National Gallery X London, sharing my work with a supportive Ai Weiwei, my face on the cover of The Art Gorgeous magazine, and my work featured in four dozen other publications.  I felt like I should be out there celebrating. 
I also knew I needed and wanted a retreat. My practice is based out of London but as an American, I technically live in Utah now. I flew to my mountain home in Park City to regroup, thinking that this removal would be good for me, for my work, and for my golf game depending on when the snow came. After only a month of this retreat stuff, I'd re-taught myself to animate, launched my glitch GIFs on Misa.art, started programming in the smart contract language of Solidity, made great progress on my series of works for my spring shows in Dubai and Cologne, and solidified my hack of Facebook's tracking software. Every night I was asleep by 10 pm and woke naturally, and not hungover, at 4:30 am.  
I was getting restless.
That's when Katy Donoghue from Whitewall Magazine invited me to speak on a panel in Miami. This was the purchase I'd been visualizing.
While I had only a week to find a place to stay, I'd been planning my outfits for literally two years.  The following is an account of my Art Basel Miami Beach, in both words of photos. It is an intensional and real mix of art and the other wonderful nonsense that comes from aesthetically and luxury-minded people coming from all over the world to a gorgeous and warm place in December.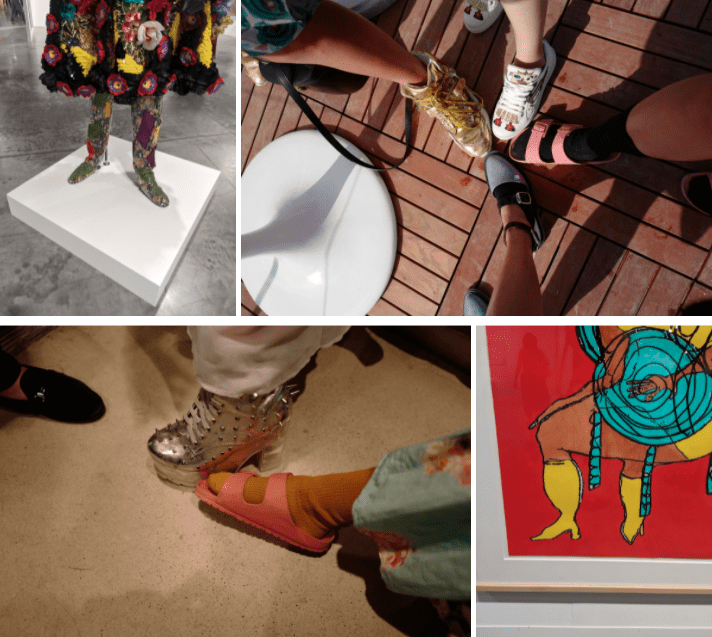 There are many approaches to Art Basel Miami Beach. Mine involved sensible shoes, a printed spreadsheet, intricate outfit planning, stashing beef jerky and powdered Gatorade in my purse, and inviting one of my best friends to join me.  
Wednesday, December 1
Morning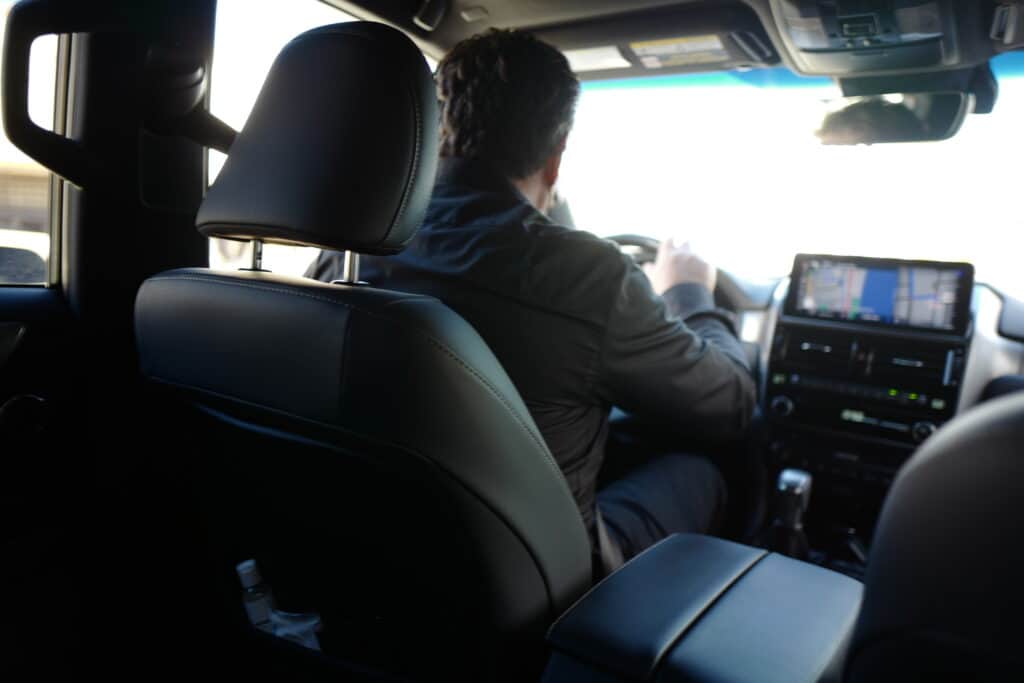 If you want to feel like a badass in a city defined by gridlock and 20 minute wait time for an Uber, go everywhere in a private car professionally chauffeured by a professional racecar driving instructor.  As a speaker on a Design Miami panel hosted by Whitewall and Lexus, this was my privilege. 
After landing late Tuesday night and responsibly going to sleep, Jamie picked me up at the Betsy Hotel on Wednesday morning. I wasn't staying at The Betsy, not yet. The Betsy was one of a handful of places where I had booked breakfasts in a perpetual spirit of practicing an even more wonderful version of this week in the future.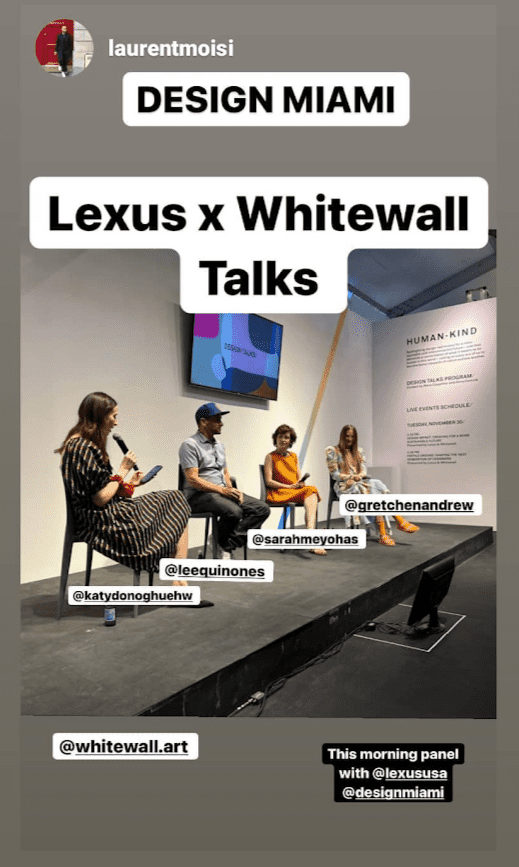 Design Miami – Whitewall X Lexus Panel talk hosted by Katy Donahue
Afternoon
Lunch at the Standard Hotel with SuperRare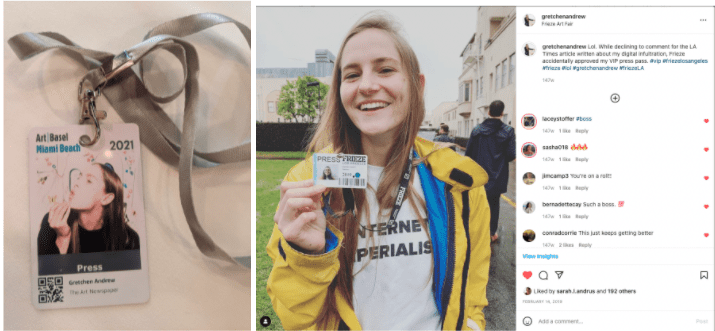 Art Basel VIP Pre Opening Opening
When I first hacked the art world with Frieze Los Angeles (2019) I finagled an unearned press pass.  When I received my press pass for Art Basel, it felt like a coup. But actually, it's legit now, representative of all the ways I was being invited where previously I'd been hacking in. My approach is so hacker I can almost forget I've been curating a major column in The Art Newspaper for almost two years now.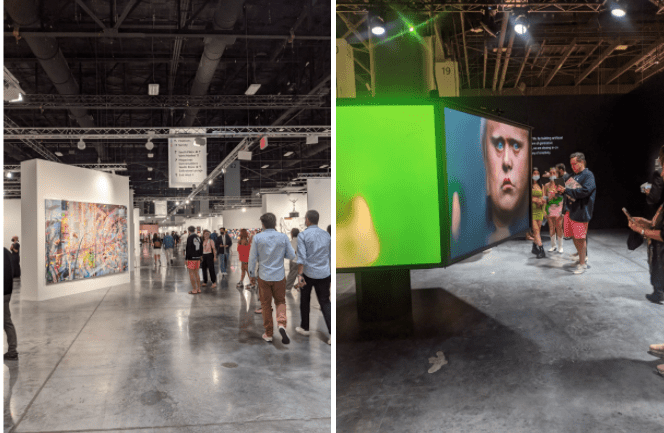 Walking through Art Basel my sincere first impression was shock at how few screens there were. There's been so much talk about NFTs taking over the art world. There was certainly a presence, notably at the Tezos Booth, which hosted a great series of talks, and at Galerie Nagel Draxler, curated by Kenny Schachter. Kenny is a wonderfully divisive megastar in today's changing art world. I'm a fan. His energy, kindness, genuine openness and curiosity are feeding something wonderful into the art world. Of course, I am biased, he's been escorting my work into great places, both academic and commercial. We finally met IRL in the concourse and he looked joyfully like a kid who'd just gotten away with something massive.
Evening
An estimated 80,00 people go to Miami for Art Basel every year with galleries, fairs, and events spanning a 10×10 mile radius both in mainland Miami and in Miami beach. This is why it was crazy to step out of Art Basel and run right into Georg Bak, the art advisor, curator, and dealer whose support for my career has been pivotal and joyful.   
As with Kenny, IRL Georg Bak is kind, thoughtful and curious. He's currently launching SNOWCA$H, a touring exhibition that will be inaugurated at Kunsthalle Zürich in October 2022. Again I am biased as I am in it, but I think it will be one of the major NFT projects of the coming year.  
Follow: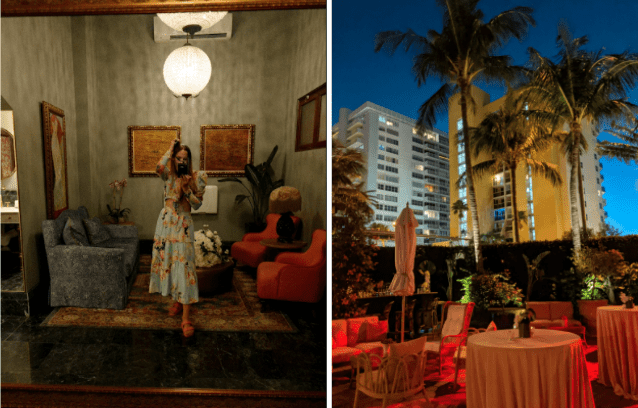 The Bath Club
I'd intended then to go to my first event that was not even notionally trying to be related to art, Wheels Up: An Evening of Food. Drink. Music. Fun at The Bath Club. After sitting in an hour of traffic I arrived two minutes after the event ended to find an empty patio with a full buffet. While I had been hoping to meet people, the chance to stuff my face in private was a gift from the Basel Gods.  I ate 5 sliders, downed two glasses of rose, took a selfie, and headed down the beach boardwalk to the SoHo House. 
DMINTI Cocktails and Conversation with David Salle and Sarah Meyohas at SoHo House
David Salle, in his book How To See, taught me that, "The ideas with staying power are those that intersect with an artist's inclination for form."  His NFT is playful, rooted in his painting, currently selling for 50E, and without the native inclination to the form of Sarah Meyohas who's pivotal "Bitchcoin" was the rage of the party. 
Follow: 
Sarah Meyohas, artist creator of Bitchcoin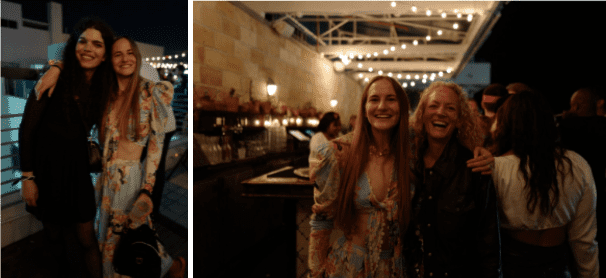 Follow:
Holly Wood, Head of Creator Relationships, Rarible
Klara Yennefer Vollstaedt, NFT Artist
Late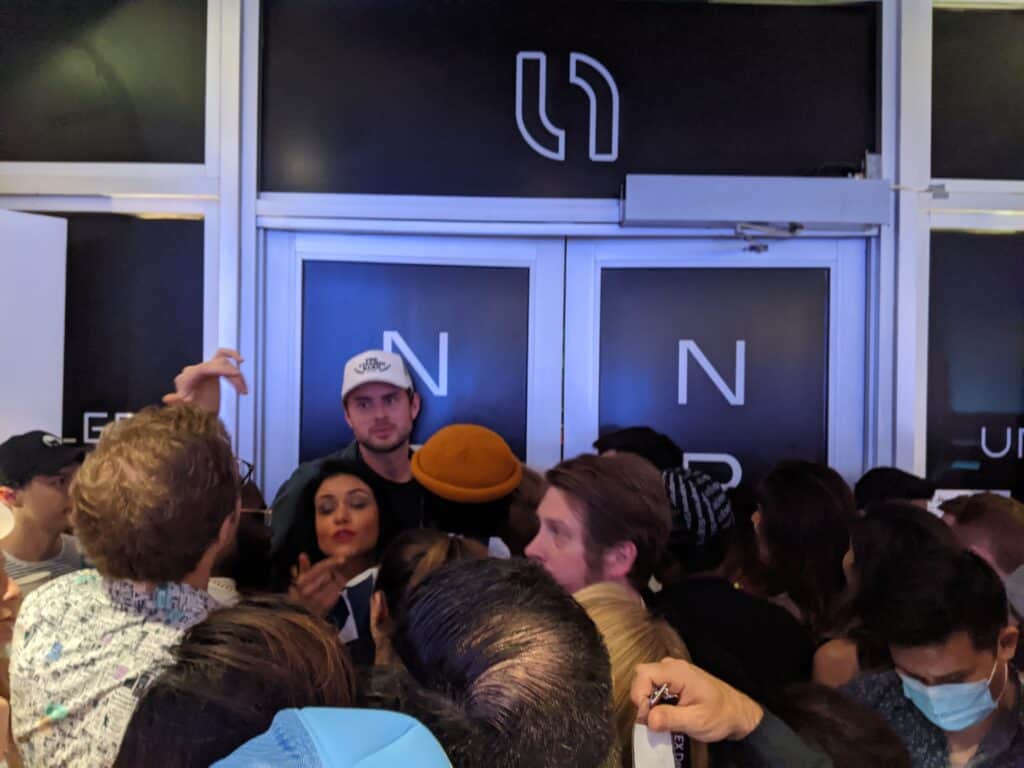 OneOf World MetaCarnival
Whatever was inside there, the situation outside the door caused me and Snark.art's Misha Libman to turn on our heels, find a quiet hotel bar to have a final beer, and finally head to sleep.  
Follow:
Thursday, December 2
Morning
Workout at The Generator Miami, sponsored by Quatreau
The Generator Miami hosted a morning workout, sponsored by Quatreau, that was designed after dance moves complex enough to take your focus off your burning quads. It was followed by a sound bath, which I totally meant to make time for. There was, however, champagne to drink and people to meet while doing it.  I feel like something must be said here for my personal relationship with champagne. I like champagne, I like caviar, I like rooftop bars but more than that, I'm an artist, so I like symbolism, I like meaning that is produced by the marriage of inherent quality and social construction, cultural preconceptions, experience, history, and the language of those who have emercesed themselves.  It is both wonderful and symbolizes wonderful things.  
Afternoon
Untitled & Scope Art Fairs
The Scope and Untitled Art Fairs are literally on the beach with bars and windows looking out to the Atlantic. Last year I reviewed the entirely virtual Untitled Art Fair built on the VR platform Artland. The real sea outside of the tent looked no less surreal than the virtual one did.  
*Highlights* at Untitled included Claudia Hart and Auriea Harvey at bitforms gallery.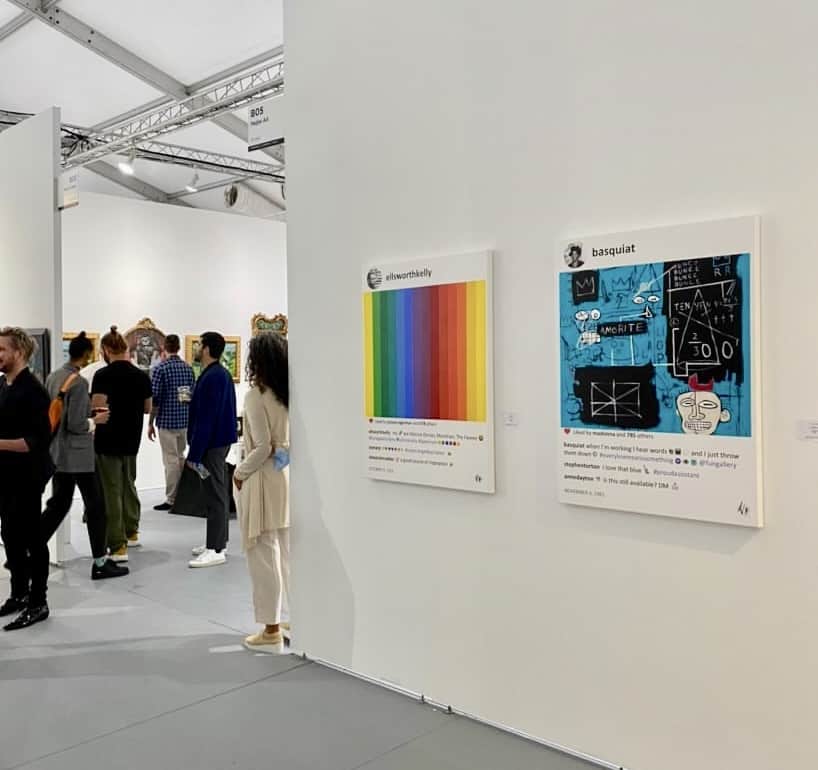 *Highlights* at Scope included Lans King and Laurence de Valmy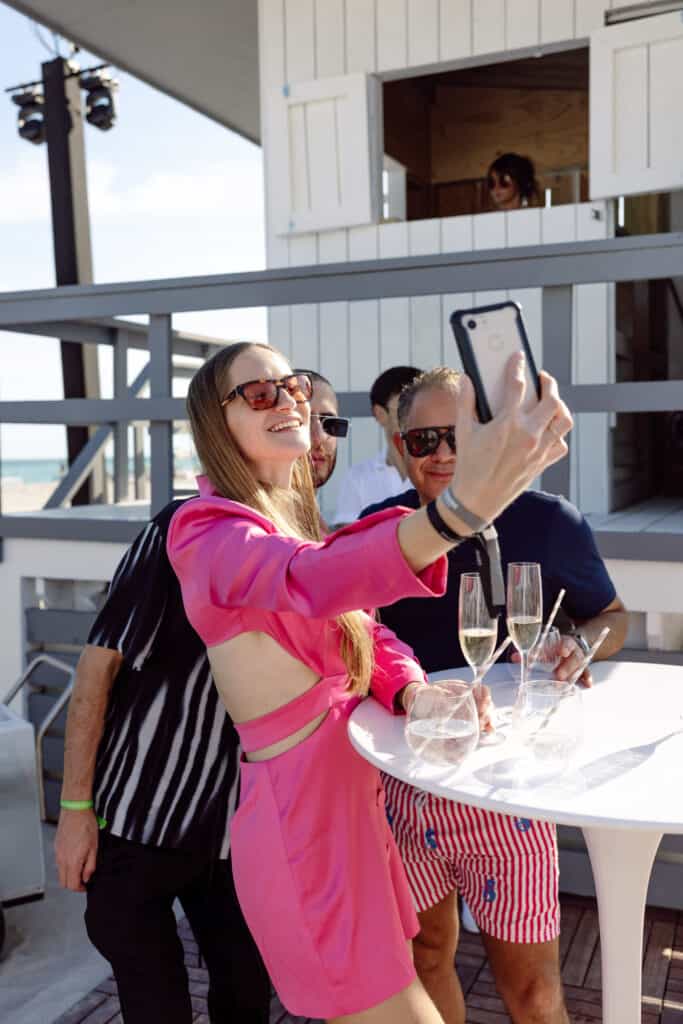 La Prairie Beach Club for Art Basel Miami Beach
This event had to be the best of the wonderful nonsense of my week.  Everyone there was taking a respite from the white walls and turning their attention to the ocean. There wasn't loud music and strangers and I could actually converse on what we'd seen, were going to see, excited for, and confused by.  
The event, overflowing with champagne and caviar, also exhibited an artistic collaboration with Taiwanese new media artist, choreographer, and dancer Wen-Chi Su. Also did I mention A LOT of champagne and hand massages? I was given a hand massage by a masseuse who'd been on Shark Tank and another who had originally moved from Bologna, Italy to pursue his dream of becoming an American football star and was now hoping to work on cruise ships.  I learned all this while drinking champagne and waiting for my friend Elle to land from New York. 
Evening
Learned there are clear differences between yachts and barges and also a clear difference between those who appreciate the difference and those that don't.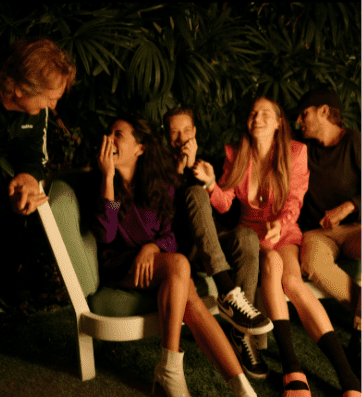 Dinner at the Standard Hotel, drinks at Casa Faena
One of the best aspects of the art world at parties is the way it cross-pollinates with fashion and film.  
Friday, December 3
Morning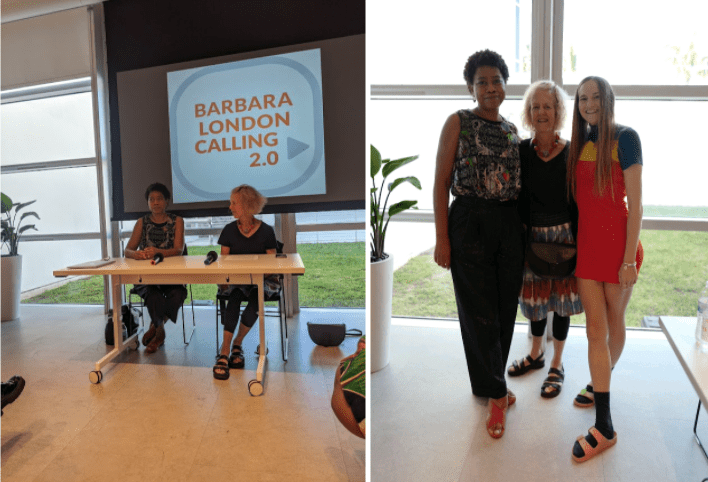 *Highlight* Auriea Harvey and Barbara London 
Auriea Harvey, whose pioneering work in net art is both romantic and technically exquisite, spoke with Barbara London about the evolution of her practice from sharing a server, to making web pages that served as love letters, and into NFTs.   A version of their talk is on Barbara's podcast and can be accessed here.  
Follow: 
Afternoon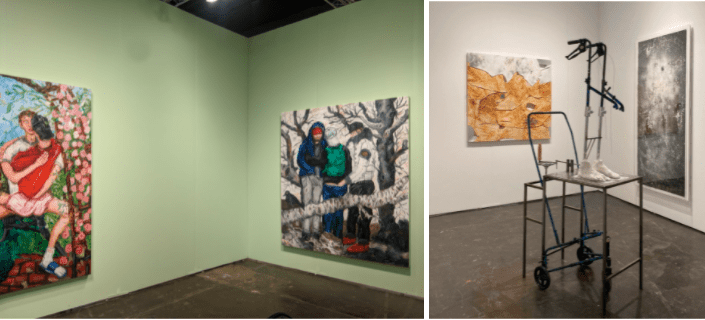 NADA
Across the bridge to NADA, the New Art Dealer's Alliance. Most art fairs, including Art Basel, have a requirement that all participating galleries have a physical location. NADA has no such requirement and so draws dealers and galleries, some of which do have physical galleries, that are less tied to a place and can take more interesting risks because they don't have the cost structure of real estate.  
Highlights:
Jeffrey Meris at Fragment Gallery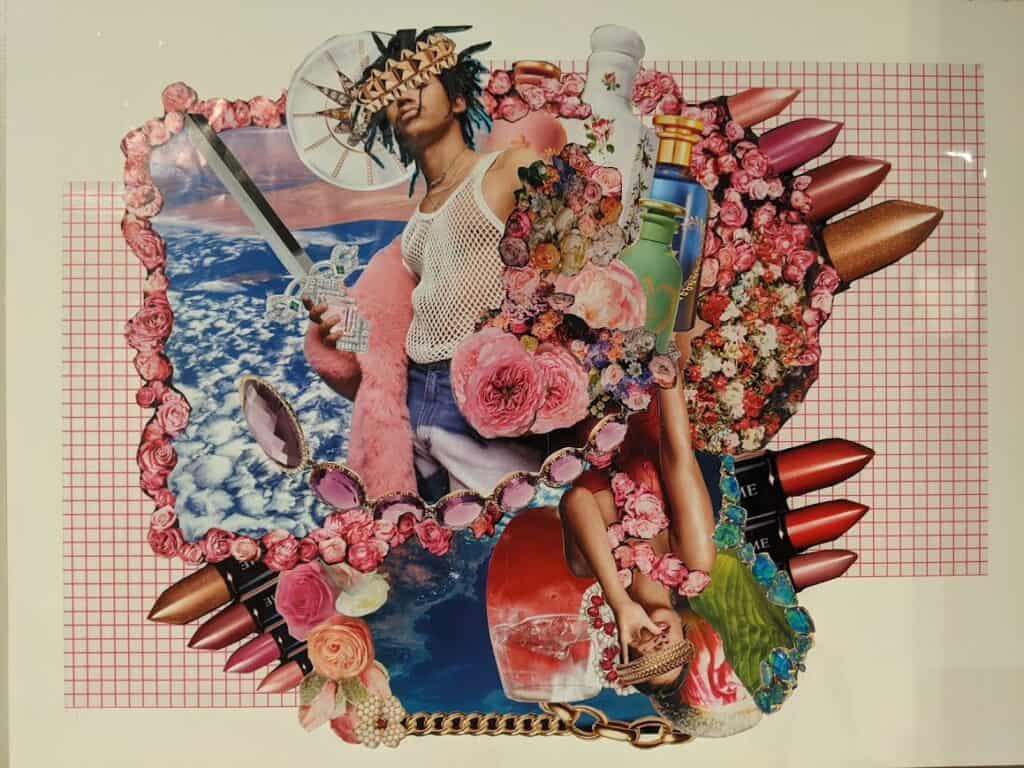 Brooklyn Collective Pop Up in Design District
The Brooklyn Collective (Charlotte, NC), is a non-profit organization with a mission to accelerate inclusivity and economic mobility in Charlotte, NC. 
Returning to Miami Beach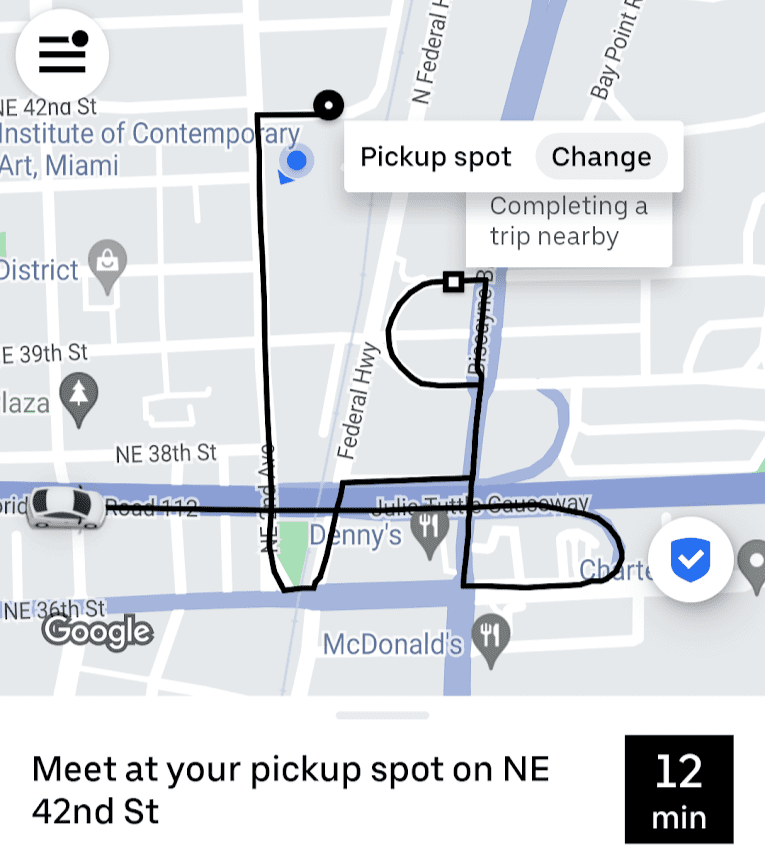 Tezo's NFT Speaker Series at Art Basel
Fanny Lakoubay in Tezo's NFT Speaker Series, a panel highlight on the topic of how to go from a digital museum to the metaverse. Watch it here. 
Follow:  Fanny Lakoubay
Joe's Crabs within Art Basel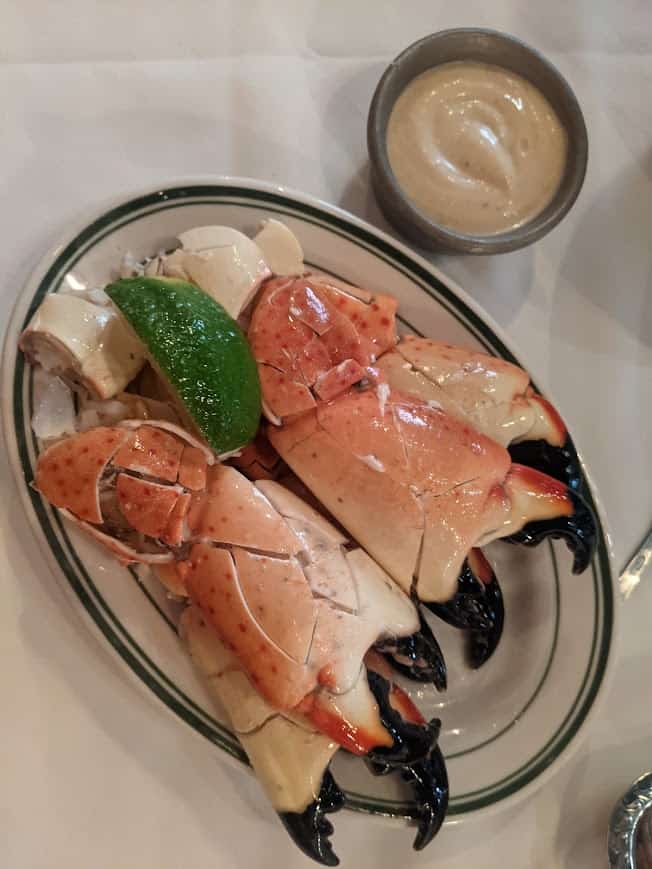 Stone crabs are caught only from October 15 until May 1. Their claws are removed and then they are returned to the water where the claws regenerate.  
Collectors Lounge at Art Basel Miami Beach
I got to see two of my favorite artists while retreating into the VIP Art Basel Collectors lounge. Dejha Ti and Ania Catherine merge environments, performance, and creative technology.
Follow:  Ania Catherine  & Dejha Ti
Evening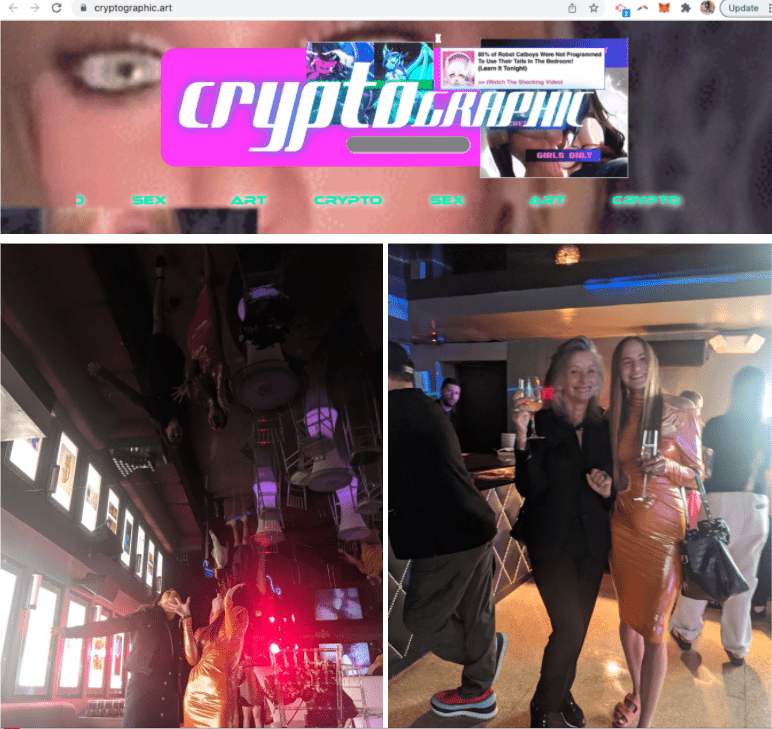 *Highlight* Cryptographic opening party at the Betsy Hotel
CryptoGraphic is a platform for art on OnlyFans that explores sex and sexual representation in digital space. As sex and technology become increasingly integrated, with online pornography, dating apps, cybersex, sexting, adult toys, and sex tech, issues such as identity politics, the digital body, surveillance, techno-capitalism, and power structures become ever more pressing. This exhibition brings together a group of artists to create digital artworks that use sex as a lens to address these questions. Some of the works have also been minted as NFTs. This independent exhibition is organised and conceived by Amber Atherton (producer), Ben Ditto (Creative Director), and Tif Zab (Curator). You can visit the unique and well-appointed exhibition at www.cryptographic.art as well as on Only Fans. 
Follow:
Snark.art REEFresh NFT Bash at The Standard Spa Miami
Snark.art explores the limits of blockchain technology by collaborating with artists on the production of more complex projects that are both sophisticated and poetic.  
Follow:  Snark.art
Saturday, December 4
Morning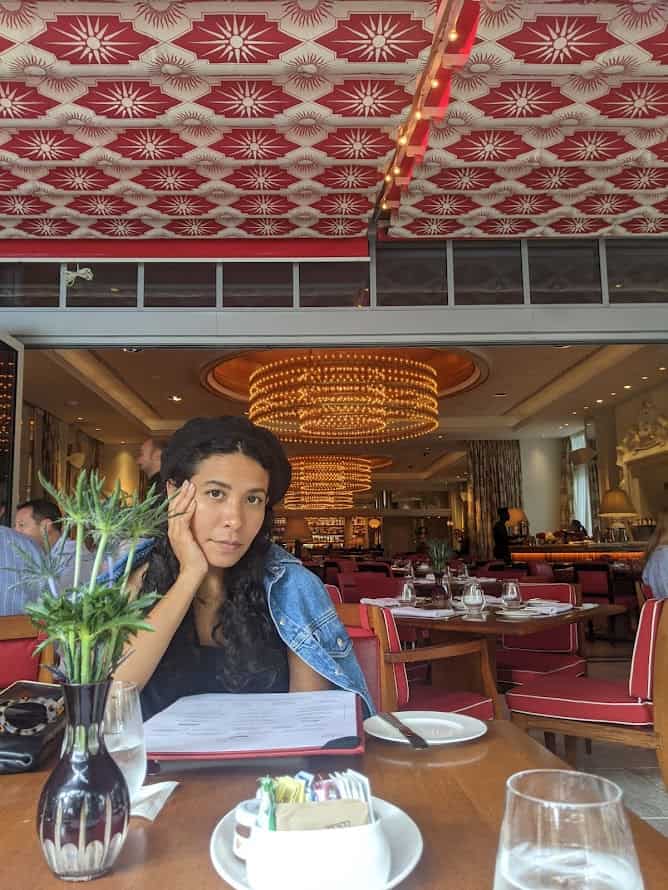 Breakfast at Faena hotel
Interview with David Cash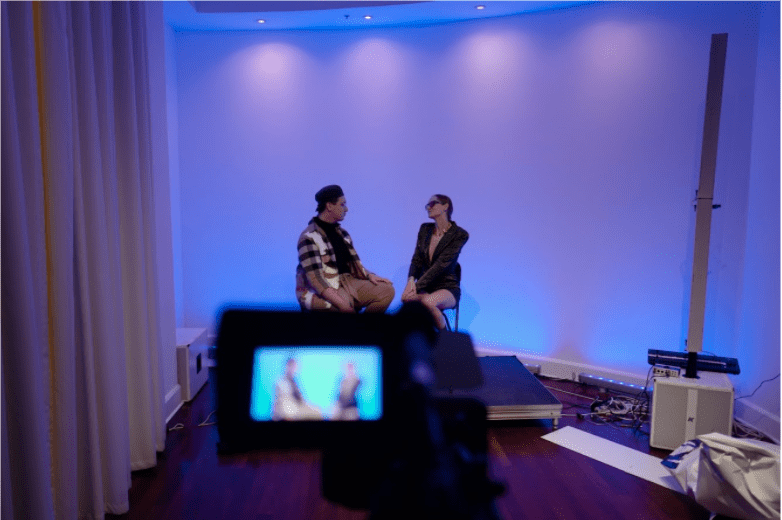 Follow: David Cash, NFT Producer, educator & evangelist.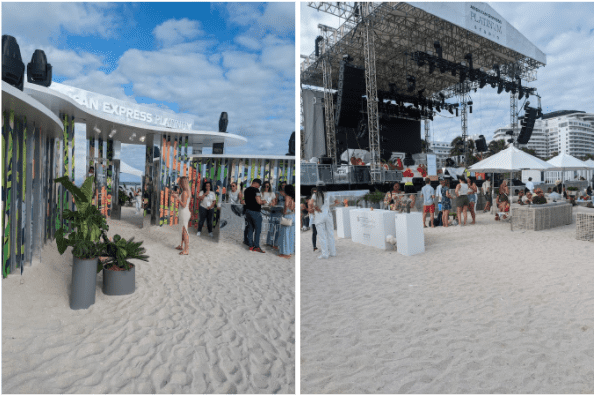 Amex and Artsy Private Beach Party
A total mess. A dearth of champagne. Closed off to the ocean. Scattered and ignored artworks.  Felt more like the Stansted hallway than the Heathrow Amex lounge. 
Metaversal Boat Party & Swim hosted by Rockaway Blockchain Fund
Metaversal curates the Metaverse. They produce and invest in iconic NFTs and the technology behind them.
Follow: 
Anne Bracegirdle, VP of Business Development at Metaversal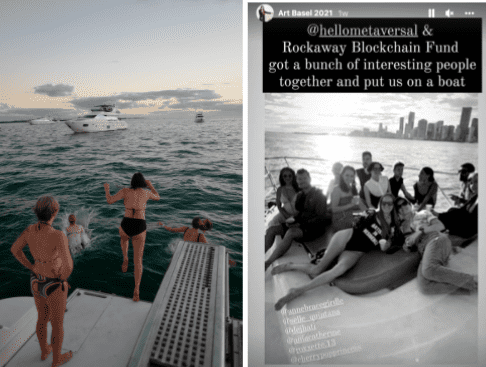 Evening
I disembarked, surprised to find that the wobbling was inside me, not due to the boat. 
This is where all the organization finally broke down. With my wet bathing suit ruining the leather of my purse and wearing literally only a coat I went to meet Emma.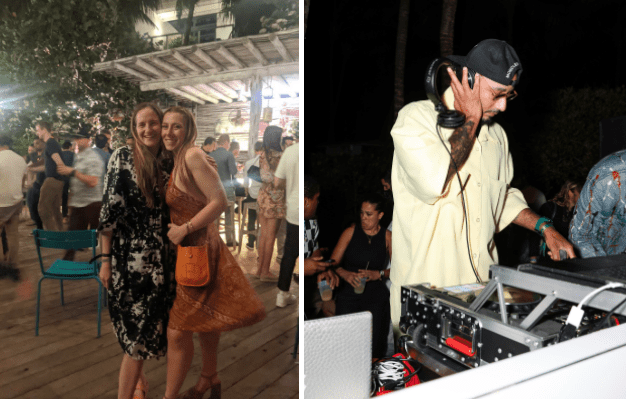 Marriott Bonvoy The ICONIC Party x Miami Art Week
Emma is my youngest collector.  She acquired my Cover of Artforum in London upon graduating from the Sotheby's institute and a perfect example of a new, young, and very tech-savvy collector class with interests in both digital and physical.  With female artists making only 2% of the contemporary art market and female collectors also underrepresented, Emma and I took the occasion of our reunion to really celebrate.   
Sunday
While Sunday I was hungover, sleep deprived, out of powdered Gatorade, and with my teddy bear stuffed into my purse I was also happy. It seems to be of perpetual concern to many artists as to exactly how close to some elusive center they are.  Insead, I have been visualizing the art world more like a medium in itself, a reality that can be shaped and created by you as you find joy in the elements that compose it for you.  There is, however, an even more apt analogy for this moment.  The art world is a network, and one that is increasingly decentralized through technology.  It is Web 3.  
Ultimately Miami reminded me why this was a world I once aspired to and can now celebrate being within.  Until next year, cheers <3<3
Xoxo
Gretchen 
P.S. 
We weren't quite done yet. On the plane I sat next to Amber Dawn Tutwiler, a newly transplanted artist who works with interface through both painting and technology. 
Follow:  Amber Tutwiler
Categories
Tags