Public Art Fund presents British conceptual artist Gillian Wearing's life-size bronze sculpture Diane Arbus—a tribute to the legendary photographer. Arbus was a lifelong New Yorker and often frequented Central Park, where she made photographs of everyday people. Wearing's sculpture is on view in Doris C. Freedman Plaza at the southeast entrance to the park. It depicts Arbus with her finger on the shutter button of her iconic twin lens camera, as she might have been seen in the 1950s and 60s. Standing 5'6" tall, the sculpture is presented at street level without a plinth, directly meeting visitors. Her shoes are painted realistically to humanize the appearance of the bronze statue. A plaque bears a quote by Arbus: "If you scrutinize reality closely enough, if in some way you really, really get to it, it becomes fantastic." Wearing's personal tribute to another artist offers a new way to think about and present a public monument while prompting us to reflect on who gets chosen to be the subject of a public sculpture. The installation coincides with the retrospective at the Solomon R. Guggenheim Museum, Gillian Wearing: Wearing Masks, on view from November 5, 2021, to April 4, 2022.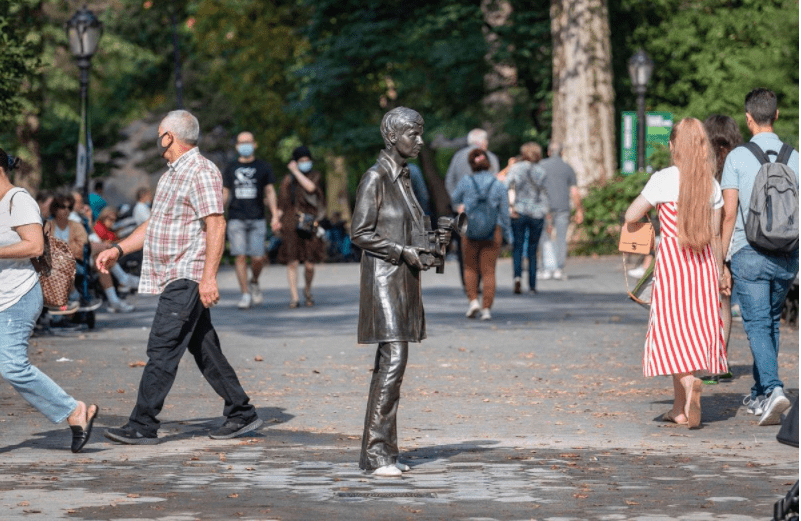 "An artist best known for her exploration in photography and video of the complex and fluid nature of human identity, Gillian Wearing's embrace of cast bronze statuary may be unexpected. Yet the unexpected is precisely what has fascinated Wearing all along, In her bronze Diane Arbus, we see the posthumous homage to a pioneering artist by another from a different time and place. We also see a modest, unassuming figure, standing at the entrance to Central Park, recognizable by the most distinctive attribute of her public self: her Rolleiflex camera."

says Public Art Fund Artistic & Executive Director Nicholas Baume.
In 2008, the British artist created the photograph Me as Arbus, initiating the Me As series in which Wearing recreates portraits of artists by photographing herself wearing prosthetic masks and wigs. Through this body of work, Wearing pays homage to the artists whose work has inspired her, referring to them as her "spiritual family." Both artists are drawn to people, reflecting on the human condition with candour, empathy and compassion. Wearing's decision to present the sculpture without a plinth will enable the public to experience the human-scale work up close and explore its details. Wearing used the labour-intensive lost-wax process to create Diane Arbus. Based on extensive research and working from a variety of source photographs, Wearing's cast bronze sculpture captures Arbus with both unpretentious immediacy and affectionate respect. 
Wearing's work spans photography, video, sculpture, and painting, and she combines a deep understanding of art history and a fascination with everyday life to investigate the performative nature of identity. Her long-standing interest in the activation of public space has been seen in past works such as Courage Calls to Courage Everywhere (2018). Commissioned by the Mayor of London to mark the centenary of women's suffrage in Wearing's native United Kingdom, Wearing created a statue of the suffragist Millicent Fawcett in Parliament Square. The work is the first statue of a woman, and the first statue by a woman at the prestigious site. Wearing's new commission for New York City will pay tribute to Arbus, for whom Central Park was a haven that allowed her to interact with and document everyday people. Wearing's personal cast bronze homage to Arbus, standing accessibly at eye-level, asserts the impact of Arbus's human approach to photography and the visibility of women within the male dominated tradition of public statuary.
Gillian Wearing: Diane Arbus Doris C. Freedman Plaza, Central Park (60th Street and 5th Avenue) 
New York City October 20, 2021–August 14, 2022, publicartfund.org/exhibitions/view/gillian-wearing-diane-arbus
Gillian Wearing: Diane Arbus is curated by Public Art Fund Artistic & Executive Director Curator Nicholas Baume with Associate Curator Katerina Stathopoulou.
Categories
Tags