The directors of Varvara Roza Galleries (London) and The Blender Galleries (Athens) talk to FAD about their mission to introduce some of the most exciting Greek Contemporary artists to the UK, starting with the first UK showing of "Mythos" by Manolis Anastasakos.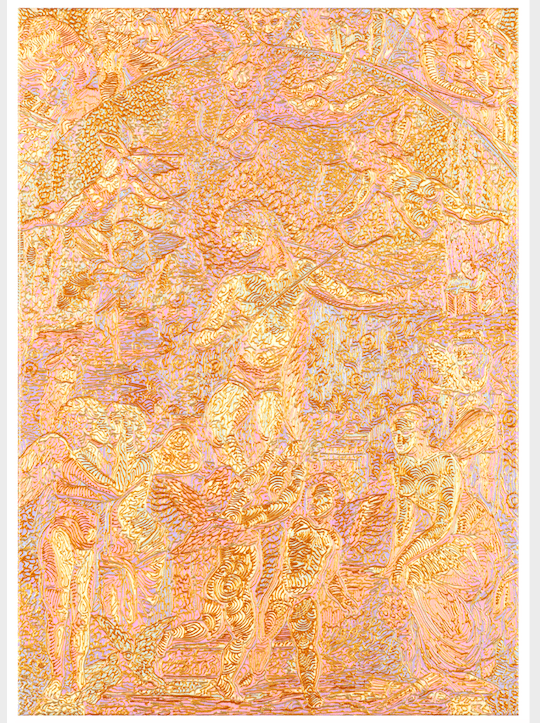 Lee Sharrock:  You are collaborating with The Blender Gallery on a series of 3 exhibitions in London, leading up to Christmas. How did you begin the collaboration, was it a mutual love of Greek contemporary artists that led to the partnership? 
Varvara Roza and Jason Theophanidis: We met a few years ago in Greece whilst Varvara was there scouting Greek artists and became interested in a few artists that were working with the Blender Gallery. (Manolis Anastasakos was one of them).  We instantly hit it off and realised that we had a shared vision, (other than our love of Greek artists), to promote and show the world some of the exceptional talent within the Greek art scene, whilst also bringing some foreign artists to show in Greece that had not been seen before. Varvara being based in London and Jason being based in Greece we are concluding that we have a winning formula to make this vision become a reality.
We met after Manolis had started preparing artwork for the 'Mythos' series, an idea born from his Previous exhibition at the Blender Gallery 'Cosmos', in which he had done his first 'Myth' the 'Iliad'. He had enjoyed the process so much and realising the potential in this technique and the subject matter decided to proceed and embark on a journey through mythology creating these modern-day masterpieces that now make up the 'Mythos' series.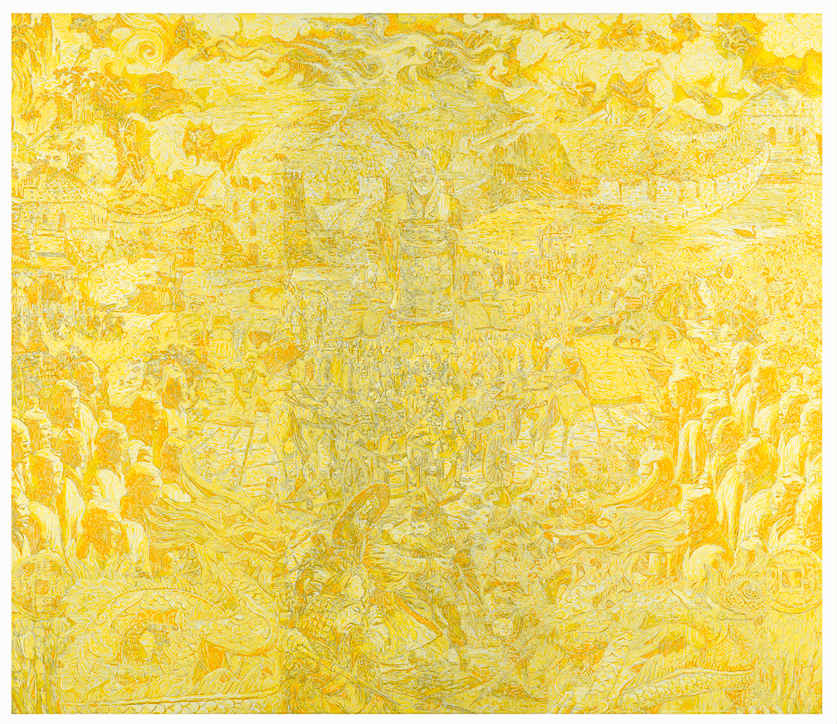 To kick off your series of exhibitions at Gallery 8 you are presenting 'Mythos' by Manolis Anastasakos. The exhibition was shown in Greece last winter and is shown for the first time in the UK.  Can you tell me a bit about Manolis's paintings, how you knew about his work, his technique and the inspiration behind the 'Mythos' series? 
VR & JT: Manolis's minimalistic/baroque aesthetic is inspired from the old masters in the level of detail and information within each piece whilst adding an element of interaction in the pieces allowing the viewer from afar being enticed or drawn into to the painting to discover the various stories with each myth.
As for the technique an artist never reveals his secrets! All we can say is that meticulous research has gone into telling the story of each myth and the paintings are created using many layers to achieve this breath-taking outcome.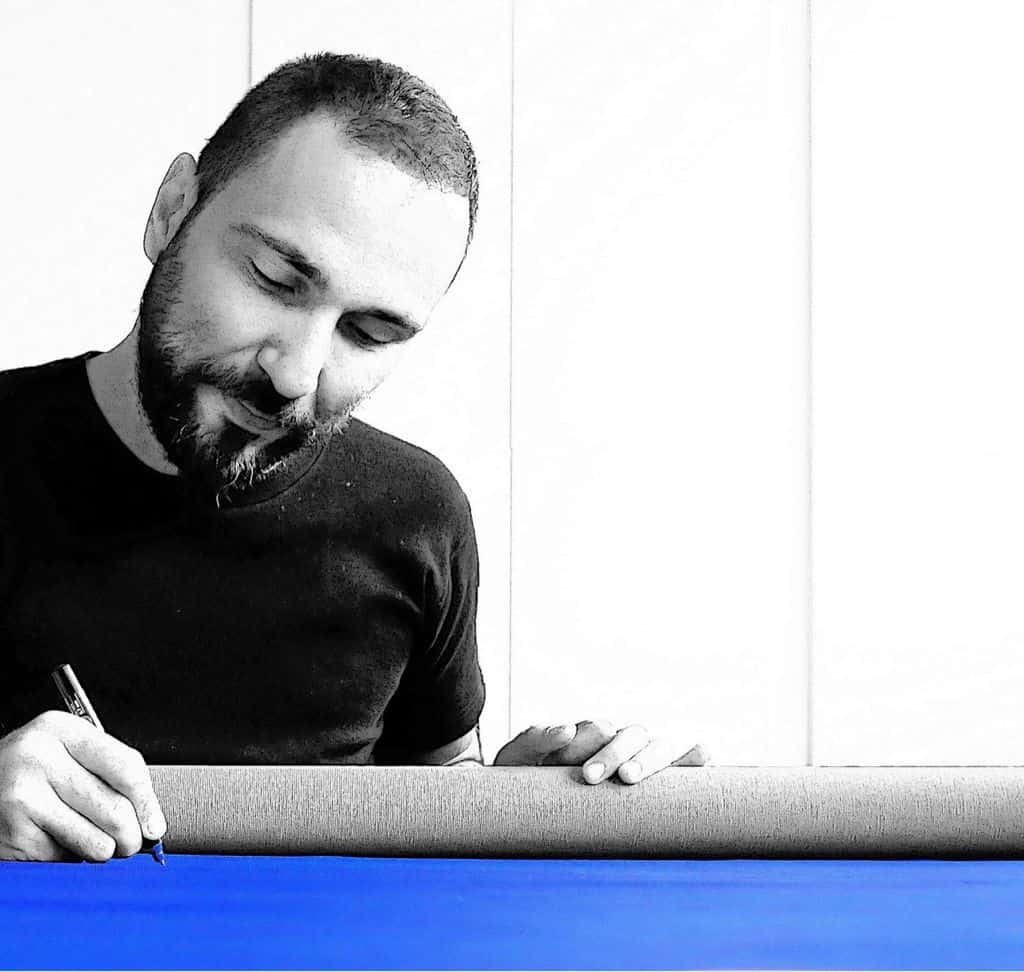 You will also be exhibiting Philip Tsiaras 'Super Dot' (14 November-10 December 2021) and Ermina Avramidou & Andrew Levita (10-23 December 2021) at Gallery 8.  How did you discover their work and what moved you to select them for your exhibition programme? 
VR & JT: We both knew Philip long before meeting each other actually and has been a prominent figure in both our lives as well as one of our best-selling artists. It was Philip's line of work 'Super Dots' that he was preparing that urged us to Show his work In November. We felt it was such an incredible line of work that we couldn't not show it!
Having shown a preview of his 'dot portraits' in The Blender Gallery in June in his 'Alexander the Great exhibition' as a teaser it was always the plan to reveal the rest of the 'dot portraits' here in London. As art mimics life, @philip_tsiaras has taken note. The Greek artist is known for his hand-dotted works, which he says are made up of "particle atoms.". The multi-coloured portraits come to resemble a sort of modern-day Roman mosaic, each embodying the personality of the icon it represents with meticulous attention to detail.
Tsiaras has explored art in many of its forms—painting, photography, ceramics, and bronze and glass sculptures. For Philippe Hoerle-Guggenheim, founder, and curator of HG Contemporary, showcasing Tsiaras' work was a natural choice. "I do everything out of intuition," Hoerle-Guggenheim said. "I just want to see something that I feel like I haven't seen before."
Philip Tsiaras is an international artist of Greek origin who lives and works in New York City. He has had more than 80 one-person exhibitions. He has been the recipient of many national prizes including: The American Academy Award for Poetry, the Thomas Watson Fellowship, two National Endowment Grants for the Arts (NEA), nomination for the Blickle Stiftung Photography Prize, Germany, Gold Medal Award "Civiltà dell'Acqua", Venice, and Lifetime Cultural Achievement Award, the Alexandrion International Foundation, New York. His works are widely collected in prominent museums and private collections, including the Metropolitan Museum, New York. Twenty books and catalogues are attributed to his work.
You are a successful businesswoman in the energy industry and a former politician in your home country of Greece. How did you move from business to art, and do you mainly have Greek artists in your personal art collection? 
VR: My transition, from the family business to art sector, was very natural for me. Art has always been my passion and so I always find time for it and know the industry well. I owe my passion for art to my father mostly, who I worked with at the family business and who was also a great collector himself. He often took me to art galleries from a young age. I was inspired to take up painting too, from the age of six until I was eighteen.
Throughout my childhood, I have always been surrounded by artists and art dealers. They would visit my family home constantly. Also, my godfather was a well-known artist in North Greece. I have 200 paintings in my private collection, most of which I inherited from my father. I bought my first when I was just 16. I continue now and growing my collection with all the artists that I am promoting. I am the first one buying their artwork as I strongly believe in them. I have never sold a single painting from this private collection, and I am not planning to do so. What I am planning though, is having a personal exhibition with all my family artworks in London soon. However, now in my four years as an art advisor and strategic manager, my exhibitions have got off to a fantastic start. And I do have to admit that the Covid Year was really good for me towards achieving my targets. My move into the art sector was also helped by previous experience of my involvement with politics.
Someone would wonder to what extent my involvement in politics, informed my art investment and curation. The answer to this question is simpler than it looks. Politics and art are inextricably linked, and the reasons why maybe more obvious than you might think. A politician has one main objective: to fight crucial issues that society is facing and to try to help or resolve them. An artist is doing the same but through a totally different medium. They are expressing their concerns through art and reflecting wider social issues in their work. But an artist needs to be able to promote this in society, in the same way, a politician has a podium, and that's where I like to help.
When I was in politics, I had to promote myself to be elected, which was quite challenging.
I can now take that experience and channel it into promoting the artists I represent and on an international stage which I love and feel altogether more comfortable with!
Your exhibition programme is dedicated to making contemporary Greek art globally accessible.  What made you choose London to do this?
VR & JT: London is the centre of Art and the place where the heart of Art is beating loudly!  It is the place that determines the art market to a great extent. London for us is the ultimate Art Hub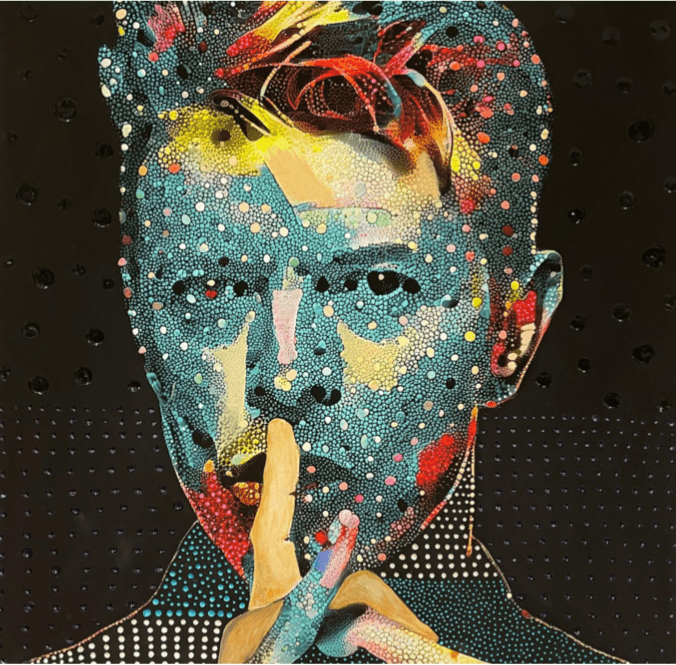 Are all the artists you're presenting in London based in Greece? And do you have a close dialogue with them and do lots of studio visits when you're planning the exhibitions?  
VR & JT: Apart from Philip Tsiaras, who is raised and live in New York city, the rest of the artists we are working with are based in Greece.  Very important for us is quality and not quantity.  Therefore, we are very careful with the number and the quality of the artists that we are working with. True believers in personal contact and teamwork, we constantly try to have discussions with the artists that we are working with and the collectors, so as to get the best possible results and eventually success. Before each exhibition, we work hard with each artist we exhibit. Everything is scheduled through a close and joined the collaboration. A strong and bonded teamwork.  We are more than collaborators …we are a family with our collaborating artists.
"Mythos" is at Gallery 8, 8 Duke Street, St. James's, London SW1Y 6BN until 21st October.
Philip Tsiaras 'Super Dot' will run from 14th November-10th December and Ermina Avramidou & Andrew Levita from 10-23 December at the same venue. varvararozagalleries.com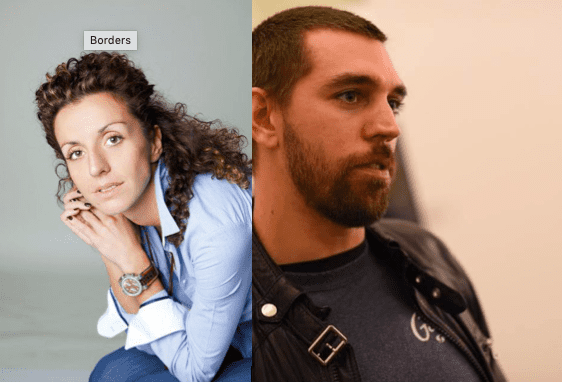 Categories
Tags