We spotted the paintings of Andre Wendland zooming around in an Instagram video before we had any idea of the artist himself, intrigued we had to find out more.
Can you tell us a bit about your art practice?
At the moment I'm still studying at the Karlsruhe art academy. Over the last few years, I've been experimenting with different avenues within painting. Last year, for example, I started to work a lot with cartoons and animation. This gave rise to various new ideas for my painting including painting onto "flatscreens" or directly onto old CRT televisions or discarded cell phones. Everything with the aesthetic of the cartoon. For example, characters like the Simpsons or Mickey Mouse kept appearing in my work. I became really interested in the transfer of the moving image of the animation into a static image painted with oil paint. I've also started to investigate stop motion animation to enable me to create my own characters and then transfer them onto canvas. As I've progressed I've found more and more interest in playing with the format and have begun to create figures that fill the entire image space. I feel this is for me a big theme in my painting.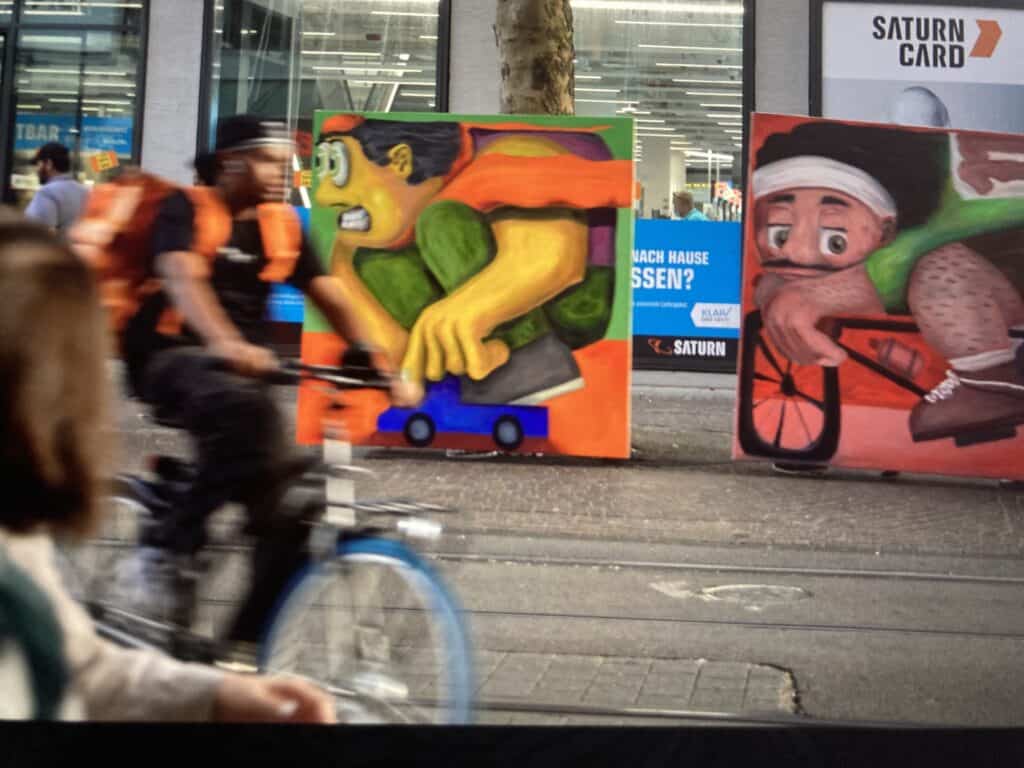 Why are you taking your paintings for a walk?
I like to see my work in the studio or on clean white walls, but I also take great pleasure in presenting them in a different context that fits the content of the pictures better. For example, with my car paintings, it makes perfect sense for me to show them on the street. Vehicles belong on the street. I think it is comparable to children playing with toy cars. They form their own world in the children's room and the imagination does the rest. When these paintings are exhibited after the round trip, they remind me of something like discarded racing cars that have already done their duty and are then shown in the museum, I like this thought.

Will you be doing more things like this?
I'm always open to new ideas, this one developed organically a few months ago when I brought one of my paintings from an exhibition by foot back to the academy. But this journey with the car paintings was the first time that I have consciously executed my paintings and presented them in this way. I have decided to follow the same process i.e Pick a theme and then display them in a relevant scene/context. I still need to see if I can actually execute the ideas.
But one thing that is definitely clear to me is that I want to show my paintings not only on the wall but bring them into another context outside the formality of the gallery space. Be it in the form of simple photomontages, shots in the studio or even "walks" with my paintings.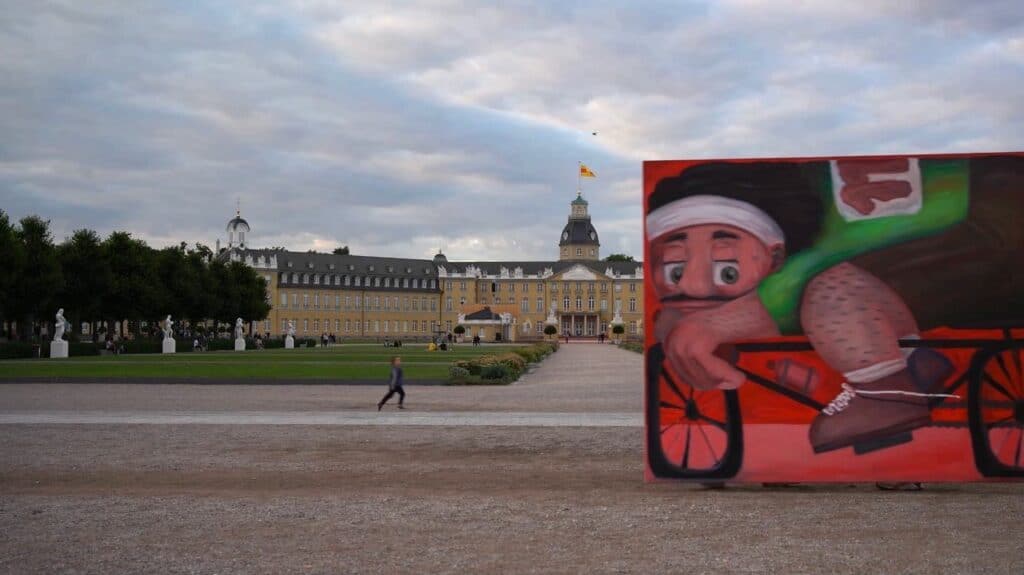 What have you been reading, watching, listening to?
I'm more of a watcher than a reader. I think that's where a lot of the cartoon influence comes from. When I was a kid, sitting in front of the tv with my parents, I always said I didn't want to watch anything with people! Even today I still like to watch cartoons. I'm a fan of Family Guy, which I also like to watch while I'm preparing food sometimes. I enjoy watching all kinds of documentaries on all kinds of topics. I have a lot of interests in that area, but in the end, I didn't spend that much time in front of the TV during lockdown. I kept myself busy with work on my clay stop-motion movies and smaller oil pastel drawings which I could do from home.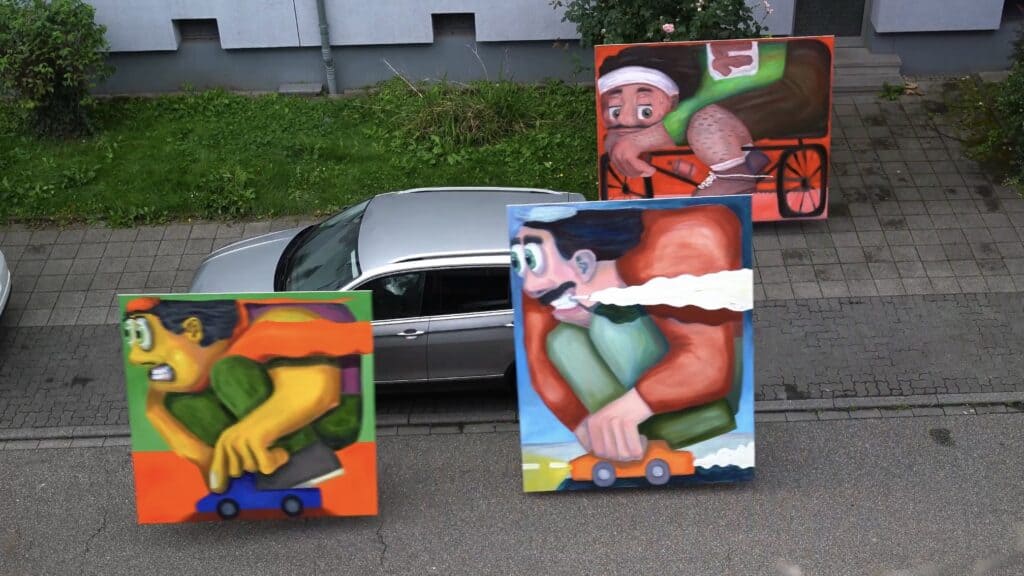 What have you planned for the rest of 2021 and 2022?
Until the end of 2021, I show a few of my works at various group exhibitions. In parallel, I have some projects planned but I can't reveal too much yet. However, they will be in a similar context to the recent works Next year I graduate and I am looking forward to some short trips and exhibition visits. But I plan to continue the work in the studio. I like things to happen organically I want to remain open to the opportunities that arise
You can follow André Wendland on Instagram @andrewendland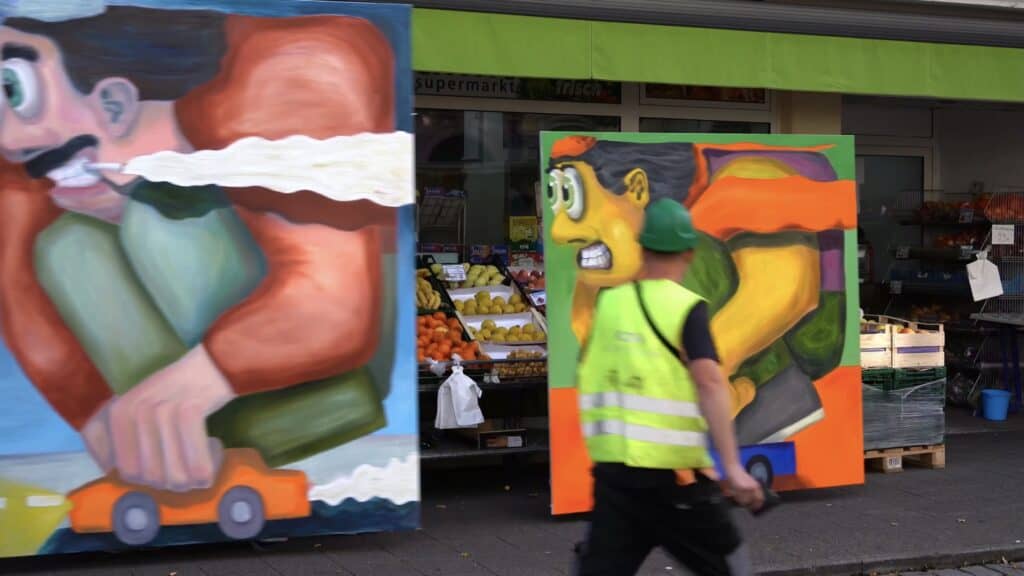 Categories
Tags