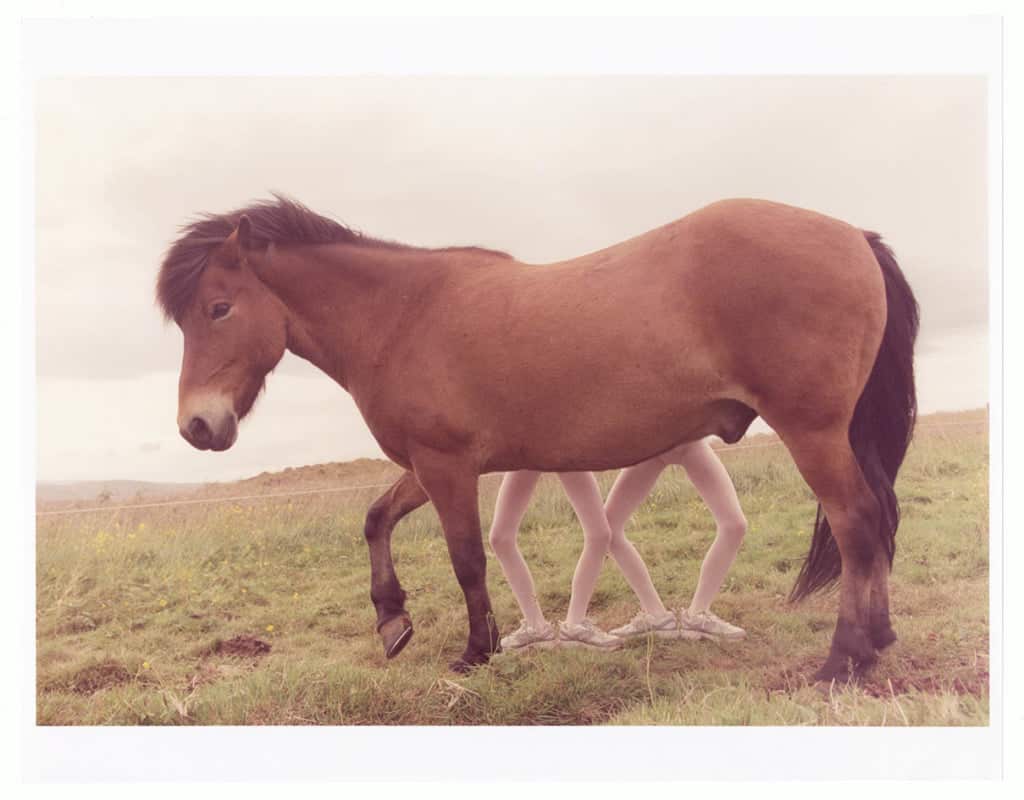 Photo London opens today (to 12 Sept), and where two years back people might have been wondering 'Are there too many fairs?' now it's 'Wow, a fair!'  And although there is a reduced international presence, especially from America and Asia, the 88 galleries have responded well. My guess is that more than half the images show people, and most of those give some focus to the face. But what about the legs? Here is a selection…
Ariko Inaoka: Eagle & Raven – Horse, 2011 at IBASHO, Antwerp (top)
The main Japanese content comes via Belgium, including a wall drawn from photographer-restaurateur Ariko Inaoka's seven summer project of following the Icelandic twins Erna and Hrefna ('Eagle' and 'Raven') from age nine. 'We dream the same dreams together', they say. Cue a series of eidetic entwinements, here adding legs to one of the small Icelandic horses known for their unique gait and sure-footed ability to cross rough terrain.
Anna Kutera: Feminist Painting, 1973 (6 of 8 images) at l'étrangère, London
At one of several 'no fixed space' galleries in the stimulating 'Discovery' section of the fair, multimedia artist Anna Kutera questions domestic roles, combining that with a poke at the phallic bravura of abstract expressionism. This performance documentation shows her sweeping her studio floor with black paint in a gesture calculated to provoke the male Polish Avant Garde artists of the time, who venerated abstract expressionism for its symbolisation of individual freedom in the face of communist restrictions. It also links to…
Loreal Prystaj: 4th of July, 2019 at hi-noon, London
Visiting her family home in New York, says Prystaj at the lively artist-led stand, she found herself 're-acquainted with household items, objects and motifs that represented the passing-down of performative gender roles for women' and sought to disrupt those conditioned behaviours under a title which draws attention to the ideas of liberation. It features herself as the 'central erotic prop' and her great-great-aunt looking away, whereas 'the pussy is looking back'.
Arthur Elgort: Stella Tennant Diving, Watermill, NY – Vogue, 1995 at ATLAS Gallery, London
The American fashion-as-art photographer is known for taking his models out of the studio and setting them in sometimes absurd motion. He cites his training as a painter and passions for jazz and ballet as instrumental in developing his aesthetic. Here the snapshot feeling comes with surprising boots and the added frisson of treating  expensive haute couture in cavalier fashion.
Noé Sendas: Unknown (Ropes), 2012 at Carlos Carvalho, Lisbon
Berlin-based Belgian Noé Sendas' 'Unknown' series began with nearly 500 anonymous 1940's negatives Sendas found in a flea market in Madrid depicting women in clichéd poses. His altered versions reference both golden era cinematic tropes and the subsequent tradition of subverting them by turning the figures partial or ghostly as they blend into the image. I might call them surreal, were their digital basis not made so apparent. This one made me think that, as below the waist is the essence of sitting, we may need anything else for that…
Fiona Trevitt: Bewitch, from 'Nude', 2021 in the Graduate Salon
One innovation this year is to present a 'best of graduates' selection of those who missed out on their physical degree show. Fiona Trevitt, from Roehampton University, is bang on my trend with the most bewitching images on the stand. She achieves some of Sendas' effect through – I assume – cunning posing rather than manipulation.
Other things to look out for – albeit less lower-limbed – are the Prix Pictet preview, Shirin Neshat's separate presentation and the excellent stands of Encounter,  England & Co, Flowers, MMX, Parafin, Richard Saltoun, SEAGER and Sid Motion.
Art writer and curator Paul Carey-Kent sees a lot of shows: we asked him to jot down whatever came into his head
Categories
Tags