Tabish Khan the @LondonArtCritic picks his top exhibitions to see right now, this week it's all exhibitions to see inspired by the natural world we all embraced in lockdown. Each one comes with a concise review to help you decide whether it's for you. Those looking for more exhibitions should check out his top picks for late August, where all are still open to visit.
Tranquillity @ Wellcome Collection
Sit inside a meditative room filled with large scale photographs of a rainforest by Chrystel Lebas, listen to the birdsong and rainfall, and breathe in the smells of the forest. This immersive installation is at the heart of an exhibition about tranquillity at Wellcome Collection that looks at how and why we need to relax. It's a wonderful escape from the bustle of London and it's opened alongside another exhibition on joy. Until 9 January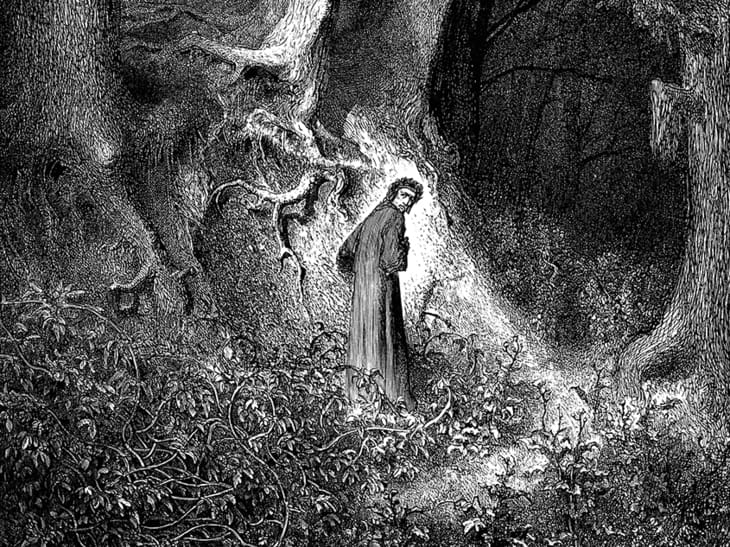 The Forest @ Parafin
Starlit skies through a canopy of trees or a forest of unicorns by Cathy de Monchaux, a mix of contemporary artists use the forest as the theme for their diverse works. It's a beautiful show that opens with a fantastic Gustave Dore etching (pictured) showing Dante venturing into a dark woods – highlighting that forests can be both seen as refuges and a source of terror. Until 4 September.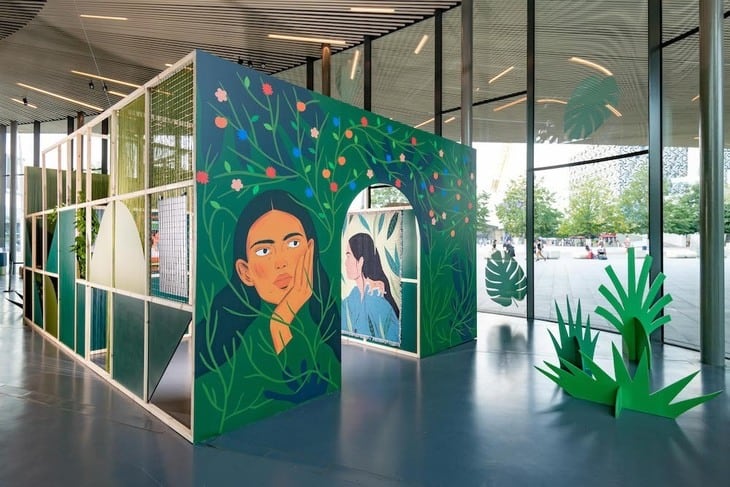 Manjit Thapp: My head is a jungle @ Now Gallery
Most of us feel like our head is a bit of a jungle but we can't turn that sensation into a fantastic immersive exhibition like Manjit Thapp has. Enter a jungle environment, complete with plants, to come across the introspective emotional illustrations throughout the maze. Some reflective works quite literally ask us to look at ourselves in a show we can all identify with. Until 31 October.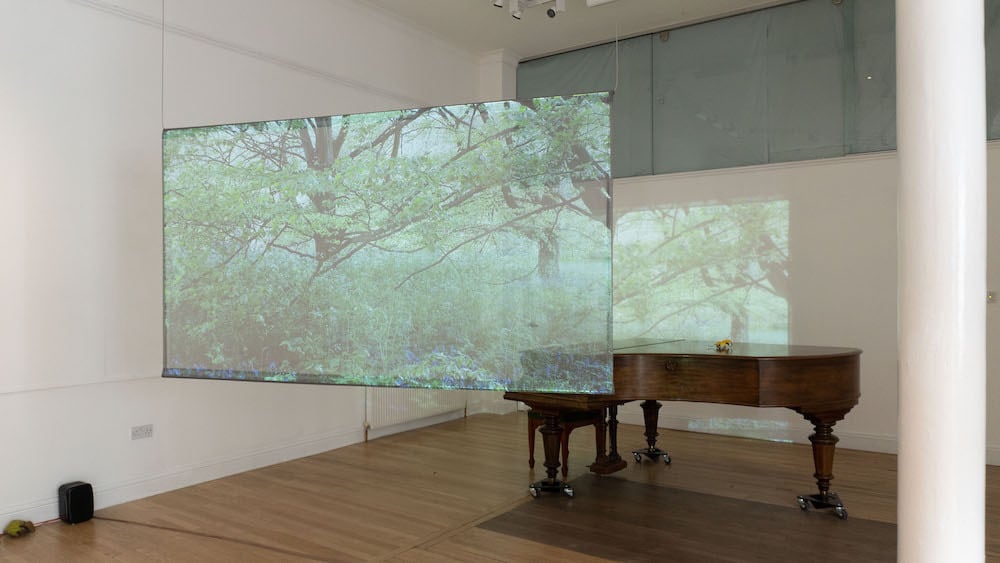 Lisa Chang Lee: Symphony Zero @ San Mei Gallery
Taking in the sounds of plants rustling in the breeze, algorithms have converted the sound into a musical score. It's a concept that suggests a welcome harmony between the natural and man-made worlds. Complemented by prints of forest scenes and beautiful leaves made from bronze placed in a few spots within the gallery it's a relaxing exhibition that gives these subtle works room to breathe. Until 4 September.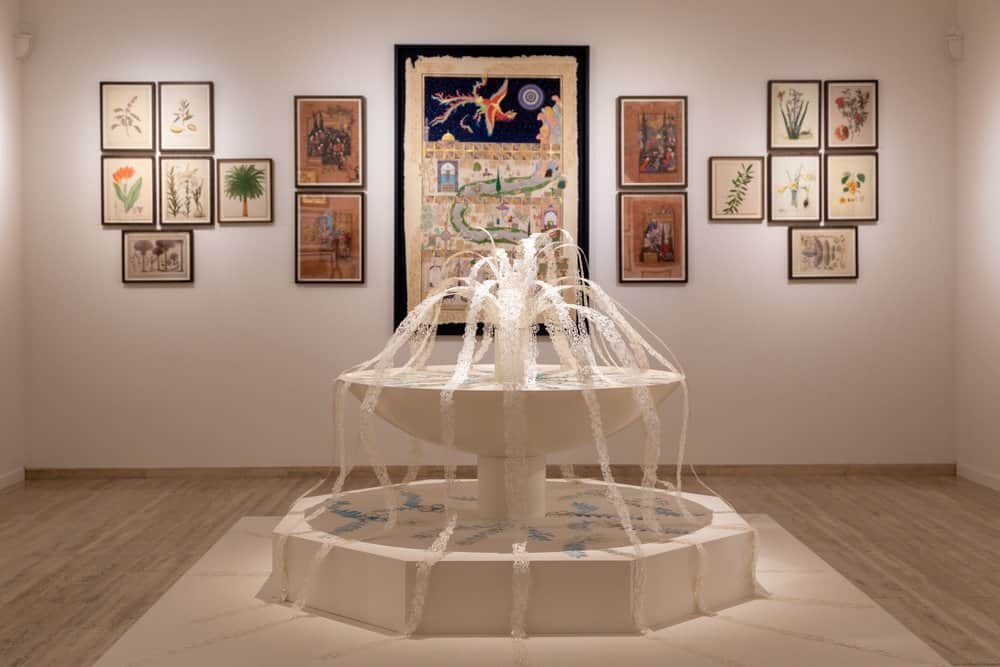 Making Paradise @ Aga Khan Centre
What does Paradise look like? This mix of centuries old and contemporary art are all based around the concept of the Garden of Eden and Islamic art and design. Surrounded by a dense collection of beautiful birds and plants and an overflowing fountain installation gushing out paper streams in the centre it's a treat to be surrounded by such idyllic art. Until 30 September.
Zachari Logan: Wild Flower @ Canada House Gallery
Flowers that grow out of cracks in the ground show us that nature always finds a way, especially those plants that we often classify as weeds that are celebrated here. Zachari Logan's detailed drawings are beautiful to behold and one that reads 'go back inside', spelled out using flowers, feels particularly apt given the year we've had. Until 18 September.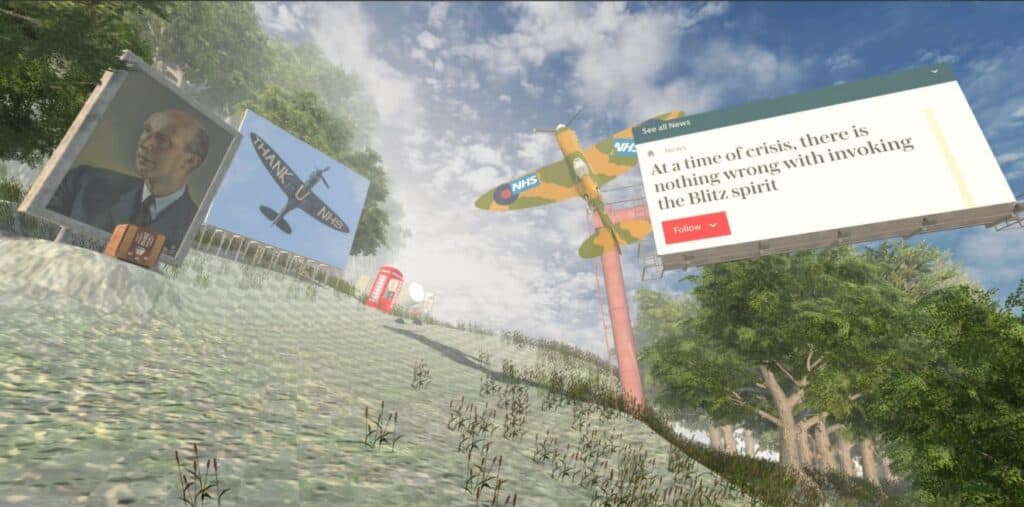 Max Colson: The Island @ Vitrine Gallery online
Step into a pastoral British idyll complete with green rolling hills in this virtual exhibition that visitors are free to explore in their own time as if playing a video game. Scattered with Second World War propaganda it asks the question around how the so called 'Blitz spirit' is often called upon in recent times for Brexit, the pandemic and other occasions as if inherent in all Brits — when in fact most alive today would never have experienced it. Until 5 September.
Categories
Tags