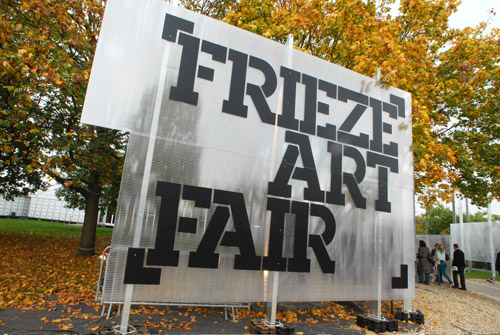 Today, Frieze revealed initial details of the 2021 editions of Frieze London and Frieze Masters, which will take place 13th- 17th October. Returning to Regent's Park, London, following a hiatus last year due to the COVID-19 pandemic, the fairs will reunite the world's major galleries in a celebration of the creative spirit of the city. Bringing together major galleries from 39 countries, the fairs will also feature an anchor programme of talks and special projects addressing some of the most relevant conversations in art today.
Frieze Week will take place across London featuring an extensive schedule of museum, gallery and partner initiatives as well as the London launch of membership events across the city. A dedicated edition of Frieze Viewing Room will also run in parallel with both fairs, complementing the in-person event with expanded online programming and connecting galleries with audiences across the globe.
'We are hugely looking forward to this year's Frieze  London, my first as Artistic Director, and to reunite with colleagues in person. The list of galleries participating confirms London as one of the world's most exciting art capitals, which has come through the pandemic with huge resilience. This year's fair also sees a new generation of curators whose programming  will prompt important conversations that not only reflect this moment of change and transformation but  also look forward to what the future of the artworld can be.'  

Eva Langret (Artistic Director, Frieze London)
FRIEZE LONDON 
A strong lineup of galleries from across the globe will participate in the return of Frieze London, offering the opportunity to discover up-and-coming talent as well as engage with the work of the most important artists working today. The 2021 edition includes Sadie Coles HQ, Hauser & Wirth, Xavier Hufkens,  Taka Ishii Gallery, Karma, Kukje Gallery, Matthew Marks Gallery, Mendes Wood DM, Maureen Paley,  Sfeir-Semler Gallery, Stevenson and David Zwirner. Alongside the main section of the fair, Focus is devoted to galleries established in the last 12 years and provides a platform for today's most exciting emerging artists,  participants include Arcadia Missa, Emalin, Empty Gallery, Instituto de Visión, Hot Wheels Athens,  Edouard Malingue Gallery, PM8 / Francisco Salas, Proyectos Ultravioleta and Temnikova & Kasela. 
Frieze London will once again foreground discovery, engaging with the next generation of European curators who are reshaping the discourse around contemporary art today. Unworlding, curated by Cédric Fauq (Curator, Palais de Tokyo, and incoming Chief Curator, CAPC musée d'art contemporain de Bordeaux) will feature a selection of international artists whose practices are centred around the idea of the undoing of the world as we know it. Unworlding will extend across the fair and include a major work by Nora Turato (Galerie Gregor Staiger), a video installation by Ndayé Kouagou (Nir Altman) and a monumental piece by  Natacha Donzé (Parliament), amongst others.  
Fauq said of the concept:
'The undoing of the world as we know it – has potentially become our only way  to exercise hope today, while shifting the perspective on what hope and progress mean. Through the use of  fictional architectures, slow apocalypses and fictional scarcity, the artists gathered for Unworlding show us  how pessimism can drive imaginative agency rather than lead to immobilism or the (re)production of the  world we live in.' 
This year's fair also sees the addition of Editions, a new section showcasing the world's leading publishers  of editioned works and multiples by today's most renowned contemporary artists including Paula Rego (Cristea Roberts Gallery), Yinka Shonibare (Cristea Roberts Gallery), Georg Baselitz (Knust Kunz Gallery  Editions), Do Ho Suh (STPI), Julie Mehretu (Borch Editions), Frank Bowling (Paragon) and more. 
FRIEZE MASTERS 
Across the park, Frieze Masters will bring together six millennia of art – from rare antiquities, to Old Master  paintings, to luminaries of the 20th century – creating an unmissable destination where visitors can  discover or acquire a piece of art history. The fair features major galleries including Acquavella Galleries,  Colnaghi, Marian Goodman Gallery, Johnny Van Haeften, Lévy Gorvy, Kukje Gallery, Nahmad Contemporary, Perrotin, Thaddaeus Ropac, Shibunkaku and Skarstedt Gallery, alongside specialists in their field, such as ArtAncient, Gisèle Croës – Arts d'Extrême Orient s.a, Peter Finer, Sam Fogg and  Dr. Jörn Günther Rare Books. 
In a major development, Frieze Masters will also introduce a new section called Stand Out, curated by Luke Syson (Director of Fitzwilliam Museum, Cambridge), which will bring together art objects from across the ages that are great works of design, of sculptural and conceptual brilliance. Stand Out looks beyond hierarchical distinctions between works of art in different media, and in doing so reconsiders art objects often termed 'decorative' or 'functional.' Participating galleries include Prahlad Bubbar, Alessandra Di Castro Antichità, Gisèle Croës – Arts d'Extrême Orient s.a., Sam Fogg, Oscar Graf, Stuart Lochhead Sculpture,  Raccanello & Leprince and Tomasso.  
The celebrated Spotlight section is dedicated to pioneers of avant-garde art from across the world, overseen  by Laura Hoptman (Executive Director of The Drawing Center, New York) for the third year. Featuring solo  presentations of work by overlooked figures and rarely seen practices by modern masters, Spotlight champions  a diverse group of artists including: Feliciano Centurión (Cecilia Brunson Projects / Galeria Millan),  Beauford Delaney (Michael Rosenfeld Gallery) and Alice Rahon (Gallery Wendi Norris). 
FRIEZE london/masters
Opening dates and times: (Preview – by invitation) Wed 13 October: 11:00 – 19:00  
Thur 14-16 October: 11:00 – 19:00  Sun 17 October: 11:00 – 18:00 All persons entering the fairs will need to show full proof of their COVID-19 status. Timed entry will be used throughout the week to carefully manage capacity and ensure the fairs do not become too crowded.  
Categories
Tags