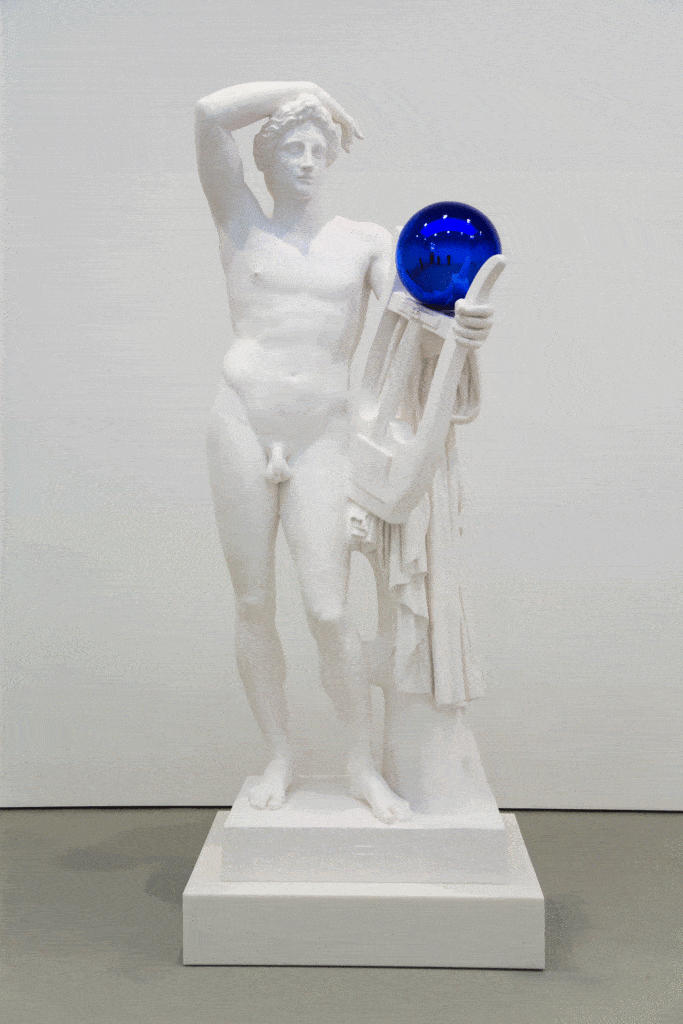 This autumn, Palazzo Strozzi in Florence will host a major exhibition by Jeff Koons, curated by Arturo Galansino and Joachim Pissarro, the exhibition will bring to Florence a wide selection of the most celebrated works by Koons who, from the mid-70s to the present day, has forged a reputation as one of the most important and controversial figures in the contemporary art world.
Developed in close collaboration with the artist, the exhibition entitled Jeff Koons. Shine will host loans from some of the world's most important collections and museums, exploring the concept of "shine" in Koons's work – an ambiguous idea that oscillates between the dualities of being and seeming, or truth and sensation.
The chosen artworks illustrate the story of a career that has spanned over forty years, from Koons's glistening metal sculptures replicating luxury objects like Baccarat Crystal Set (1986) to his iconic inflatables such as Rabbit (1986) and Balloon Dog (Red) (1994-2000). In addition, the exhibition will highlight Koons's revisitation of pop culture and his historic reinvention of the readymade through works such as Hulk (Tubas) (2004-2018) and One Ball Total Equilibrium Tank (Spalding Dr. JK 241 Series) (1985).
The creator of works that have entered our collective imagination due to their ability to merge the academic with popular culture through their references to art history and allusions to the world of consumer society, Koons has found a key principle in the idea of "shine" for his innovative sculptures and installations, which set out to question our relationship with reality but also the very concept of a work of art. To Koons, shine to is a concept that goes beyond the decorative to become an intrinsic element of his art. Endowed with a reflective quality, his artworks heighten our metaphysical understanding of time and space, surface and depth, materiality and immateriality.
The American artist's works place the observer before a mirror in which they can at once see themselves within their environment and thus experience affirmation. As Koons puts it: "The job of the artist is to make a gesture and really show people what their potential is. It's not about the object, and it's not about the image; it's about the viewer. That's where the art happens."
Taking inspiration from Andy Warhol and Marcel Duchamp, Koons has developed works throughout his career that have sparked critical debate and courted controversy and acclaim in equal measure. Yet, Koons's combination of pop, conceptual and post-modern influences uniquely demonstrate how the art object acts as a larger metaphor for society and community.
In 2021 Jeff Koons. Shine aims to lead the way in Italy's cultural recovery from the Covid-19 pandemic, continuing Palazzo Strozzi's lively dialogue between the traditional and the new with the production of contemporary exhibitions with prominent artists of today within the context of its Renaissance historical architecture.
The exhibition is promoted and organised by the Fondazione Palazzo Strozzi. Sponsors: Comune di Firenze, Regione Toscana, Camera di Commercio di Firenze, Fondazione CR Firenze, Palazzo Strozzi Partners Committee. Main sponsor: Intesa Sanpaolo.
Jeff Koons. Shine  Palazzo Strozzi, Florence, 2nd October 2021–30th January 2022
About the Artist
Jeff Koons was born in York, Pennsylvania in 1955. He studied at the Maryland Institute College of Art in Baltimore and the School of the Art Institute of Chicago. He received a BFA from the Maryland Institute College of Art in 1976. Koons lives and works in New York City.
Since his first solo exhibition in 1980, Koons's work has been shown in major galleries and institutions throughout the world. His work was the subject of a major exhibition organized by the Whitney Museum of American Art, Jeff Koons: A Retrospective (June 27 – October 19, 2014), which travelled to the Centre Pompidou Paris (November 26, 2014 – April 27, 2015) and the Guggenheim Bilbao (June 9 – September 27, 2015). Recent exchibitions include Jeff Koons: Absolute Value. Selected works from the Collection of Marie and Jose Mugrabi, Appearance Stripped Bare: Desire and Object in the Work of Marcel Duchamp and Jeff Koons, Even, and Jeff Koons at the Ashmolean. Jeff Koons: Mucem. Works from the Pinault Collection will be on view in Marseille, France, from May 19, 2021 through October 18, 2021.
Koons is widely known for his iconic sculptures Rabbit and Balloon Dog as well as the monumental floral sculpture Puppy (1992), shown at Rockefeller Center and permanently installed at the Guggenheim Bilbao. Another floral sculpture, Split-Rocker (2000), previously installed at the Papal Palace in Avignon, Château de Versailles, and Fondation Beyeler in Basel, was most recently on view at Rockefeller Center in 2014.
Jeff Koons has received numerous awards and honors in recognition of his cultural achievements. Notably, Koons received the Governor's Awards for the Arts "Distinguished Arts Award" from the Pennsylvania Council on the Arts; the "Golden Plate Award" from the Academy of Achievement; President Jacques Chirac promoted Koons to Officier de la Legion d'Honneur; and Secretary of State Hillary Rodham Clinton honored Koons with the State Department's Medal of the Arts for his outstanding commitment to the Art in Embassies Program and international cultural exchange. In 2017, Koons was made the first Artist-in-Residence at Columbia University's Mortimer B. Zuckerman Mind Brain Behavior Institute and, also, made an Honorary Member of University of Oxford's Edgar Wind Society for Outstanding Contribution for Visual Culture. Koons has been a board member of The International Centre for Missing & Exploited Children (ICMEC) since 2002, and co-founded the Koons Family International Law and Policy Institute with ICMEC; for the purpose of combating global issues of child abduction and exploitation and to protect the world's children.
Categories
Tags