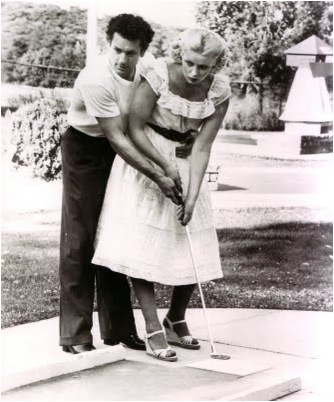 Are you getting tired of the same old golf clothing that you reach for each game? Is it feeling a bit monotonous and you'd like to find a way to inject some fashion and style into your attire? Golf clothing is quite a booming industry nowadays. Today's golfers have a huge selection of options and there is nothing dull or basic about the clothing. 
We've put together some golf course fashion tips that will ensure you look great on the course while adhering to the dress code – making sure you look presentable at all times.
Experiment with Different Fabrics
One of the biggest changes in golf attire is the fabrics being used. There has been an emphasis on fabrics that enhance your comfort and help you to be the best player possible. This includes fabrics that wick away moisture, are lightweight, and provide SPF protection. You want to look for fabrics that can handle a variety of weather conditions and that look and feel high-end and luxurious.
Some of the top sportswear brands have dipped their toes into the golf apparel waters with great success now. They are offering golfers high-tech and high-performance fabrics in styles that feel more modern and fashionable.
Take It Easy on the Patterns
In the past, it has been quite common to wear patterns with patterns on the golf course. This look is considered quite dated today and now it's more about putting together an outfit. If you want to wear a pattern on top, it needs to be grounded with a solid color on the bottom, and vice versa.
Color Is Welcome on the Golf Course
There's no reason to shy away from color on the golf course, as this adds personality to your outfit. Just like with patterns though, you don't want to go overboard. If you're picking a bright color, it needs to have an anchor with a neutral color.
Golf Shoes that Make a Fashion Statement
Another item that has come a long way is golf shoes. If you look back over the decades, golf shoes have completely transformed and look more like a standard athletic shoe now. You can find something that is comfortable and that gets the job done but in a fun print, color or style.
Add a Little Bling to Your Golf Cart
If you own a golf cart, this is also an opportunity to go from basic to very stylish by adding a little bling and customization. You can pick up cart seat covers that will add instant personality. On top of modernizing the look of the cart, it will also protect the seats.
The Slim Fit Trouser is All the Rage
If you're in the market for a new pair of golf trousers, opt for a slim fit. This is the trendiest fit of the moment and has a more modern vibe than the classic golf pants. Another trend is golf joggers. These are jogging pants that have been given an injection of style and sophistication and are slim fitting. They will be comfortable and, in most cases, completely acceptable on the course.
Always Check the Course Apparel Guidelines in Advance
The final tip is to make sure you check apparel guidelines at that particular course in advance. You never know if there are any specific rules and you don't want to show up dressed incorrectly.
Look and Feel Great on the Golf Course
Each of these golf course fashion tips will ensure you not only look great while you play a round of golf, but that you also adhere to the rules of the course. Golf apparel has come a long way and the new modern look is welcome.
Categories
Tags