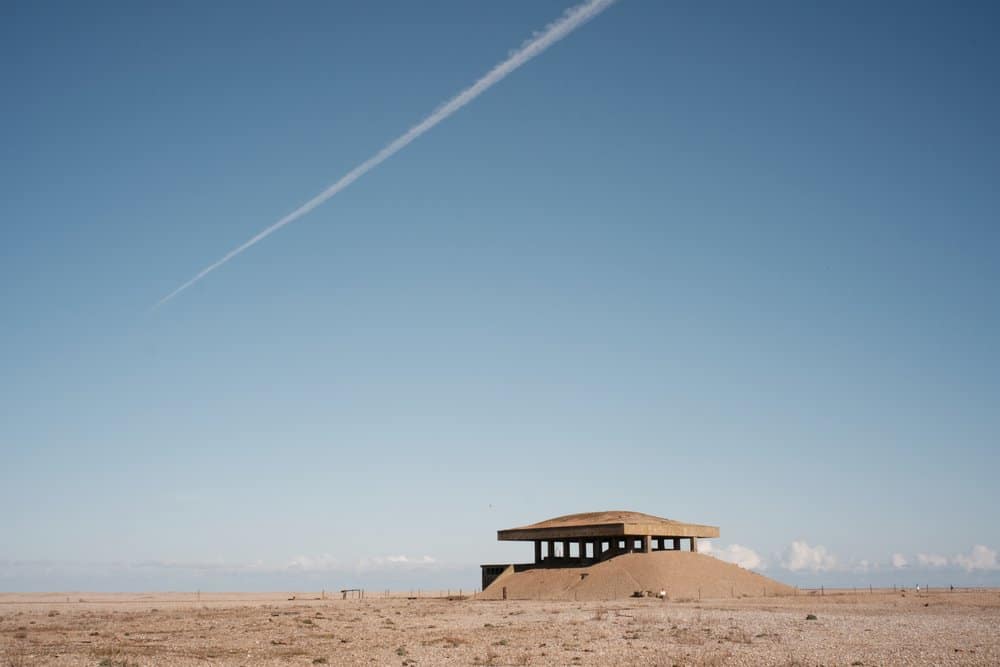 I'm standing on a shingle beach looking out to sea with the wind whipping at my face. With just sea birds for company, it's peaceful but the skeletal structures of bunkers and houses around me suggest I'm in some sort of post-apocalyptic wasteland, affirmed by a sign that warns me to stick to the path due to unexploded ordnance.
It's the last place I'd expect to find an art installation, there are no white-walled gallery spaces here. Yet this is the site of the latest Artangel project that's taken up home in Orford Ness – an old ministry of defence testing site that's been abandoned and reclaimed by nature.
Artangel has previous history of finding fantastic locations to show art including a vast underground chamber for a ritual mourning performance, artists in Reading prison and famously flooding a flat with copper sulphate.
The art 'on the Ness' is subtle for the most part with the most striking being the work of Tatiana Trouvé within an abandoned building that's open to the elements and part flooded. It's unclear where the site ends and the art begins, and while this definitely feels like it's by design it's symptomatic of a lot of the work here that it often feels secondary to the setting.
Now that's not necessarily a bad thing as without the art I wouldn't have discovered Orford Ness, I hadn't even heard of it before this project was announced. Though I spent so much time admiring the place that I feel like I need a repeat visit to fully appreciate the artworks.
The poetry on the headset by Ilya Kaminsky is a great soundscape to the breath-taking views as you walk along the shingle, feet sinking in as I make slow progress between sites – plus there's a chance to listen to local field recordings within a fantastic tower known as Black Beacon. There's a lot of walking involved so make sure you bring some sturdy shoes as it takes at least two hours to get around all the sites that are part of the project.
The remote location on the Suffolk coast does mean it's not the easiest journey for those using public transport as it will involve a train, a cab and then a short boat ride, thankfully the latter is provided by the National Trust, to get to the site. And visitors will definitely not want to be here when it rains as it only appears to rain sideways. But for those willing to make the trek to the Ness, natural and artistic beauty awaits.
Afterness is an Artangel and National Trust project on Orford Ness, Suffolk. It's free to visit and on from 1 July to 31 October 2021 – though it's only open on selected days.
Categories
Tags