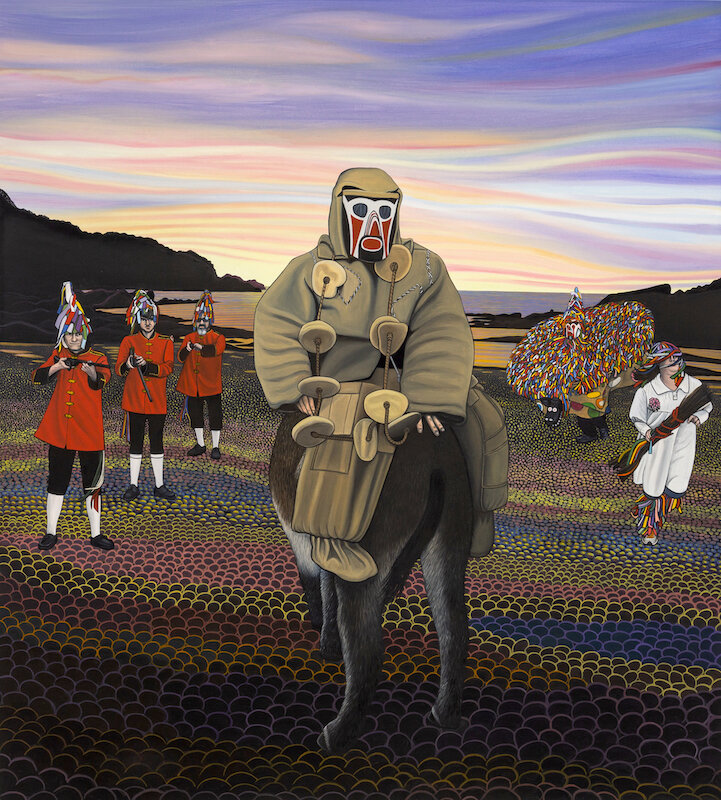 From the 4th of June until July the 4th the artist Ben Edge and the Museum of British Folklore are collaborating for an exhibition titled 'Ritual Britain' at the Crypt Gallery, St Pancras New Church, Euston, In which Ben's series of twenty paintings and documentary film titled 'Frontline Folklore' that explore the seasonal folk customs, rituals and ceremonies of the British Isles will go on display alongside Simon Costin's iconic MOBF collection. There will be events running throughout the exhibition that include talks and film showings with Zakia Sewell (My Albion, BBC Radio 4) and Boss Morris (Pioneering all girl feminist Morris side). Ben Edge is also releasing his debut solo album 'New Tradition' on limited edition green vinyl alongside the exhibition.
Ben Edge and the Museum of British Folklore – Ritual Britain The Crypt gallery, St Pancras New Church, Euston Road, London. June 4th – July 4th Open 12 noon – 6pm, Thursday – Sunday
Event page for latest news facebook.com/events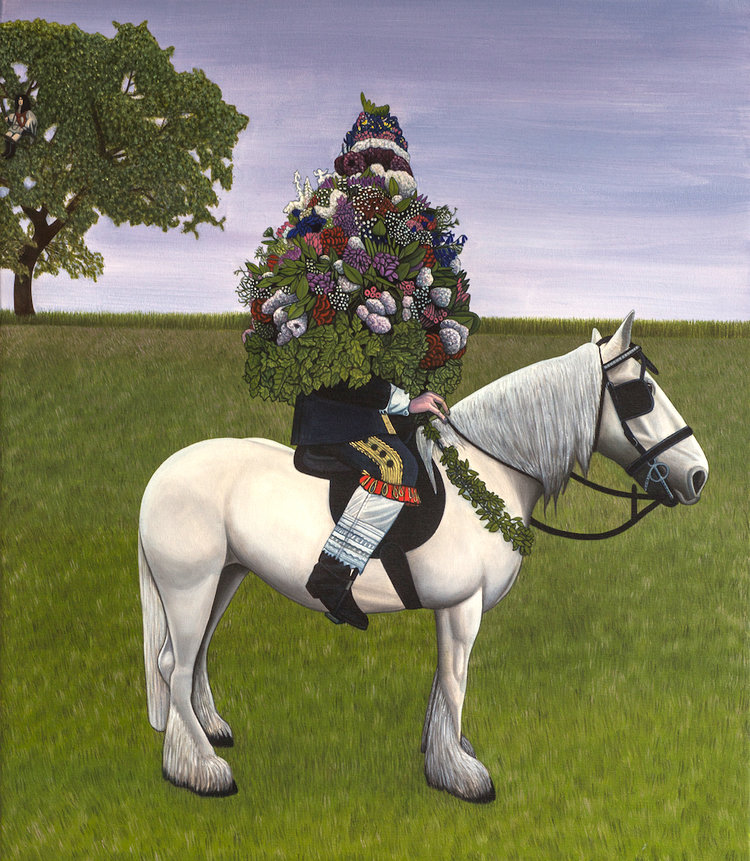 About the Artist
As a teenager Edge became interested in punk rock, folk music and art. These interests led him to take up painting and to study Fine Art at West Kent College and later at the Sir John Cass School of Art, Architecture and Design. It was also in his teenage years that he began writing and performing music. He has since been in numerous bands and toured Europe extensively. Past projects include The Ideots, Thee Spivs, Ben Edge and The Electric Pencils and most recently a solo acoustic project.
Edge is predominately a figurative painter interested in folklore and story telling, whose paintings depict the extraordinary lives of ordinary people. He believes his interests originate from his childhood, where he grew up around colourful and eccentric family members who would tell him remarkable stories. In 2009 his painting 'The Animal Handler' was selected for exhibition at the National Portrait Gallery as part of the BP Portrait Award. Edge's grandfather, who was the subject of the painting, was a porter at Smithfield meat market as well as an animal handler in his spare time. Over the years his flat was home to a wide array of exotic pets including, chimpanzees, monkeys, lizards, pythons and even once a tiger cub that had been lent to him by a friend who worked at the circus. Edge cites his grandfather, as well as his family in general, as a major influence on his work. Not only are they inspiring characters, but creative people who have a wide array of interests, such as painting, drawing and wood-carving.
Edge is a self-proclaimed perfectionist and his perfectionism is mirrored through his clean and precise style of painting and his fascination for the detail and craft that is often found in Folk and Naive Art as well as the traditions of religious and northern Renaissance painting. These combined influences inspired the title of his debut solo show 'Folk Renaissance' that took place at the HIX Art gallery, London, in March 2017.
Since then Edge has been working on a new series of paintings that have been inspired by a serendipitous experience in which he stumbled across a Druid ceremony taking place on Tower Hill, London. Inspired by this incredible discovery, Edge began researching the folklore and seasonal customs of the British Isles and was amazed to discover that there were such events taking place all over the Uk. Although he was not entirely conscience of it at the time, a new obsession had been born and he began travelling up and down the British Isles extensively, gathering source material and responding to his research through a new series of paintings and documentary films. This body of work titled 'Frontline Folklore' will be exhibited alongside a carefully curated selection of objects from the influential set designer, Simon Costin's remarkable 'Museum of British Folklore' collection that will be taking place from June 4th until July 4th 2021 at the Crypt gallery, of the St Pancras New Church , Euston, London.
Edge has also created artwork and art directed music videos for musical acts such as the Fat White Family and Raf Rundell and released his own debut solo album on Glass modern Records titled 'New Tradition' this year.
Categories
Tags