Kevin Pinsembert is part of the Group show Allez la France which has just opened at Saatchi Yates we managed to grab a few minutes with him and the other three artists at the opening of the exhibition to ask questions about the exhibition and their art practice.
You paint large scale It must be such a relief that people will be able to see your work in person – how has COVID been affecting you and your art practice?
The size of the works was chosen to give the viewer the impression of dealing with part of a painted wall, sliced and displayed all over the space. It has great importance, especially for the dialog which can occur between the paintings and the body. Before the reopening of retail spaces and their main gallery space, Saatchi-Yates managed to display our paintings in additional spaces on Burlington Arcade and in Soho, where anyone walking on the street can look into the window and see our work. As someone who paints outdoors (where such a question wouldn't be asked if the painting was directly dropped on a wall in the street), I feel it is a very interesting statement in a gallery context, which in a way brings the exhibition to the viewer as much as circumstances allows. After lockdown, which is very soon now, we look forward to having people feel and experience the works more closely again!
How did you all meet? And how did you get to the idea of painting on shared walls? 
We met and formed a collective of French painters called Moderne Jazz. We got the idea for the name from an internet forum and some of us have started to sign it on our paintings. After meeting we began moving through France to spend more time together.
I sometimes like to think about wall painting as the result of being born at the end of the XXth century. If we met 100 years ago, we would probably paint outside on easels in gardens, but the fact is we were all born in a time where graffiti was all around us and made more obvious and easier for us to direct contact with painting by using walls to work.
You enjoyed the freedom walls gave you to paint in any size at any time no deadline no expectation no pressure – how have you found the transformation to painting for a gallery especially a gallery in London? 
All along the series made for the exhibition, it has been a bit challenging to let the tingling energy and radical decisions inherent to wall-painting pass the doors of the studio. As some of the canvases were directly hanged on the wall we usually paint in Paris, some others have been necessarily done indoors for reasons we all know (Covid). It yet created a hybrid painting context right between outdoor scales and a more intimate studio mindset. More time to think and recompose, more coffee also. I actually tried to forget about everything and focused more on the understanding of the resulting painted object. Today this step oriented my studio practice towards the use of wider scales.
How did Saatchi Yates find you? 
I got a DM through instagram. We met soon after in Paris where I presented Phoebe & Arthur a big wall painting so that they could appreciate the materiality and presence of it. Naturally, after we saw the artwork, we had a glass of wine in an old bar near my studio.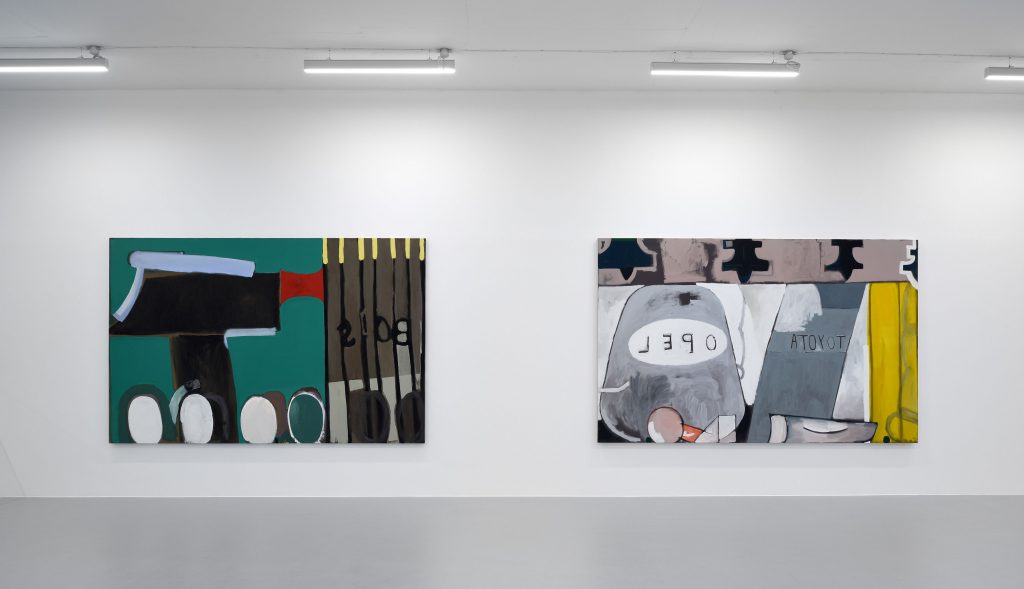 What have you been reading, watching & listening to during lockdown/ Covid 
I have mostly browsed a lot of painting from XIXth and XXth century on the internet and in some books. I've also had time to re-watch classic albums that are some of my favourites, like Public Enemy, Prefab Sprout, Rameau and ASAP Mob, as well as listening to podcasts or interviews from people I've been curious about. The news has also been an important source to try and understand what Covid-19 actually is, and, answering this question makes me think that people still don't really know what it is, with all the conflicting information out there. 
What's next for you? 
I'm trying to set myself up so that I can paint full time and not rely on other jobs to carry me through. I'd also like to live somewhere with more space to work in, so I am hoping to move soon. 
Allez La France! Featuring works by Jin Angdoo, Mathieu Julien, Hams Klemens and Kevin Pinsembert April – 26th May 2021 saatchiyates.com 
Categories
Tags