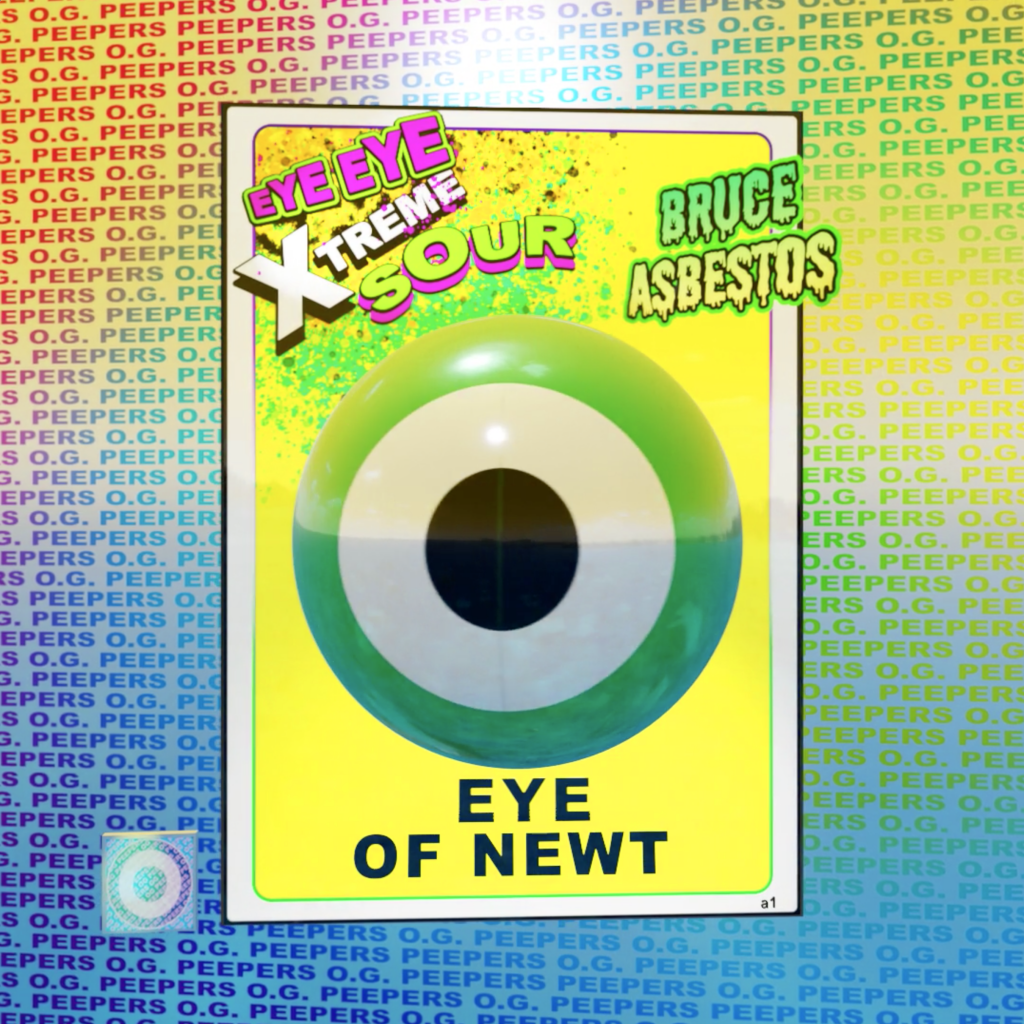 We've known Bruce a long time at FAD I think the first time we came across him was when he released 1000 videos on Youtube in 2014 then in 2015 we met him in the flesh at Concrete a bar above the Hayward Gallery which featured "Experiments with digital and social media, popular culture, marketing and small-scale production." he's also created huge inflatable artworks such as enormous eyes. He's one of the most imaginative and prolific artists we know and super nice – if anyone deserves a large stage it's him – below a few question on his art practice and his concurrent projects.
You seem super prolific is art something you have to do as opposed to want to do?
I've known I wanted to be an artist since I was 14, it was like art had this transcendent quality where you can manifest thoughts, it's an attractive proposition to be an artist. I just love that it can have all these different qualities, like Warhol, it's both heavily serious and profoundly conceptual, and then it's breezy and you can buy it on a pencil case. I just love all the emotion that an artist like that can bring to the table. 
Are you a modern-day Andy Warhol?
I'm actually hoping to be a modern-day Hokusai, I love that he just added ten more views to his '36 views of Mount Fuji' series of prints, presumably because they were popular. But I love to know what Andy Warhol would make of Social Media and NFTs.  
What are you up to at the moment?
I've got a digital catwalk this Thursday 20th May at the National Justice Museum – Bruce Asbestos S/S 2021 bit.ly/3xyfVKO, I'm then working with the Holden Gallery in Manchester to produce two catwalks, one digital that will tour to Microneme in Wuhan, China. I've also got the inflatables as part of an art fair installation in London in July.
What have you been listening, reading, watching during lockdown down?
BOOK – Ray Dalio – Principles, was interesting, I'm trying to read a lot about organisations, I feel like that's the next step, BruceAsbestos LTD. 
PODCAST – The Beeple and Jordan Wolfson conversation on the David Zwirner podcast is amazing , you can really feel them tying themselves up in knots the differences between NFTs and Contemporary art and there is some joy in Beeple being taken to task, and Jordan Wolfson struggling to convince Beeple about the merits of difficult work. 
GAMES – I loved all the glitches in Cyberpunk 2077, my game wouldn't load the faces of the characters, or my car would just fall out of the sky, or baddies would get stuck in walls. I've heard of people playing the game and tiny trees appearing in the apartment of the main character. This extra layer of glitches made the game much more unexpected to play, I loved not knowing what I was about to experience and how that related to the intentional glitch aesthetics and the main storyline.
How do people keep up to date with what you are up to?
@bruceasbestos and www.bruceasbestos.info
What you got brewing for 21/22?
I'd really like to make my own sneakers, I've been making prototypes for a few years now, and I feel like I'm closer, but I want people to feel shocked when they first see them like when I saw Jeremy Scott's teddy bear shoes for the first time. Perhaps I'll dial it back and make a comfy Croc or something first, and then work up to producing a shoe masterpiece. 
Bruce Asbestos' latest Catwalk S/S 2021 is part of 'Power: Freedom to Create' at National Galleries of Justice. Catwalk Launch 20th May Free tickets bit.ly/3xyfVKO Exhibition runs from 21st May – 31st October 2021 With the catwalk available to view online from the 5th June. nationaljusticemuseum.org.uk/event/power-freedom-to-create/
Categories
Tags