"Making money is art, and working is art, and good business is the best art."

Andy Warhol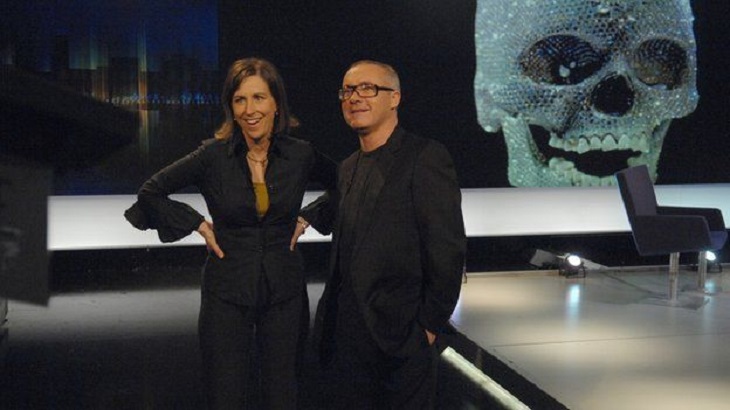 According to a report in The Art Newspaper Damien Hirst's artwork, The Currency is to launch on a new NFT platform Palm.
Palm has been put together by Ethereum and ConsenSys co-founder Joe Lubin, Joe Hage, the owner of Damien Hirst's edition Publisher Heni and David Heyman, the founder of Heyday Films who produced the Harry Potter movie. Palm will be an alternative network for NFTs that is claimed to be 99% more energy efficient than the current Ethereum blockchain.
It is not the wholesale switch from Ethereum (Proof of Work) to Ethereum 2.0 (Eth2) (Proof of Stake) that is in the process of being delivered but is a few months away as explained here in Wired Magazine which will drastically reduce the energy consumption of the network, nor is Palm the first platform to use other, more energy-efficient blockchains. Palm is based on a centralised Proof of Authority algorithm which is designed (so we are told) to convert into a decentralised system "overtime". This is very important as the whole idea of a decentralised system is at the heart of cryptocurrency and NFTs a decentralised system refers to the transfer of control and decision-making from a centralised entity (individual, organization or in this case a group of old white men) to a distributed network.
Damien Hirst will launch the Palm platform with The Currency, (5 years in the making) a series of 10,000 unique oil paintings on paper created five years ago tied to corresponding NFTs.
"This project is firstly about art and people but it explores belief and value generally, and in particular value in art. It also touches on the idea of art as a currency and a store of wealth. Art doesn't have to just exist in the physical world, it can also exist in the digital world too and now because of the blockchain so can the ownership of that art."

Hirst told The Art Newspaper:
Sign up for drops: palm.io
Palm has also announced several launch partners from the crypto space: leading DeFi protocol Uniswap, $MEME, the popular experimental NFT and their new platform Niftys, and Protocol Labs for decentralized storage of NFT metadata on IPFS. The Palm sidechain will be accessible via a custom network on MetaMask, the most popular Ethereum wallet in the NFT space, currently serving 2.5MM MAUs, with infrastructure operated by Infura, the leading Ethereum and IPFS API service. 
About ConsenSys
ConsenSys is the leading Ethereum software company. They enable developers, enterprises, and people worldwide to build next-generation applications, launch modern financial infrastructure, and access the decentralized web. Their product suite, composed of Infura, Quorum, Truffle, Codefi, MetaMask, and Diligence, serves millions of users, supports billions of blockchain-based queries for their clients, and has handled billions of dollars in digital assets. Ethereum is the largest programmable blockchain in the world, leading in business adoption, developer community, and DeFi activity. 
About HENI Group
HENI is an international arts services business across publishing, print-making, photography, digital publishing, film and art research, whose mission is to make art more accessible. HENI, founded by Joe Hage, is at the leading edge of printmaking and innovation. HENI works with many international museums (for example, The National Gallery London, TATE, Serpentine and Beyeler) and many great artists or their estates (for example, Gerhard Richter, Francis Bacon, Alberto Giacometti, Lucian Freud, Zaha Hadid and Damien Hirst). In addition to advising and managing many important contemporary artists, HENI also advises many significant collectors and foundations, using data science and unique AI tools to analyse and understand art and the art market. 
About Heyday Films 
Heyday Films is founded by David Heyman, the producer of the Academy Award winning film, Gravity, directed by Alfonso Cuaron, as well as the film adaptations of Michael Bond's Paddington, and J.K Rowling's Harry Potter books. Most recently, Heyday produced Once Upon a Time in…Hollywood, directed by Quentin Tarantino, and Marriage Story, directed by Noah Baumbach. Heyday Films is currently in post-production on the third of J.K. Rowling's Fantastic Beasts films, having produced the first two films in the series.
Categories
Tags