Von Bartha has announced representation of Swiss artists Olaf Breuning and Athene Galiciadis in Switzerland. Von Bartha will present a solo exhibition of work by Olaf Breuning at its S-chanf space this Spring, 27 March – 29 May 2021. Additionally, the gallery will present a solo exhibition of work by Athene Galiciadis at its Basel space from 12 November – 23 December 2021.  
"Having closely followed the practice of Olaf Breuning and  Athene Galiciadis, we are thrilled for these artists to join the von Bartha roster. I am convinced that Olaf Breuning is going to be one of the most significant rediscoveries within the Swiss art scene in the coming years. His new body of work, the woodcut paintings, have opened an entirely new chapter within his work and we are looking forward to presenting it to our Swiss audience.  Athene Galiciadis' unique style oscillates between geometric precision and freehandedness, and regardless of the medium she depicts current themes in a truly poetic manner. The planning for  her solo show in November is well on the way and we are very excited about her new body of  work." 

Stefan von Bartha, Director said: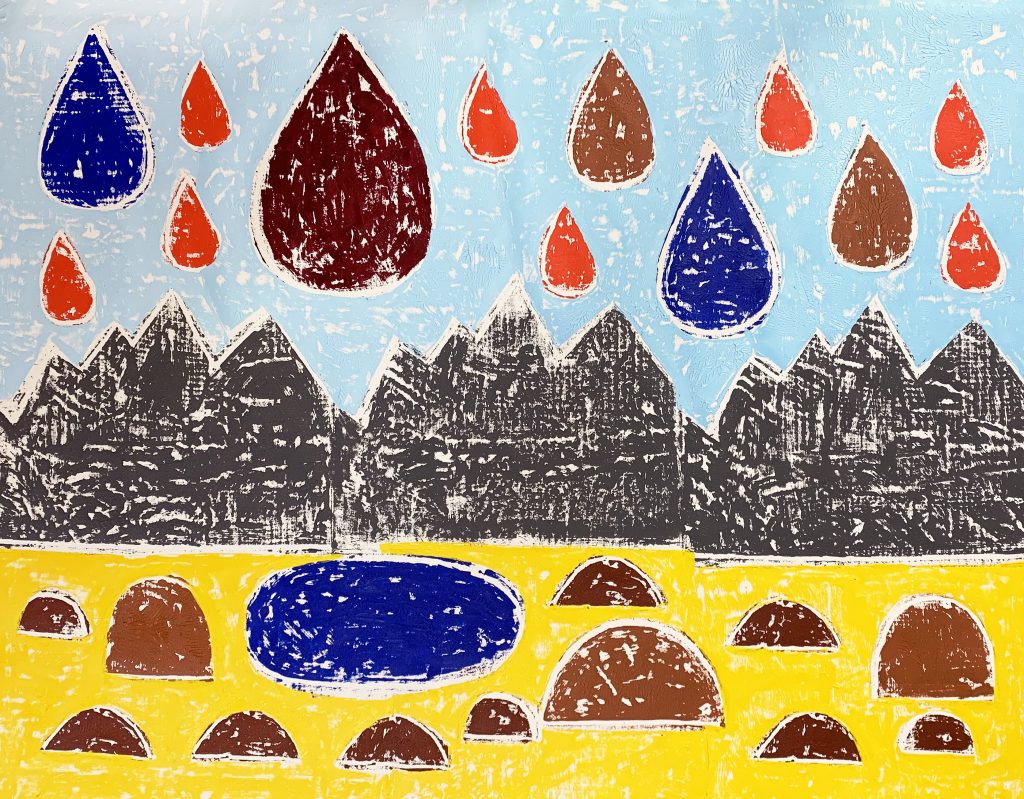 Swiss multi-disciplinary artist Olaf Breuning lives and works in Upstate New York and works across  the media of performance, photography, film, sculpture, and drawing. The artist is known for his  characteristic sense of humour and work which reflects on human experience as well as cultural  and political issues. Breuning's diverse practice introduces viewers to absurd and humorous  worlds, using an intentionally simple visual vocabulary to address a range of human concerns.  Artworks investigate cliché and popular culture, using pastiche and drawing on figures from high and low culture. Breuning's work crystalises particular themes, allowing viewers to reflect on both  the range of human experience and the commonalities we share. 
Zurich-based artist Athene Galiciadis is known for her work featuring geometric and organic forms which echo the characteristics of concrete art and its precursor, Constructivism. Working across painting, drawing, sculpture and installation, works by Galiciadis are characterised by their vibrant colour palette and repertoire of forms. The artist employs various materials such as ceramics and plexi-glass to assemble her work and develops her own formal language that invokes associations with tradition, craft, and design. Galiciadis' practice commonly explores the themes of theory,  science and pattern as well as spirituality. Her work can oscillate between organic fluidity and geometric control.  
About von Bartha 
Initially co-founded in 1970 by Margareta and Miklos von Bartha who remain a contributing force in its strategic direction, the family-run gallery has been under the direction of Stefan von Bartha since 2008. Together, the two generations maintain an unparalleled level of expertise. Von Bartha is a trusted destination for its audiences and a place to gain knowledge of the artists and the specialist areas that they represent. 
Von Bartha presents a cutting-edge contemporary programme, representing an international  roster of artists working across a diverse range of media including Superflex, Terry Haggerty, John  Wood & Paul Harrison, Anna Dickinson, Sarah Oppenheimer, and Felipe Mujica amongst 
others. The gallery nurtures new generations of artists, whilst supporting the continually evolving practice of their established artists. As one of the longest-running international contemporary art galleries, von Bartha continues to support the careers of influential artists such as Camille  Graeser, Fritz Glarner and Olle Baertling. It facilitates discovery across the generations, and has a  track record of fostering the careers of some of the leading artists of the 20th Century with a  focus on Constructivism; Concrete art; and Op art. 
Located in Basel, one of the world's most important centres for the display of art, and S-chanf, in the heart of the Swiss Alps, von Bartha brings together international and local art audiences across these two locations. Von Bartha creates a unique platform of events and programming including salons, openings, and exhibitions beyond the walls of the gallery, inspiring and informing audiences by making new connections and offering a fresh perspective. Von Bartha publishes books, exhibition catalogues and its own online magazine "Stories" featuring interviews, essays and insights to the gallery's work and programme. vonbartha.com/stories 
Categories
Tags