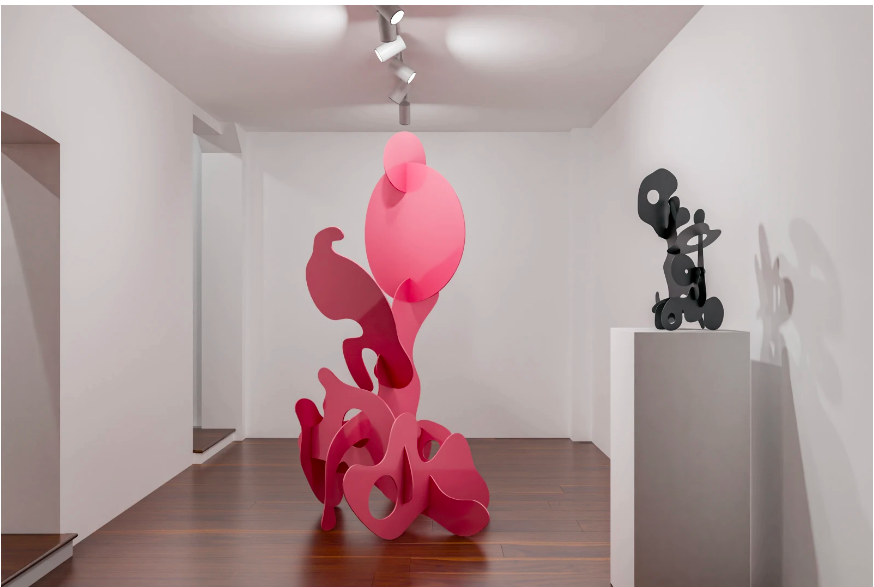 Dellasposa presents The Shape of Colour an exhibition of new sculptures by Belgrade-born London based artist Misha Milovanovich, marking her first solo show with the gallery.

Presented within a virtual exhibition of Dellasposa Gallery in London, the exhibition features new sculptures that expand the artist's investigations of materiality and form. Free-form compositions of steel painted in various hues of colour, Milovanovich's series of 'Misha World sculptures,' began in 2019, amalgamates theoretical and art-historical influences across historical periods and disciplines, with an aesthetic blend of disparate styles and techniques.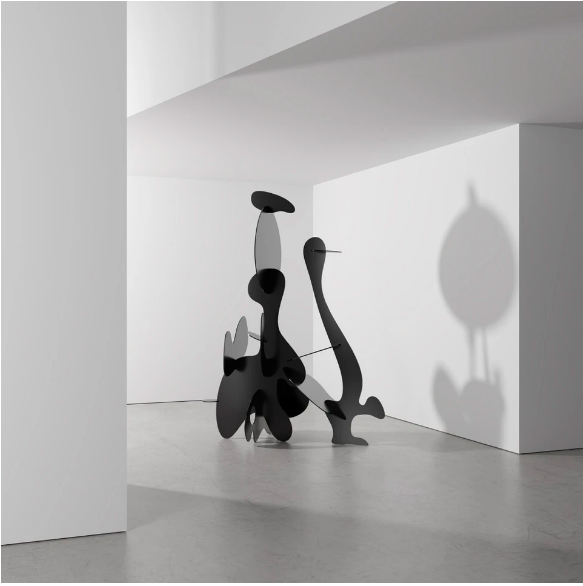 To create these abstract assemblages, Milovanovich combines various permutations of flatforms shaped first as small maquettes in the studio, and then enlarged in steel, assembled and painted in a highly polished manner. Bright colour is applied to each composition, transforming the steel—more commonly associated with industrial material —into something that appears floating in space as light cascades over therianthropic structures.
The exhibition online presents a window into the artist's sculptures inside the gallery in highly rendered detail from the comfort of the viewer's home. Here, the artist plays with our online and offline experience of art. Through an inquiry into the limits of what is possible, the artist applies advanced technology that is indistinguishable from alchemy.
Milovanovich first commences with her sculptures in wood, which recall the phantasmagorical forms and curvilinear patterns of her paintings, with more complex forms that balance unimaginable postures that belie their material multi-dimensional construction. The artist tends to the steel to varying degrees, shape-shifting and rendering gentle forms in some intense, almost anthropomorphic manifestation. Their contrasting textures— at times monochromatic and others radiant and glossy — convey a sense of visual symphony, featuring the movement of soft patterns, lyricism and crescendo throughout.
Direct and improvisational, the artist's sculptures recall the breathless balance of Alexander Calder, surrealist nature of Joan Miro's forms, and Anthony Caro's structures of mass, just as the lyrical harmony has informed Misha Milovanovich's art of Isama Noguchi, an inquiry into abstraction by Frank Stella, and uproarious joy of Elizabeth Murray.
Misha Milovanovich The Shape of Colour Dellasposa Online: Now – 9th May 2021 and at
Dellasposa Gallery: 13th April – 9th May 2021 2A Bathhurst Street, London, W2 2SD
About the Artist
Misha Milovanovich works across several mediums, from sculpture to painting and live art. Characterised by vivid colour, optical movement and energetic visual cadences, Misha's visual work fuses a diverse repertoire of images and forms. She often features discarded shards of consumerism – unloved icons of disposability and careless consumption.
Misha's work is often a symphonic abstraction. Her colourful, densely layered works are held in a state of tension between order and chaos, rational structure and spontaneity. She combines depth and surface relief, orchestrating bold contrasts of form, texture and space in her pictures. An intimate colour palette of bodily fluids – red, pink, white, black, yellow and brown – animate the writhing forms and the refracted memories of cartoonish cultural production.
Misha Milovanovich's sculptural works blends motifs from a variety of sources including Dada, Surrealism, Bossa Nova to primitive arts and post-feminist dialogue. Milovanovich's artwork is always spirited, humorous and filled with joy. Her playful totemic sculptures reflect a kind of prism which defines a new form of appropriation and reference-making.
Characterised by a profusion of exuberant colors and shapes, energetic visual cadences, Misha blurs boundaries—between abstraction and figuration, painting and sculpture, flatness and dimensionality, formalism and conceptualism—demonstrating the richness of the middle ground between opposites. In her most recent work, Misha Milovanovich's unique aesthetics absorbs network of influences with centres around primitive and mythology. These are anthropomorphic creations that exude warmth and humour and perform (nod/homagge) to Miro, Picasso, David Smith, Louise Bourgeois and Noguchi. Her work blends animal shapes and shapes of nature always giving it human quality, that of primeval man that still resides in cerebellum part of our brain and is lost in the age of post-truth world that finds its self digitally displaced. Her work relates to human condition and our connection with natural world and our selves, yet offers optimism in the face of contemporary absurdity. Everything connects to her biography – lived experiences, learned techniques, jokes, memories and eulogies.
Categories
Tags