Much of Rance's work deals with archetypes and the wearing of masks, exploring what Jung describes as the compromise between what one likes to be and how one likes to appear – the persona as it stands in contrast to the personality.'1  

– Anna McNay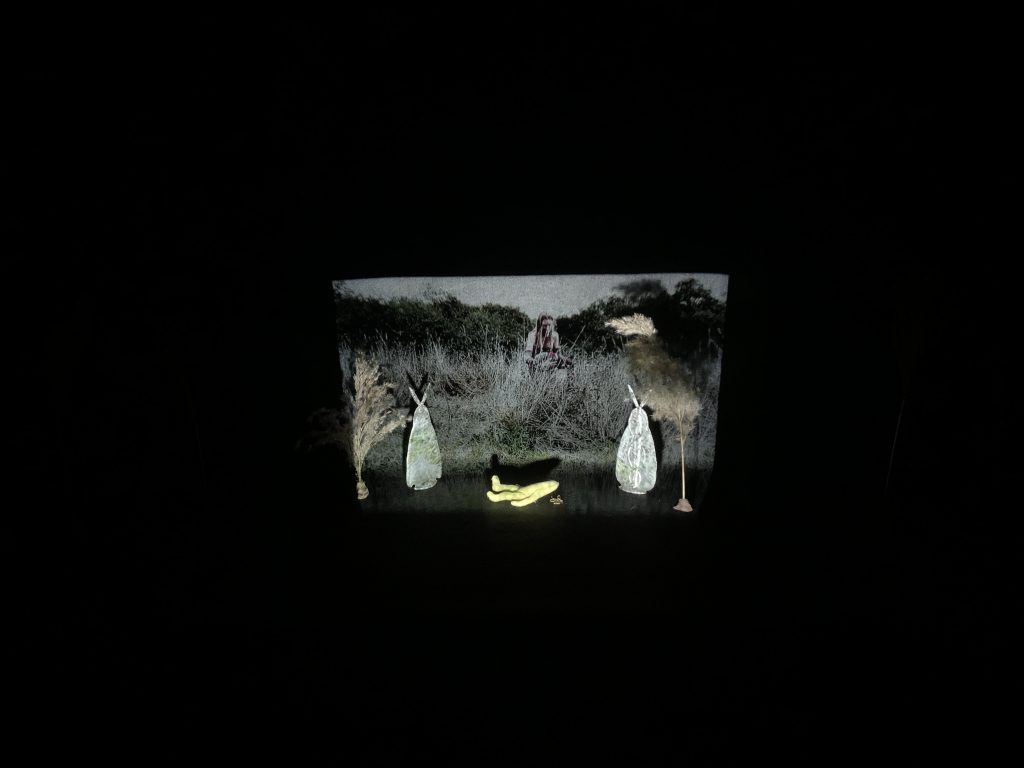 Cable Depot is to present 'In Real Life' by Victoria Rance – an installation of four films made over the last eight years: 'Myth', 'Pan and the goddess', 'River Mercury' and 'The Fates'; together with small sculptural elements. The latest of these films, 'The Fates', was made in 2020 during and after the artist was fighting with Covid. The space and the films are inhabited by Rance's 'cast of recurring characters' 2, such as Loki and his friends and the goddess Nuit, but these are now joined by a new set of darker and more ominous spirits, the Fates, whose plush brown felt appearance does nothing to soften their menacing presence, as they decide on life and death in a shadowy play. 

A lot has changed in 2020 and Rance's earlier films have taken on new meanings and concerns. All the year's experiences of illness and confinement (to bed, to house, to screen) have found expression in both the new and reinterpreted earlier films and sculptures in this installation. Films that had previously been shown as full-scale projections have now shrunk, becoming tiny, and at the same time (through close proximity and interaction with her toy-like bright pewter sculptures) huge. The characters invade these films, at times appearing as viewers, casting their looming shadow onto the projections, at times becoming actors in the play, or disappearing as their flat bodies blend in and become parts of the screen. The new film, 'The Fates', meanwhile, takes centre-stage, raising its characters to human scale, amongst whom physical visitors to the space wander in the dark, as viewers, as puppets, as shadows.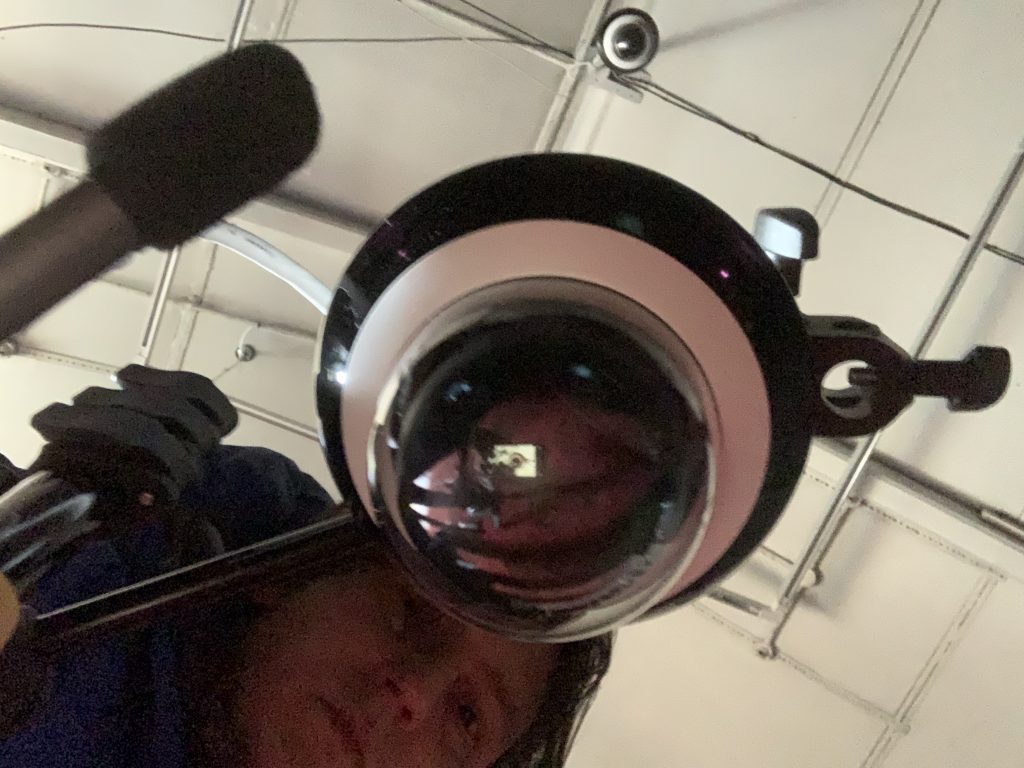 The three small projections (two in black and white, one in earthy colours) onto fuzzy black felt operate like memory flashbacks, or rather like to a mythical notion of a past life flashing before one's eyes at an extreme moment, not just the artist's, but a collective memory version. At one point black and white WWII parachutes make a slow and silent bird-like appearance, while across the way the underworld flickers on. Everywhere there is a sense of shadow puppetry theatre and all of it is harping back on memory and time and space in a dream-like confusion.

With the boundaries between film and objects blurred, and scale disrupted, so that visitors, objects and film characters seem to inhabit each other's dreams (in some past, or possibly future place, but also here and now), the overall result is in fact not so much a play on scale and time, as an absence of both. A place, in the artist's words, as big as 'the size of our imaginations'.

1 & 2 Anna McNay, Introduction, Cello Factory Exhibition Catalogue: 'Victoria Rance: The Night Horse and The Holy Baboon', October 2017


ABOUT THE FILMS 
'The Fates', was made during Covid19 times in 2020. I made the three weird dolls and baby I used for it before I got the virus. I then began animating with small dolls I made in my bed when I was ill, using a shoebox both to store the felt, cotton and needles, and to create the sets. When I recovered I went back to the studio and photographed the dolls to make this short animation of the creatures finding a small human and deciding its fate. 

A baby is also the centre of 'Myth'. This was made in the hot summer of 2017 when I sat on the wall over Deptford Creek and knitted costumes based on the colours of the water, flowers and tides beneath my feet. One costume was made on the Thames near where I grew up. Three friends – Esther Bunting, Steve Ritter and Ursula Troche, whom I met as life models for my drawing classes, wore them in a field in Kent. And the story of baby being found and lost by these people was based on solar myths around the cycle of rising and setting, the sun being born and dying daily. 

'Pan and the goddess' (2019) was made after a visit to Pan's Garden, the house of my great grandmother Eva, a woman who built an altar to Pan in her house. During the visit with my cousin we discovered that she had been an early environmentalist, and was concerned about the rampant urbanisation that was starting at the beginning of the 20th century. Pan had become an important figure at the time for others like EM Forster and Kenneth Graeme. I spent that summer in France sitting with and drawing goats. Charlotte Law wore the costume I had made a few years ago and she interacted with a mural I had made of the goddess (a dream figure) and Pan. 

'River Mercury' was made in 2012 using old footage of when my son, Cole Pemberton, was young. His love of playing in the bath, his imagination, his dream world and online world and his fantasies connected with my interest in Mercury the shape shifting messenger between humans and the gods. "In real life" was a phrase we used when talking about where his stories with his friends and characters actually happened. Over lockdown last year we became much more involved in each other's worlds again. For the installation at Cable Depot he has written new music for this film and 'The Fates'. He also wrote the music for 'Pan and the goddess' in 2019.
'In Real Life' by Victoria Rance 12th March – 16th May 2021
Performances / Screenings / Events with Blanc Sceol, Charlotte Law and Lydia Julien
Spring Equinox : Sunday 21 March 3-4pm (In Real Life TV)
Easter Sunday : Sunday 4 April 3-4pm (at Cable Depot and online)
Finissage : Friday 14 May 6-10pm (performances 9-10pm)
Visit in person after 12 April by appointment: info@cable-depot.com. CABLE DEPOT8 Submarine Cable Depot(Bottom of Warspite Road & Right) LondonSE18 5NX cable-depot.com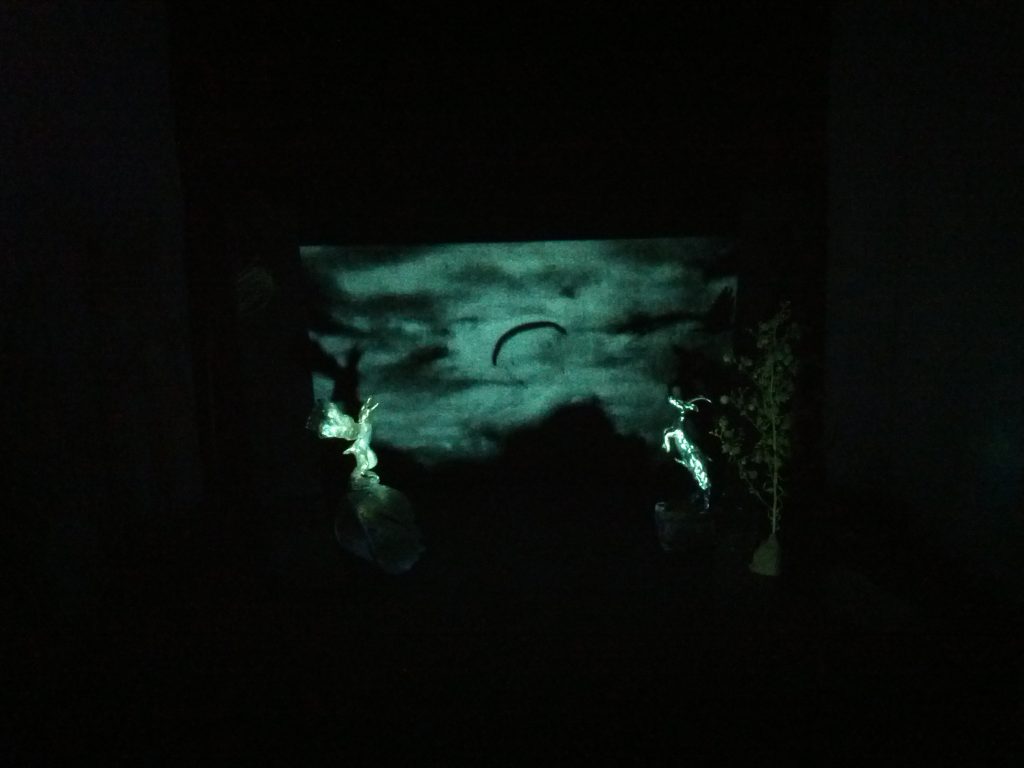 ABOUT THE ARTIST

Victoria Rance is based at APT Studios in London. She was the 2003 recipient of the Mark Tanner Sculpture Award, as well as prizes from Deptford X, European Cultural Foundation and Arts Council England. Her work has been shown nationally and internationally. Notable solo and two-person exhibitions include: The Night Horse, The Cello Factory, London (2017); I Wish the film, Deptford X (2014, winner of a Deptford X prize); The Sleep of Reason with Sylvia Lüdtke, BBK Kunst-Quartier, Osnabrück, Germany (2013); Medusa Hikayerleri / Medusa Stories with Ruken Aslan, Chalabi Gallery, Istanbul (2012); The Mark Tanner Award Exhibition, Standpoint Gallery, Hoxton, London (2004); Notable public commissions include: I Wish for Queen Elizabeth Hospital, Greenwich and Woolwich (2017); Memorial Sculpture St Laurence Catford (2017); I Wish for The Women's Group of Lewisham Refugee and Migrant Centre (2015); Bridge Sculpture for Warneford Psychiatric Hospital, Oxford (2008); Recent group shows include: In the Dark, The Cello Factory, London (2020); Hearten, an online collaboration between APT Studios and Lewisham and Greenwich NHS Trust (2020); Drawing Distinctions, Furlong Gallery, University of Wisconsin USA (2019); Personal Relations, Pulchri, The Hague, Netherlands and Mirror Gallery, Vicenza, Italy (2017).
Categories
Tags