Mount Stuart Trust – the charity running the extraordinary Neo-Gothic mansion on the Isle of Bute and a broad corresponding cultural programme –  are pleased to share their 2021 contemporary visual arts exhibition look ahead announcement.
The programme includes new commissions, textile works, watercolours, large scale sculptures and performative works, from both Scottish and international artists, taking place both inside the house, across the scenic grounds of Mount Stuart and within the wider communities and landscapes of the island. 
The programme also marks the 20th year of visual arts programming by the charity which to date has included commissions and exhibitions by Kate Whiteford, Thomas Joshua Cooper, Christine Borland, Langlands & Bell, Anya Gallaccio, Nathan Coley, Lee Mingwei, Lucy Skaer, Kate Davis, Lorna Macintyre, Steven Claydon and Whitney McVeigh.
Ilana Halperin: There is a Volcano Behind My House Opens 8th May 2021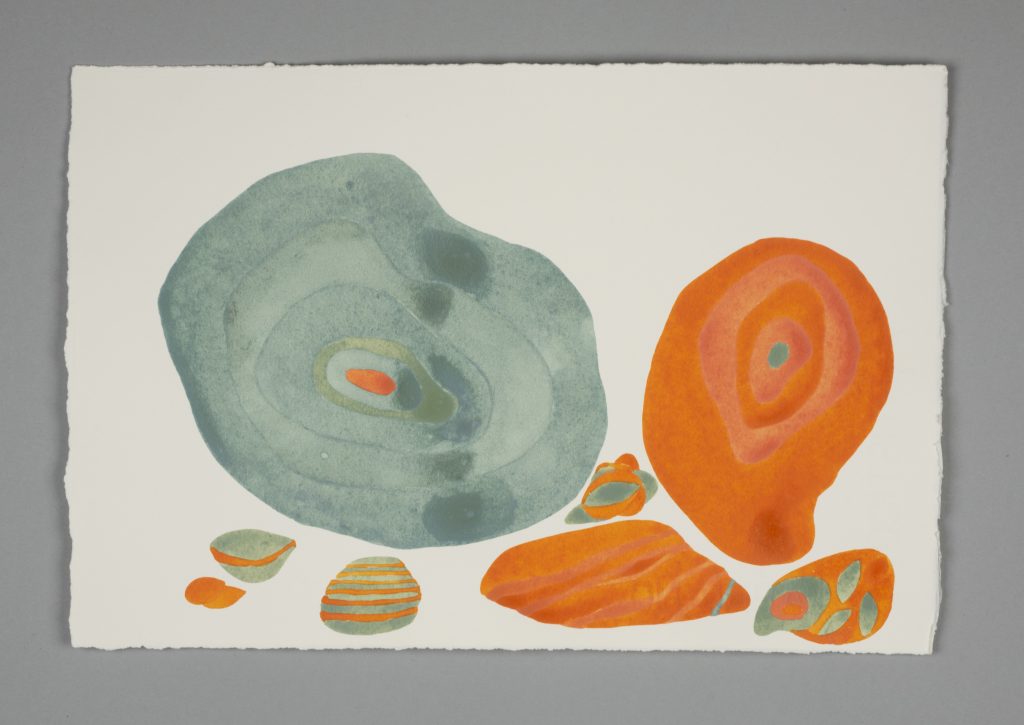 For one of her largest solo presentations to date, Ilana Halperin (b.USA, lives Bute and Glasgow) will direct her focus in creating works inspired by the geology of the island of Bute. Situated throughout the house, these works on paper and sculpture will reference 'immigrant' minerals embedded in the fabric of the building, as well as geologic phenomena found on the island. Halperin describes this work as a constellation, combining personal, poetic and corporeal responses to the house and island. Two large scale textile works by the artist, which are versions of the watercolours, will also be exhibited, having been made in conjunction with fabric designer and producer Bute Fabrics. This piece, which also has correlations with the Bute landscapes, has been informed by the formation of the island and ideas of international conglomerates.
Dates will shortly be announced for two performative lectures during the exhibition, including one to take place during Glasgow International, and both of which will take place in an ancient volcanic crater on Bute. 
Abbas Akhavan 24th July– 30th September 2021 
Abbas Akhavan (b. Iran, lives and works Montreal) addresses social, economic and political concerns through the lens of ecology, animal and plant life in his work. Following his habitual pattern of on-site research, he will spend time on Bute over 2021 creating a site specific work for the island, collaborating and working with natural and ancient materials to realise a large installation of new works interrogating the history of Mount Stuart and its landscape. This new commission will introduce audiences in Scotland to Abbas Akhavan's work for the first time, his international reputation having been formed in Canada, Germany, USA, UAE, Colombia and Turkey, among others. 
Martin Boyce –An Inn For Phantoms Of The Outside And In
All year, during opening times.
Martin Boyce's major sculptural installation in the grounds of Mount Stuart will have its run extended throughout 2021. Returning to nature over a period of months and now years, the work echoes the rhythm of the seasons, meriting repeated, physical encounters and resonates with the other 2021 commissions and exhibitions.
Emerging Artist Residency
Mount Stuart is delighted to announce Kaya Fraser as the Emerging Artist for 2021, an annual opportunity organised by the trust. Kaya is a multi-disciplinary artist who was born and bides in Perth. She graduated from Duncan of Jordanstone in 2020 with BA Hons First Class in Art & Philosophy. Kaya, who is also part of Generator Projects, Dundee, will work to explore ways to connect with the island's community this Spring, through modes which will include working remotely to make a sound work. 
Kaya said, "I am extremely grateful to begin the year with the news of being the 2021 emerging artist resident in socially engaged practice with Mount Stuart. I begin this residency with a strong nostalgic feeling of connection to Rothesay even though only knowing it through family anecdotes of holidays there. I hope this residency extends these memories into my own stories of the people and stories I come to meet."
This residency is now in its third iteration, creating an opportunity for emerging artists, whose practice is rooted in social engagement. 
The Contemporary Visual Art Programme is led by Sophie Crichton-Stuart and curated by Morven Gregor. 
Mount Stuart is an extraordinary Neo-Gothic mansion on the Island of Bute, sitting between Glasgow, Argyll and Ayrshire on the Firth of Clyde. Since 2001, this unorthodox building has provided both the inspiration and location for an acclaimed Contemporary Visual Arts Programme. The Programme enables the Trust to promote and facilitate interest in the contemporary visual arts and bring exhibitions of international standard to Bute and Argyll. Each exhibition is complemented by a programme of events, publications and educational activities.
llana Halperin is represented by Patricia Fleming Projects, Glasgow
Martin Boyce is represented by The Modern Institute, Glasgow, Esther Schipper, Berlin and Tanya Bonakdar Gallery, New York.
Abbas Akhavan is represented by The Third Line, Dubai,  and Catriona Jeffries, Vancouver. 
Mount Stuart
Isle of Bute
Scotland
PA20 9LR
https://www.mountstuart.com/arts
Categories
Tags