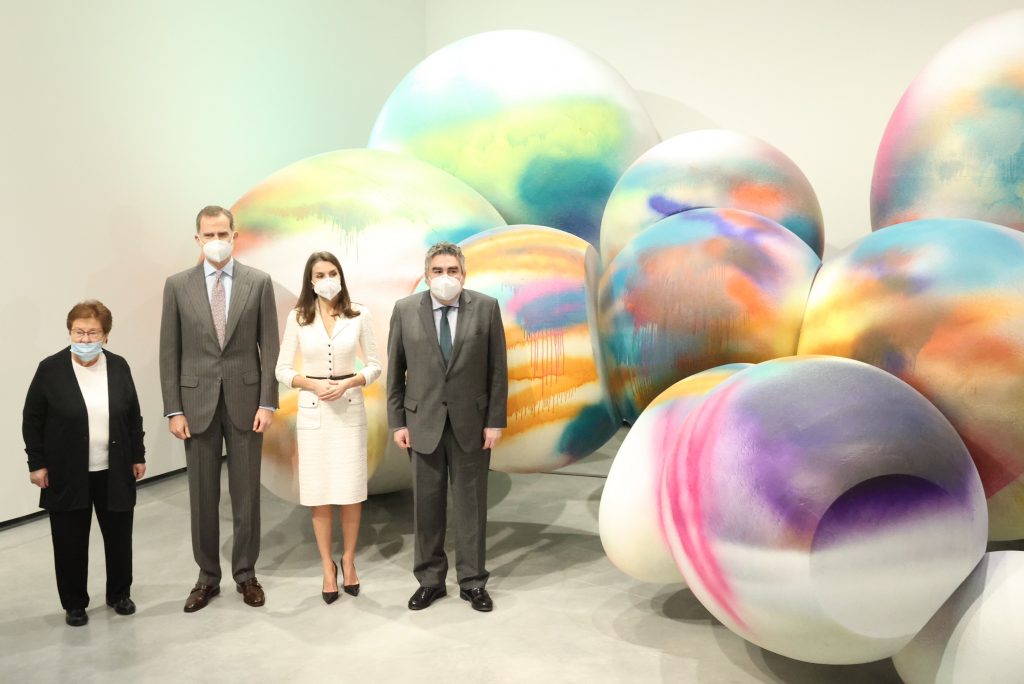 His Majesty, the King of Spain, Felipe VI, and Her Majesty Queen Letizia officially inaugurated the Helga de Alvear Museum, Spain's newest contemporary art museum, set in the heart of the historic city of Caceres in Southern Spain yesterday Thursday 25th February 2021.
One of the most important new contemporary art museums in Europe, the Museum of Contemporary Art Helga de Alvear in Cáceres, has been created to house Spain's most significant private collection of international contemporary art developed over 40 years by the leading gallerist and collector, Helga de Alvear.
The collection of more than 3,000 works by more than 500 artists acquired over her lifetime has been donated by Helga de Alvear to Extremadura, one of the most generous personal gifts of art ever made. It includes outstanding work by Joseph Beuys, Dan Flavin, Joseph Albers, Paul Klee, Nan Goldin, Jenny Holzer, Anish Kapoor, Philippe Parreno, Gordon Matta-Clark and many others, which the public will be able to experience for free in a space that was specially designed to show them.
The new museum is designed by award-winning Spanish architects Tuñón Arquitectos Studio. It includes spacious galleries and exhibition spaces and is located on a landmark site on an imaginary line that separates the medieval historic centre of Cáceres, a World Heritage Site, from the modern part of the city.
Helga de Alvear was born in Germany in 1936 and has lived in Spain since 1957. She worked for the famous art dealer Juana Mordó who introduced her to many of the leading artists of the day including Eduardo Chillida, José Guerrero, and the Cuenca and El Paso groups, which played such a significant role in the Spanish post-war avant-garde. Her close relationships with artists led her to begin developing her own collection. In 1995, she opened her own gallery which championed international contemporary art with a special emphasis on photography, video and installation – at a time when these mediums were practically unknown in Spain. In 1982, she helped to set up ARCO in Madrid, one of the most important contemporary art fairs internationally. She was also instrumental in developing the Fundación Museo Reina Sofía in Madrid. She established the Fundación Helga de Alvear in 2006, with support from the Regional Government of Extremadura and the City Council of Cáceres, among other institutions. Since then, the Foundation has supported, promoted, researched contemporary art, and Helga de Alvear has been honoured with many awards.
The Helga de Alvear Museum was founded in response to Helga de Alvear's wish to share her collection with the public and to the intent of several public institutions in Extremadura to provide Caceres with a centre for research, promotion and education in the field of contemporary visual arts. In a year that has been especially difficult for culture, the institution has the vocation to remind us that art is an essential engine to keep looking to the future.
The Museum is open to the public from today Friday 26th February 2021. fundacionhelgadealvear.es
Categories
Tags