One of the most important new contemporary art museums in Europe, The Museum of Contemporary Art Helga de Alvear in Cáceres, Spain, designed by award-winning Tuñón Arquitectos Studio, will open in spring 2021. The museum was created to house Spain's most significant private collection of international contemporary art developed over 40 years by the leading gallerist and collector, Helga de Alvear.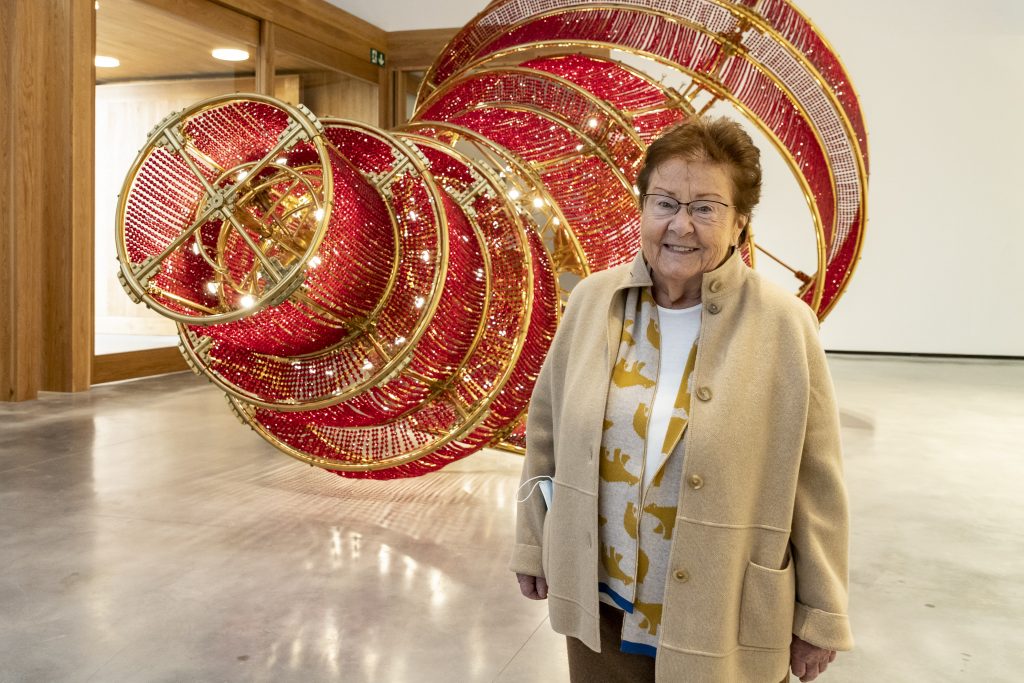 The collection of works by more than 500 artists from five continents will be donated to the city by Helga de Alvear. It includes outstanding work by Joseph Beuys, Dan Flavin, Joseph Albers, Paul Klee, Nan Goldin, Jenny Holzer, Anish Kapoor, Philippe Parreno, Gordon Matta-Clark and many others, which the public will be able to experience for free in a space that was specially designed to show themThe new museum brings together the original Helga de Alvear Foundation's 1913 Casa Grande building, the restoration of which formed the first stage of the project, with a major new extension which includes spacious galleries and exhibition spaces. The new building is sited on an imaginary line that separates the medieval historic centre of Cáceres, a World Heritage Site, from the modern part of the city, thus creating a route between past and present. In the words of the architects:
"The project tries to listen to the place, and imagine a possible city that, without renouncing our time, is capable of preserving the way the city breathes".
Emilio Tuñón was the partner of Luis Mansilla (Tuñón+Mansilla Arquitectos) and he took forward the project after Mansilla's untimely death in 2012. Their best-known work together includes The MUSAC Contemporary Art Museum of Castilla y León, Spain which won the Mies van der Rohe Award in 2007, the Fine Arts Museum in Castellón, the Lalìn Town Hall and the award-winning Atrio Hotel in Cáceres.

The opening exhibition of around 200 works from the overall collection of 3,000 works has been curated by José María Viñuela, Curator of the Helga de Alvear Collection.
Chinese artist Ai Weiwei's unique work 'Descending light' (2007) -a huge lamp composed of more than 60,000 red crystals- and one of the best preserved editions of Goya's Los Caprichos –proposed as the first contemporary artist- are just some examples of a selection of pieces that invites us to travel through the art of our present. Louise Bourgeois, Thomas Hirschhorn, Nan Goldin, Doris Salcedo, Tacita Dean, Olafur Eliasson, Kandinsky and Picasso are also featured.
"I am interested in contemporary art because it speaks to us of our time and of ourselves, because it creates and develops a language that can explain, in a new way, the world in which we happen to live and of which we often only brush the surface."

Helga de Alvear
Helga de Alvear was born in Germany in 1936 and has lived in Spain since 1957. She worked for the famous art dealer Juana Mordó who introduced her to many of the leading artists of the day including Eduardo Chillida, José Guerrero, and the Cuenca and El Paso groups, which played such a significant role in the Spanish post-war avant-garde. Her close relationships with artists led her to begin developing her own collection. In 1995, she opened her own gallery which championed international contemporary art with a special emphasis on photography, video and installation – at a time when these mediums were practically unknown in Spain. In 1982, she helped to set up ARCO in Madrid, one of the most important contemporary art fairs internationally. She was also instrumental in developing the Fundación Museo Reina Sofía in Madrid. She established the Fundación Helga de Alvear in 2006, with support from the Regional Government of Extremadura and the City Council of Cáceres, among other institutions. Since then the Foundation has supported, promoted, researched contemporary art, and Helga de Alvear has been honoured with many awards.
The Helga de Alvear Museum was founded in response to Helga de Alvear's wish to share her collection with the public and to the intent of several public institutions in Extremadura to provide Caceres with a centre for research, promotion and education in the field of contemporary visual arts. In a year that has been especially difficult for culture, the institution has the vocation to remind us that art is an essential engine to keep looking to the future.
Categories
Tags