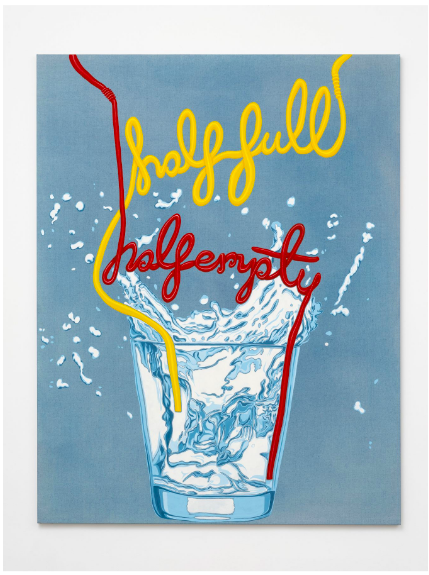 Surrender, an exhibition of new paintings and works on paper by Joel Mesler, is the artist's first show at David Kordansky Gallery 
In Mesler's work, childhood memories and traumas fuel meditations on class, design, and popular iconography, as well as explorations of the liquid, fluid, and mutable nature of the painting process. Surrender finds the artist exploring the power of acceptance, allowing emotions—and the physical and cultural forms in which they become constellated—to exist at the center of his project. Mesler's new canvases are sharply tuned juxtapositions of language and image in which resonant phrases like "Mom" and "Don't Cry" are rendered in text that is itself a graphic construction, written in letters made to resemble fire, milk, cocaine, or a Mercedes-Benz hood ornament.
The backgrounds against which these phrases appear are also suffused with autobiographical import, evoking key moments from the artist's past. Mesler reproduces a 1980s Marimekko rainbow pattern, for instance, to channel both youthful wonder and over-determined menace; as the words "Hopes and Dreams" go up in flames atop it, he evokes a happy-sad reckoning with lost innocence.
And in his new works on paper, each of which has been executed on a David Kordansky Gallery exhibition poster from the early 2000s, Mesler directly addresses his journey as both an artist and an art dealer, as well as his formative years in Los Angeles and the trials and triumphs that have made the last two decades an unlikely story of personal and professional homecoming.
Joel Mesler Surrender January 16th – March 6th, 2021 David Kordansky Gallery 
Categories
Tags