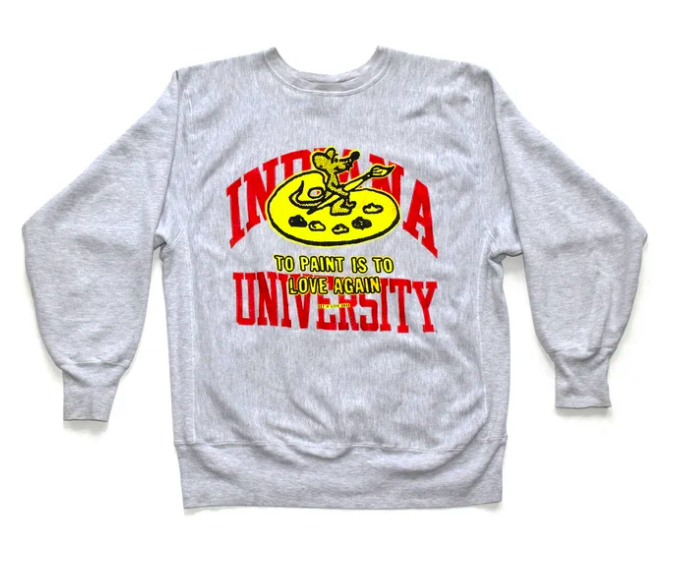 Here are some of the best sweatshirts to wear today:
1. Classic Grey Marl
Like white sneakers and selvedge denim, classic grey marl is one of the evergreen basics of a wardrobe of any man. It is the most commonly made, easily worn, and frequently bought style of sweatshirt. The easiest way to show that you have made an effort is to pair this style of a sweatshirt and either white sneakers or selvedge denim. It is good for a piece moonlighting as lazy loungewear.
2. Big Logos
Once university sports teams began to use big logos as a way for their fans to show their allegiance proudly on their chest, the sweatshirt became more popular among so many people. Designers do the same thing these days. You can plaster your labels all over Instagram, choose a loud streetwear look, or use your branded sweatshirt to promote your brand in a quiet outfit.
3. Short Sleeve Sweatshirts
There are two camps of short-sleeved sweatshirts. Firstly, they are a little oversized, with wide, Kimono-style sleeves. Secondly, they are sporty in the 1980s kind of way. Choose the first one if you love the Japanese street style look. They are often made in a cotton-jersey fabric, so they are just the same as the other styles in this article. Yeezy styled these in neutral, tonal looks, so he had it right.
4. Color Pop
Health warning – Introducing a flash of color to your wardrobe can cause involuntary shortness of breath, especially if you mostly wear black, grey, and navy colors. Your sartorial brown paper bag is your sweatshirt. It is easy to experiment with primary colors and trending pastels with a mid-layer that you can half-hide under your jacket. You do not have to wear your jacket if you are not afraid of wearing loud tones in the first place. So, wear loud tones without a jacket to brighten up each room you enter.
5. Preppy
In the middle of the 20th century, the sweatshirt went to casual dress from sportswear on most campuses of the Ivy League universities. You can trace back every proud and loud logo in fashion to this period. This is the period when designers realized they can turn the wearers of their sweatshirts into walking advertisements. Join this style with modern preppy brands, such as Abercrombie & Fitch and Ralph Lauren.
6. Motif & Embroidery
Printed or embroidered motifs can turn heads just like college affiliations and big logos. They can turn a sweatshirt from a background player to the main attraction of your outfit. Provocative or playful, you can quietly reveal your brand affiliations or match the design to your personality. They go great with neutrals, which is a deliberately big look.
7. Throwback Sportswear
There is one particular type of masochist that wears the average burpee workout nowadays. However, the sweatshirt is closely connected to fitness. You will find this bona fide fashion heritage in sportswear, so the bona fide fashion heritage is acknowledged by these styles. The longest history belongs to the Russell Athletic and Champion. However, you can choose styles from the 1980s and 1990s trends, such as respin designs.
Categories
Tags