Founded by architect Nina Shen-Poblete, and artist/curator Tomas Poblete, HOP Projects CT20 (HPCT20) is a contemporary visual arts and cultural platform championing high quality contemporary art from the margins. As a visual arts & cultural producer, HPCT20 is passionate about diverse contemporary cultures – transcending established disciplines and genres, responding to rapid social and cultural shifts, promoting the underrepresented to create new perspectives that challenge existing paradigms dominated by mainstream visual cultures. Occupying the geographical and organisational margins, HPCT20 carves out a unique space that drives experimentation and innovation, with a unified vision that mixes the visual arts with performance, architecture, and technology, to create an experimental platform focused on site-specific installations. It continues to evolve by searching out new modes of expression and pioneering practices that can remove barriers between audience and artists, making contemporary art relevant and far-reaching.
The building façade has always been a public-facing site for its commissions and HPCT20 does not shy away from work with the potential to provoke. The interview with the co-director takes us behind the scenes of some of the latest large scale façade installations.
Tinatin Shaburishvili: Nina, I'll start with asking you about the HOP Projects CT20, which is a cross-disciplinary independent project space that you run in Folkestone with Tomas Poblete.
Nina Shen-Poblete: Tomas and I run and oversee every aspect of the project including the building where HPCT20 is housed. We have different responsibilities within the organisation together but the creative decisions are almost always made together. This extends to the curating the arts programs. The process is still very organic, in the sense that we are not consciously trying to concur with each other but whenever we select artists, visit studios and look at work, we somehow always arrive at a consensus, having gone through a process that involves a lot of healthy disagreement and debates. We both try and maintain a raw, immediate, intuitive and quite guttural response to what we see and feel. We take time to commission new works and try to offer opportunities to artists whose work we feel have great merits, and who are either underrepresented or at a stage where a platform such as ours can prove to be transformative in their career, be it a new graduate or an already successful artist needing a new creative direction. We are interested in finding that spark. We first need to have an instinct that this would be a potentially important piece of work, and also the motivation necessary coming from the artists who want to do something important that would have a great impact. Immediately when we launched our first project, we were fortunate enough to be able to have those moments of joy and self-discovery, when you realised that you can be the facilitator and since then it has been also a journey of understanding why we are doing this and why it is important for us. Apart from supporting an artist we also push them to be more ambitious. When you work with artists, you need to believe in what they do and they really appreciate that. Some of the artists in our current programme, Surface Tensions 2020, we place more experienced artists with those who have just graduated. Stefan Bruggemann for example has been represented by Hauser & Wirth and has a track record of exhibitions. We have just completed an installation by Bobbi Cameron and Ned Pooler who graduated from Glasgow School of Art last year. Some of the artists are very early in their careers but we felt that there's something in all of their work that is worth a platform for a solo show and persist to provide it despite the lockdown. The pandemic could be a very inspiring period that intensifies emotions and focuses creative energy, and the making art can be a process of release and healing for whatever they're going through now. In the case of Stefan, even though he's a highly successful artist, after having long conversations and working closely with him, we realised how important this opportunity can be, even for fairly established artists. The treadmill of commercial production of artworks leaves very little space to pursue art that is not only relevant to yourself as an artist in your career, to experiment, change directions in order to be closer to your creative ambitions. So in a sense what sustains our motivation to do what we do is the search for these critical moments. We are not really a white-cube kind of gallery, and we much more interested in making site-specific installations, which may involve performances.
I was curious to hear you talk about HOP Projects' actual building façade – you commission artists to use it for producing artwork. It's an interesting and vigorous form of expression – an artwork becomes part of urban space.
The façade has always been a site for art. It started as a pragmatic solution to the limitations of space and programme. When we launched our first series of commissions in September 2017 we had three artists: Sean Griffiths, Andrew Holmes, and JAŠA (Mrevlje-Pollak) who has been introduced by our advisor independent curator David Thorp. All three artists needed a space to their own to create individual installations, and it is important to give them equal exposure because when you're showing work during the Triennial period as fringe events, so there is an unevenness to footfall across the 3 months. Eg: The beginning of a Triennial is always an important moment, the middle bit is a bit quiet and by the time it finishes in November, it gets very dark and audience numbers drop. So to balance artists who were showing last gave them the façade and in this case, it was to Sean Griffiths who had two pieces – a big façade piece and an installation at the end of the Triennial. It pushed the artist to work with both inside and outside. This was a very successful decision and the sequence has tied up the whole project both through space and time.
So it's not an extension of whatever goes inside the gallery, or more precisely, it's not necessarily the same artist doing the facade who's having a show inside the gallery.
It can be but that's not necessarily the case. It's a part of the whole curatorial strategy. When we are curating something for the outside we always think about how would it work with the works inside. It's a more three dimensional way of using the building to curate both artworks and the experiences moving through them. It's a challenge that we set up for ourselves. The project space we have in Folkestone is not huge and we want the artists to be as ambitious as possible. We try to curate the programme as a whole so their works make sense with each other, speak to each other and there's a thematic or visual dialogue between them over a period of time. So, in a way, it's both a curatorial strategy and a spatial strategy.
During the lockdown, Stefan Bruggemann created a work on the façade. Can you talk a little bit more about it? Did this piece emerge from the lockdown?
We started conversations and began planning for this piece of work well before the pandemic. With every project, our research begins at least a year ahead. When Covid lockdown was imposed in March, the whole cultural sector retreated indoors and some became digital, we felt that it was really important to make this piece as a physical gesture, as an expression the piece of work has always been highly relevant as a critique and will continue to be when time changes. COVID is not an isolated context upon which the artwork is reflecting, COVID is an amplifier of many pre-existing political and social unrest and tensions, i.e. of the concept of post-truths in media, geo-political tension between East and West, nationalism and increasingly bifurcating political positions people have been forced to take. COVID initiates new debates on the Utopian ideas of 'freedom', and the period of lockdown has become a unique lens through which we read the world's reactions as we now have something in common. So with the artist, we pushed for 'OK' Untitled Action to happen just a week before the first lockdown was lifted. It's a highly complex piece of work to execute and the whole building was to be gilded in gold leaf. We did it ourselves having never gilded anything before, and the whole process took us six weeks, working 12 hours a day complete. Aside from the technical challenges it became almost impossible during lockdown to coordinate anything, constrained by lack of resources and materials. When it was complete with Stefan's final gesture, it all began to make a lot of sense. It felt as if this piece just appeared out of nowhere. A month or two earlier, people would have walked down the street to find a completely different building façade and when they came out after the lockdown their jaws dropped at the arrival of a gold building with somebody's splash on it (or that's how many people saw it) It was a highly provocative piece and created a lot of attention.
Not sure if you have direct interactions with the locals but what was the reaction of the local residents? One may not call it radical, but it looks kind of radical, because of the architecture along the coast and all the conservative sentiments in England.
The reactions were very mixed. Some people love it and others hated it bitterly. It's interesting that when you spend so much time outside during the quarantine, you become acquainted with the street life and the people that pass regularly. I think we should all spend more time outside! You end up learning more about your community. Especially during the quarantine, there was a greater desire for people to connect. People reacted to it quite gutturally. They were also looking for some kind of explanation. Both are valid. The work has caused doubt and generated an emotional reaction. It's unapologetic and demanded attention. It has also been a learning curve for us to deal with a large number of negative comments. A lot of people see it as an act of vandalism, defacing the street, but after carefully analysing the comments, we realised that the artwork becomes a medium for discontents that were really found in other issues. Public opinions are layered and complex. I understand how people reacted but it doesn't damage the work, it only makes it stronger. Bruggemann's work certainly shows that it's ok to react and that's what public-facing art does. The last thing we wanted from a piece of public art is something that people walk passed without knowing that it is there.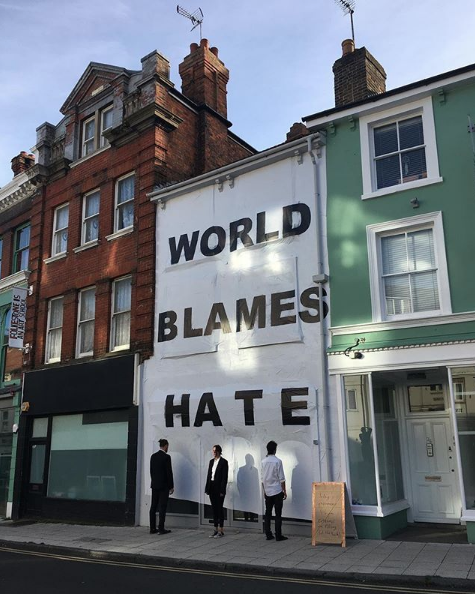 I was curious to know more about the 'WORLD BLAMES HATE' piece.
That was part of a 7-day performance/installation by JAŠA (Mrevlje-Pollak), a hugely ambitious piece of composition. JAŠA'S intervention has been one of the most powerful pieces that we have ever produced. We had never met the artist and the whole commission came about over a very short period of time. We had a couple of exchanges with JAŠA and, one day he said he was going to cover the whole building. That sold it to me as I could immediately visualise this incredibly powerful image. However, the execution of the work went far beyond my expectations, similar with Bruggemann's work. JAŠA transformed the whole materiality of the architecture; the building became a huge paper sculpture. It was very fragile and ephemeral, and lasted only during the course of the performance. But it was a powerful gesture. And we thought – even with the lack of budget and time, if this could be achieved then we're getting somewhere.
Which was the first facade you ever made?
Sean Griffiths' work, which was like a mural. It was part of his exploration about line and visual perception.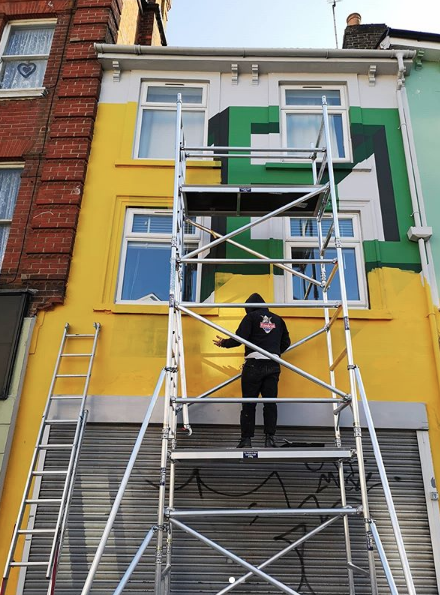 It's an interesting project and I'm curious to know if you are going to carry on commissioning the new ones?
Yes definitely. Bruggemann's work has been the most challenging one I think, not only technically, but it allowed me to better understood the potential power of public interventions. Even under lockdown, public art stares back at you every time you walk pass it, and you can't switch it on/off, it has a more powerful presence. Griffiths' mural did not have the same level of controversy, and JAŠA's work – was very provoking but temporal, there's no trace of it, it now only exists as a photographic documentation. Bruggemann's piece will stay for a few years and people will read it in different ways as we emerge from the current crisis into an uncertain future. It's already been interesting to observe its material change, taking on a certain, perhaps a grittier form of grace.
It would be interesting to see more self-expression in this form, like a movement.
Certainly there is a huge precedence for public art on building façades. But it certainly throws up many questions such as freedom of speech, our responsibilities, public and private ownership, so on and so forth. Unless it is intended to be decorative, it rarely can be politically neutral. The context is extremely important, and it somehow conditions the ways an artwork is to be read, at least at a local level. In a place such as Folkestone which is undergoing a rapid pace of change through the cultural-led regeneration, public art intensifies debates and can become a trigger that unleashes a huge amount of angst, anxieties and discontent from local people feeling disenfranchised by this process. But it does not mean that we should recoil from these complex challenges, neither will we make compromises because of them. At the same time, we fully empathise with these sentiments and art provides that space for everyone to express them. It makes us more determined than ever.
Categories
Tags