Kate MacGarry is to present Blue Jeans & Brown Clay, an exhibition of new work by London-based artists and designers who have visited and worked at the Blunk House.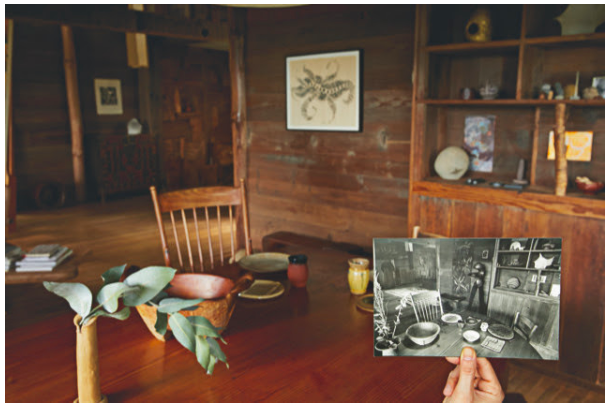 JB Blunk's home is nestled in a densely wooded ridge above Inverness, California, a small town fifty miles north of San Francisco. Over the course of decades of work, this construction became Blunk's most important creation. The house was built between 1959 and 1962 with salvaged materials from nearby beaches, forests and scrapyards and is a Gesamtkunstwerk, in that the artist and his wife, Nancy Waite Harlow, made everything from the doors to the furniture and the ceramic tableware. The house expressed Blunk's vision of a humble and sympathetic integration between art and life and a profound respect for landscape and our place within it.
Ignoring the traditional separation of art and design, Blunk worked without a conception of fixed categories. His attitude towards these classifications suggests the Japanese lack of distinction between art and craft. The artists and designers included in the exhibition have each spent time at the Blunk House, either as artists in residence or guests of the Blunk family. The work made for the show includes ceramics, glass, jewellery, furniture, painting, film and photography, and draws on the creative spirit and design of the house and Blunk's oeuvre.
Artists featured: Attua Aparicio, Sam Bakewell, JB Blunk, Max Frommeld, Anne Hardy, Gemma Holt, Jochen Holz, Martino Gamper, Max Lamb, Peter McDonald, Angus Mill, Francis Upritchard & Åbäke
Blue Jeans & Brown Clay Artists and Designers at the JB Blunk House 3rd December 2020 – 30th January 2021  Curated by Mariah Nielson, Director of the JB Blunk Estate
Appointments essential. Bookings will be available via the website from 30 November.
I consider this whole place – house, studio, fruit trees, vegetable garden and chickens – one big sculpture.

(JB Blunk, 1977)
JB Blunk was born in 1926 in Ottawa, Kansas, USA. He had his first solo exhibition at Chou-Koron Gallery in Tokyo in 1954, curated by Isamu Noguchi. Recent solo exhibitions include JB Blunk, Kasmin Gallery, New York, USA (2020); JB Blunk: Nature, Art & Everyday Life, Oakland Museum, California, USA (2018); JB Blunk, Blum & Poe, Tokyo, Japan (2016) and the Landing, Los Angeles, USA (2015). His work has recently been featured in In Conversation: Alma Allen and JB Blunk, Nevada Museum of Art, Reno, USA (2019) Designed in California, SFMOMA, San Francisco, USA (2018) and Crafting Modernism at the Museum of Arts and Design, New York, USA (2011). JB Blunk's exhibition at Kate MacGarry, London, in 2018 was the artist's first solo show in the UK. The installation was comprised of 40 ceramics.
JB Blunk, published in May 2020, is the first monograph presenting the breadth of JB Blunk's practice. Edited by Mariah Nielson and Åbäke, the book features essays by Lucy Lippard, Glenn Adamson, Fariba Bogzaran and Louise Allison Cort. JB Blunk is published by Blunk Books and Dent-De-Leone, available at Kate MacGarry.
The title of the exhibition, Blue Jeans & Brown Clay, is taken from a poster made for the show by Kasja Stahl of Åbäke.
Categories
Tags