Savinder Bual: Ananas and the Flatfish PEER
In spite of England's second lockdown due to the pandemic, Savinder Bual: Ananas and the Flatfish has now gone on display at PEER. Conceived with the possibility of another temporary gallery closure, the exhibition is viewable and audible (via smartphone) through the gallery's floor-to-ceiling windows onto Hoxton Street. The show runs until 23rd January 2021.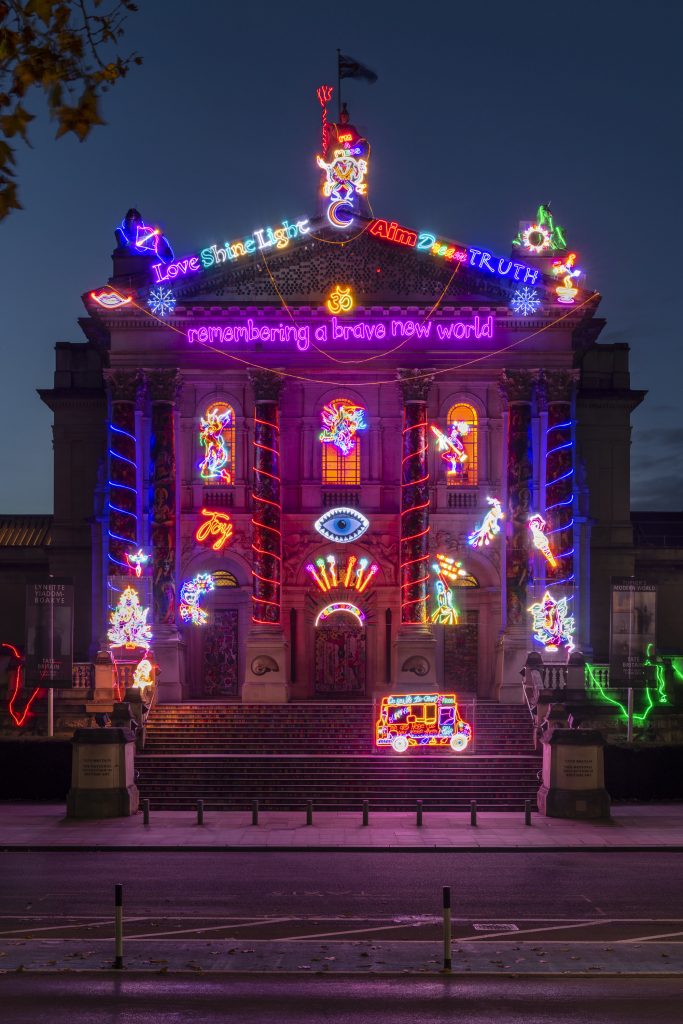 Chila Kumari Singh Burman Winter Commission Tate Britain
Chila Kumari Singh Burman has created a stunning technicolour installation for Tate Britain's iconic facade. The commission references mythology, Bollywood, radical feminism, political activism and family memories, bound up in a celebration of neon light and swirling colour. This is the fourth in Tate Britain's series of outdoor commissions to mark the winter season, following works by Alan Kane in 2017, Monster Chetwynd in 2018 and Anne Hardy in 2019.
Joana Vasconcelos: Beyond at Yorkshire Sculpture Park (YSP) is a dramatically choreographed selection of vibrant sculptures that engage with one another across the Park's unique contemporary architecture and 18th century landscape. The Park's 500-acre landscape will continue to be open to the public during lockdown, providing an opportunity to continue to experience art in the open air during this challenging period. The outdoor works in Beyond will continue to be on view for public enjoyment. Highlights include Pop Galo, made of 15,000 LED lights and 17,000 Portuguese glazed tiles, illuminates and brings a taste of Portugal to the Park. Visitors will also have YSP's permanent collection of over 80 sculptures to enjoy in the open air, including works by world-famous artists including Henry Moore, James Turrell and Ai Weiwei. Until 23rd January 2021.

Helaine Blumenfeld OBE, one of the leading contemporary sculptors in Britain, announced an extension of her exhibition LOOKING UP at Canary Wharf. The exhibition was one of a handful of shows that the public was able to experience in London during the first lockdown and once again it will provide a welcome reprieve during this time. Blumenfeld's lyrical and dynamic sculptures are scattered in outdoor locations across the Estate until 31 May 2021. LOOKING UP is the largest exhibition to date to be shown by a single artist at Canary Wharf and meets the challenge of transforming the capital's contemporary commercial hub into an urban sculpture park. www.helaineblumenfeld.com OUTDOORS UNTIL 31 MAY 2021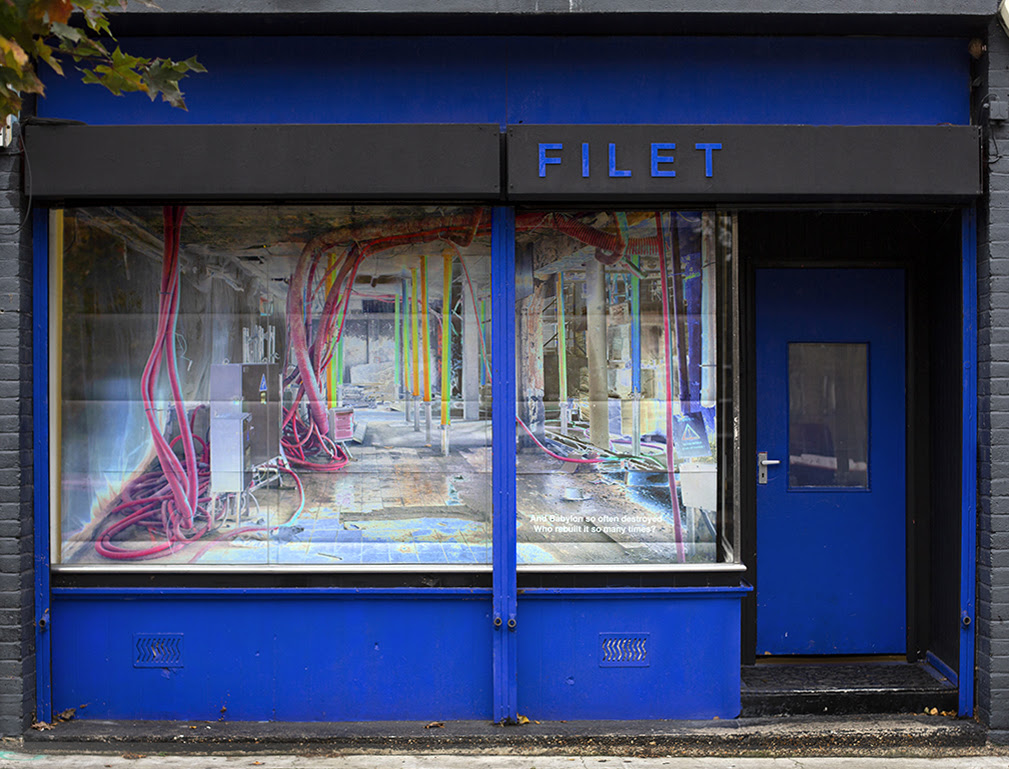 Karen Knorr Babylon at FILET Karen Knorr HonFRPS is a German-born American photographer who lives in London. In 2018 she received an Honorary Fellowship of the Royal Photographic Society. Knorr is a graduate of the Polytechnic of Central London (now the University of Westminster), and has an MA from the University of Derby. She is Professor of Photography at the University for the Creative Arts. Karen Knorr's Babylon continues FILET's programme of artist's interventions viewable from the street. On view 2.30 pm to 6.00 pm 23rd November to 28th November 2020
Categories
Tags