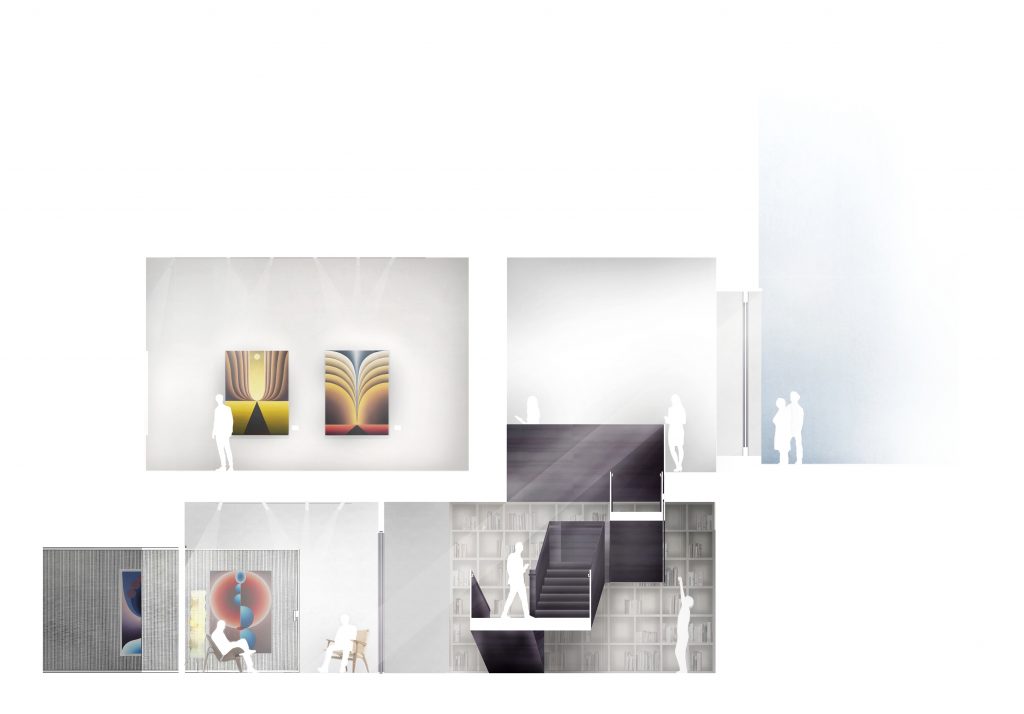 Marc Glimcher, President and CEO of Pace Gallery, today announced plans to expand the business's presence in London with a new 8,600-sq-ft location at 4 Hanover Square.
Pace's new London gallery will open in autumn 2021 following a significant renovation by architect Jamie Fobert Architects. Fobert enjoys a longstanding relationship with Pace and was responsible for designing their original London gallery on Lexington Street in 2011. For this project, Fobert will completely transform the interior architecture of the existing building to incorporate a number of flexible gallery spaces. Fobert's refurbishment will include two elegant galleries on the ground floor and will open up the basement level to create an additional 1,000-sq- ft public gallery. The basement and entry level will be connected by a feature staircase rendered in black steel, giving the impression of a fully integrated space. The new modular layout will allow for dynamic presentations and will accommodate installations of works ranging from intimate to monumental in scale. The space will also be reconfigured to include two substantial private viewing rooms.
The Hanover Square space represents a new phase for Pace in London, and the gallery looks forward to developing a more robust exhibition schedule building on its reputation for seminal historical presentations and ambitious contemporary exhibitions. Pace first opened in London on Lexington Street before moving to its current home at 6 Burlington Gardens, inside the storied Royal Academy building, in 2012. During its tenure at Burlington Gardens, Pace has mounted landmark exhibitions for Adam Pendleton (2012, 2015, and 2018); Robert Irwin (2013); James Turrell (2014 and 2020); Lee Ufan (2015); Louise Nevelson (2016); Jean Dubuffet (2017); Loie Hollowell (2018); Song Dong (2019); and Jo Baer, Mary Corse, and Agnes Martin (2019), among others, and was the first gallery to show the work of Ruth Asawa (in Mingei: Are You Here?), Sam Gilliam, and Ed Clark in a commercial setting in the UK (as part of the group presentation IMPULSE).
Pace will also use the expanded platform to engage with more European artists and continue to grow its contemporary programme, which has recently seen the additions of Sonia Gomes, Torkwase Dyson, Beatriz Milhazes, and Trevor Paglen, whose critically-acclaimed first show in London was on view in autumn 2020. The flexibility of the refurbishment lends itself to live and experimental programming; Pace will stage its first Pace Live event outside of New York at Hanover Square in 2021.

"I'm thrilled to announce an increased commitment to London through a larger gallery footprint which brings with it an expanding ambition for Pace in Europe. This is a time for investment and faith in London. Its role as a cultural hub remains undisputed given the number of world class institutions on its turf, and even staring into the face of Brexit I am convinced that London will remain an economic capital of Europe and a crucial centre for the art market. The auspicious opening of our new home coincides with our 10th anniversary in the city and we look forward to showing our artists' work in Jamie's beautifully redesigned galleries."

Marc Glimcher
The Hanover Square gallery will replace Pace's current space at 6 Burlington Gardens, which will continue to program exhibitions through summer 2021. In addition to its London presence, Pace operates a gallery space at Quai des Bergues in Geneva and in seven other locations worldwide: two in New York's Chelsea, as well as in Palo Alto, Hong Kong, and Seoul. In 2020 Pace opened seasonal gallery spaces in East Hampton, New York and Palm Beach, Florida.
Categories
Tags