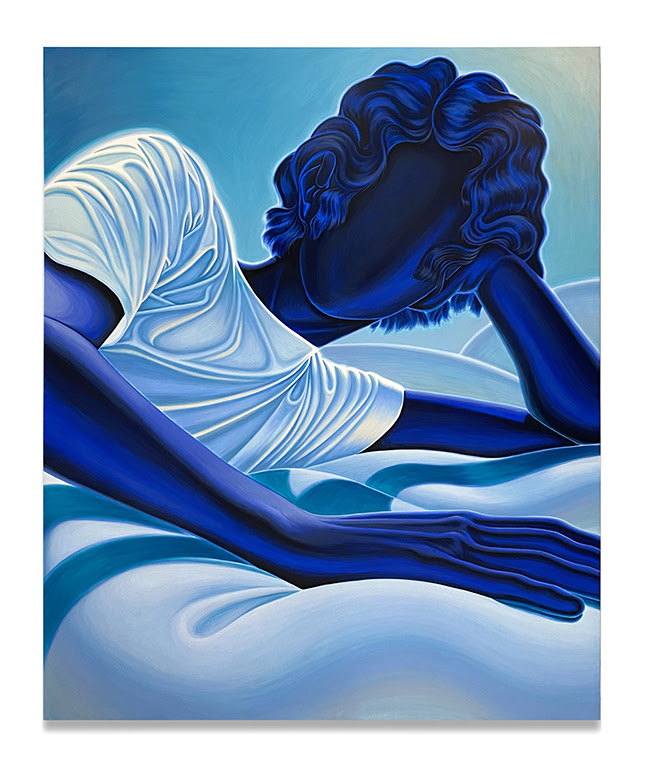 The Hole is to present BLUES, an exhibition of 10 new paintings by Alex Gardner. The etheric pastel paintings on view in BLUES extend familiar tropes from the Long Beach-based artist's practice, refracted through the minor-key spirit that 2020's harsh realities have wrought. With nine of the works completed since the onset of COVID-19—and one, distinctly, before the dawn of that now ever-present doom—BLUES telegraphs a shift in the artist's psychology, a turn registering the discomfort of being bound to his studio as he watched the world change. These paintings, which are looser and more visibly worked-over than Gardner's earlier output, metabolize the intensity of the times into something light and full of heart. While the show's title hints at dejection, it also calls to mind a meditative state: the process of developing these new works was, in some ways, an attempt to self-soothe, conjuring a sense of calmness through their soft-hued scenes.
The paintings presented in BLUES are acrylic, a departure from the conventional use of oil painting for figurative works. Gardner applied layers and layers of paint onto sanded gesso, saturating the surface of the canvas to produce a fresco-like texture. The paintings' near-ceramic quality is especially apparent in the satiny blue of their figures' smooth forms—a tactile effect that comes from mixing a myriad of shades with calculating precision. Equally, certain fields of the paintings are left shambolic: the paint is applied in thin washes, dripping visibly, the record of their technique left out on view.
While sometimes transparent in their technique, these paintings are oblique in their politics, as opaque as their subjects' midnight-blue bodies. Gardner paints faceless figures, their dark skin less a reference to identity than an attempt to evade it. Their Blackness is a kind of blankness, encouraging the viewer to identify and project, drawing conclusions filtered through their own experiential lens. In their subtlety, the paintings also act as a kind of armor: Gardner's private emotions coalesce behind the works' bold facades, informing their affective auras without divulging the details of their underlying dramas. Lighting, body language, and spatial arrangement all connote a climate of feeling, a diffuse sensibility that flirts with disclosure while staying cool and constrained.
The paintings on view in BLUES are utterly personal yet thoroughly depersonalized. In this way, they are also generous: the avatars' emptiness becomes an opening for hope, encouraging us to see what we share instead of dwelling on the ways that we differ. Even for all the apparent hopelessness and combativeness of the cultural moment from which they were produced, these works are evidence of cause to be hopeful: they animate empathy, patience, and affinity—encouraging self-awareness and enlivening the shared humanity.
Alex Gardner BLUES November 19th – December 27th, 2020 The Hole
OPENING: Thursday, November 19th from 4-8pm @theholenyc
About the Artist
Alex Gardner (b. 1987, Long Beach, CA), is a figurative painter working in acrylic to make colorful canvases that smooth over cultural signifiers, featuring anonymized avatars that anyone can see themselves reflected in. He holds a BFA from California State University in Long Beach, which he completed in 2011. Since then, he has shown in Copenhagen, Mexico City, Miami, Chicago, Los Angeles, and New York, with solo shows in Hong Kong and London in 2019 and a show at the Long Beach Museum of Art forthcoming in March 2021. This is his second solo show at The Hole, following RomCom in 2017.  
Categories
Tags