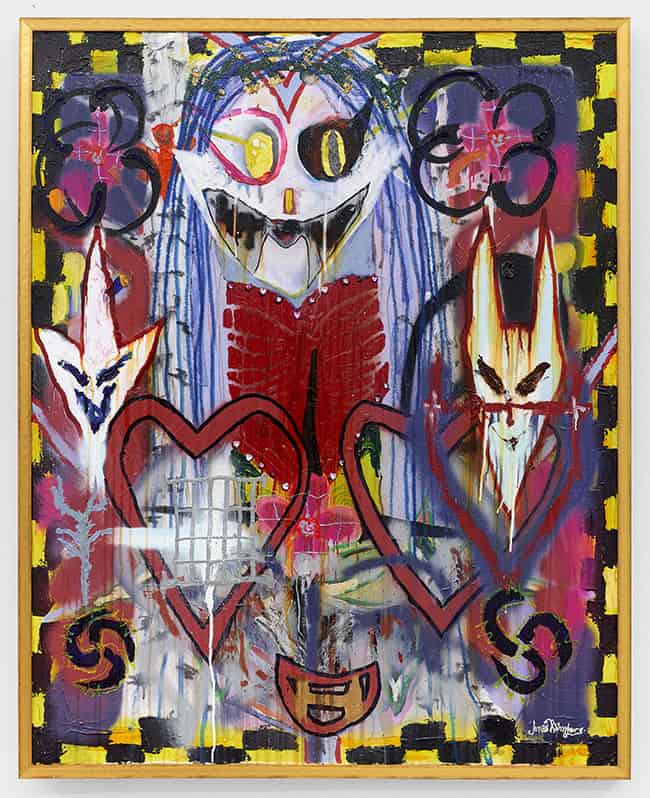 The Hole to present Fucked for Life, Benjamin Reichwald and Jonas Rönnberg's first collaborative exhibition. The two artists have worked side by side to create a series of haunted sigils and a symbolic language in pigment. Their paintings assemble as a corrupt lacquer glaze, dense with overlapping marks but still shimmering like a smog-ridden halo.
Also known as highly influential and iconoclastic musicians, Bladee and Varg2™, Reichwald and Rönnberg share the same self-abiding attitude and interdisciplinary approach to their work that is nothing short of world-building. Both often mediate between the visual and the aural in their respective musical practices. With cartoon sigils, they make otherwise ineffable ideas manifest; using painting as a form of architecture for their songwriting. FFL is made with a mix of precious and canonised mediums (oils, resin, and gold leaf) as well as the cheap, errant tools of 3 AM wandering like grease pens, spray paint and broken pencils. Each painting balances baroque aspiration with a broke-ass disregard for institutionalized value. Oils and acrylics mix dis-affectionately in a naive impasto style. Resin is dripped and dragged in all directions creating a sickly lacquer glaze. Gold leaf is sometimes crumpled and pasted underneath, glimmering like a smog-ridden halo or a candy wrapper in the gutter. Canvas edges are often left raw, and occasionally, checkerboards line the perimeters like crude frames. A paint pen is loosely taped to the side of a canvas like evidence left casually at a crime scene. The act of making is viscerally felt in the presentation, much like the DIY qualities of their music.
When painting, Rönnberg and Reichwald like to work side by side. They collage on top of one another quickly and without hesitation. Similar to the act of crossing out another vandal or being buffed by the law, their techniques mimic the persistent layering of urban wall-scrawling. It is the lack of discretion for what they cover that creates new forms within each piece. Using subtractive pencil marks in wet paint, they reveal trickster mandalas. Smiling demonic faces are juxtaposed with runic tags, chains and crosses. The use of symmetry and loosely derived Christian occult symbols call back to the painters of Sweden's past, from the Rosicrucian-affiliated polymath Johannes Bureus to the mystical abstract painter Hilma Af Klint. The works are instilled with the sense-making of older imagery but accelerate towards a contemporary moment that is both neon and pitch black. Reichwald and Rönnberg's densely stained canvases capture the fleeting, seditious moments of a digital age.
BENJAMIN REICHWALD & JONAS RÖNNBERG, F*CKED FOR LIFE, the Hole , Preview, Sunday, May 21st, 2 pm – 6 pm then May 23rd – June 2nd, 2023,
About the artists
Benjamin Reichwald (b. 1994, Stockholm, Sweden) has created a prolific body of work and gained global notoriety under the pseudonym Bladee. Oscillating between his praxis as a musician, designer and visual artist, his work is evolving and highly inventive, amplifying a potent combination of dream-logic, spiritual aspiration and lived experience across various mediums. Reichwald has released eight solo projects and three further collaborative albums with fellow members of the music collective Drain Gang. His catalog entangles a wide web of collaborators including Skrillex, Yung Lean, Evian Christ, Mechatok, CharliXCX, and Ecco2k to name a few. As a designer, he has produced capsule collections for American-Swedish brand Gant as well as the subversive luxury fashion house Marc Jacobs.
Jonas Rönnberg, otherwise known as Varg2™, is a musician and interdisciplinary artist based in Stockholm. Over his career, Rönnberg has established himself as a prolific producer and provocative force in Stockholm's cultural scene and beyond. In his music, Rönnberg is unafraid to challenge listener expectations, freely moving between hyperpop-infused rap, heavyweight techno and complex ambient soundscapes. His list of collaborators is equally uncompromising, including Whitearmor, Bladee, Ecco2k, RX Papi, Drew Mcdowall, Puce Mary and Croatian Armor. Rönnberg founded the record label Northern Electronics in 2013 with Anthony Linell and has recently launched the imprint Cease 2 Exist.
Categories
Tags