The latest collaboration project from Liz Works is with celebrated contemporary American artist Rashid Johnson. Images from Johnson's ANXIOUS MEN series have been translated into gold and titanium fine jewellery, all within limited editions.
100% of the artist's proceeds will go to the Black Mental Health Alliance and Prep for Prep.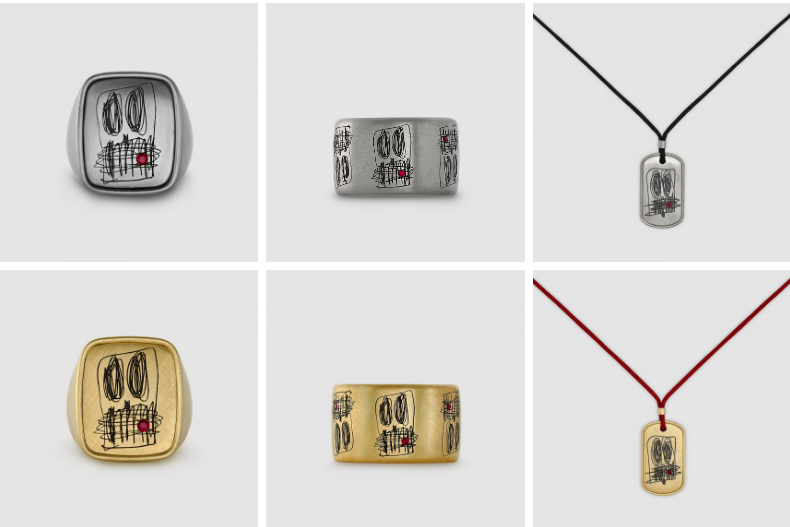 Available at DSM
About the Artist
Johnson's multidisciplinary practice spans sculpture, painting, drawing, filmmaking, and installation, incorporating a diverse range of materials and objects, significant in their engagement with African-American and other African diasporic communities. His work explores themes of art history, individual and shared cultural identities, personal narratives, literature, philosophy, materiality and critical history.
To date, Johnson has incorporated materials and items as diverse as CB radios, shea butter, literature, record covers, gilded rocks, black soap and tropical plants. Many of Johnson's works convey rhythms of the occult and mystic: demonstrating his desire to transform and expand each included object's eld of association in the process of reception.
About Liz Works
Founded in 2014 by Liz Swig, LIZWORKS collaborates with celebrated contemporary artists to create limited-edition pieces that reflect the moment and push the boundary between jewellery and art.
A renowned patron, collector, and a formidable fundraiser, Liz Swig has served in leadership roles on the Boards of Directors of several prestigious cultural institutions, including the Whitney Museum of American Art, The Film Society of Lincoln Center, CreativeTime, and the American Friends of the Israel Museum. She is widely recognized for the range of unforgettable events she has orchestrated on those organizations' behalf, often with record breaking results. For the past few years, she has channeled her passion her wit, her instinct for making connections and her inimitable ability to get things done into LIZWORKS.
Buy Art jewellery and watches from The MET here
Categories
Tags