In reaction to Grayson Perry's ill-judged comments on Covid-19, contemporary artist Stuart Semple has officially revoked Perry's Artistic Licence.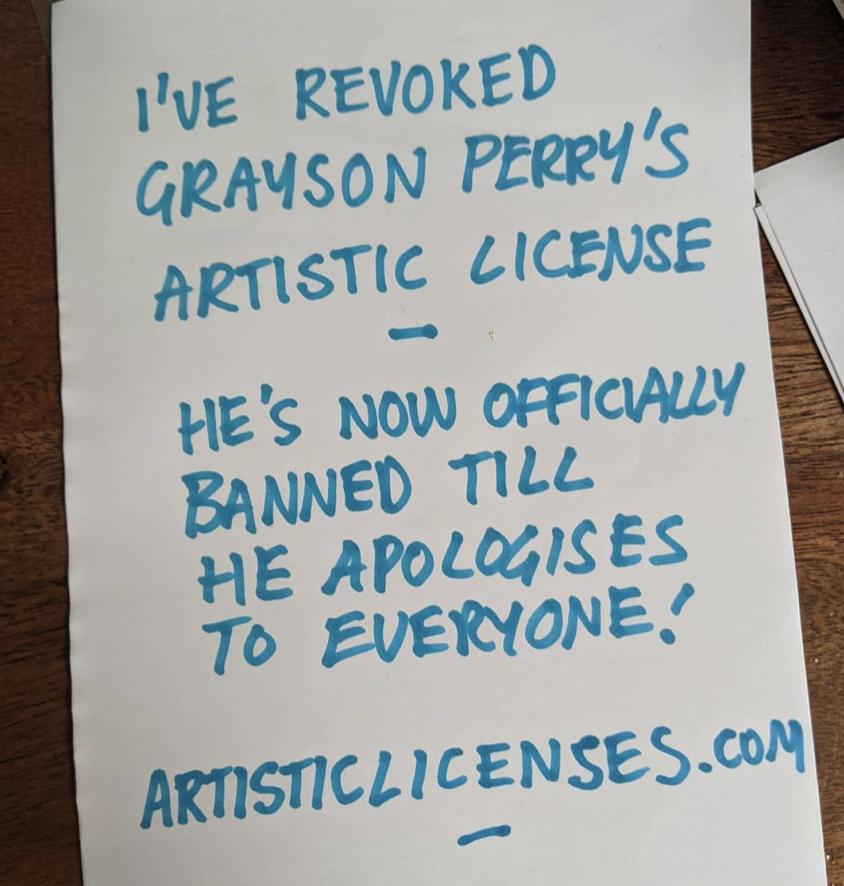 On Monday evening, Perry was reported as citing Covid-19 as an opportunity to clear the "dead wood" of the arts community.
"With Covid, it's been like turning a computer off and on again, and seeing which files reappear. Some of them we don't really give a damn about. What's interesting is what might not re-emerge,"  

Perry added.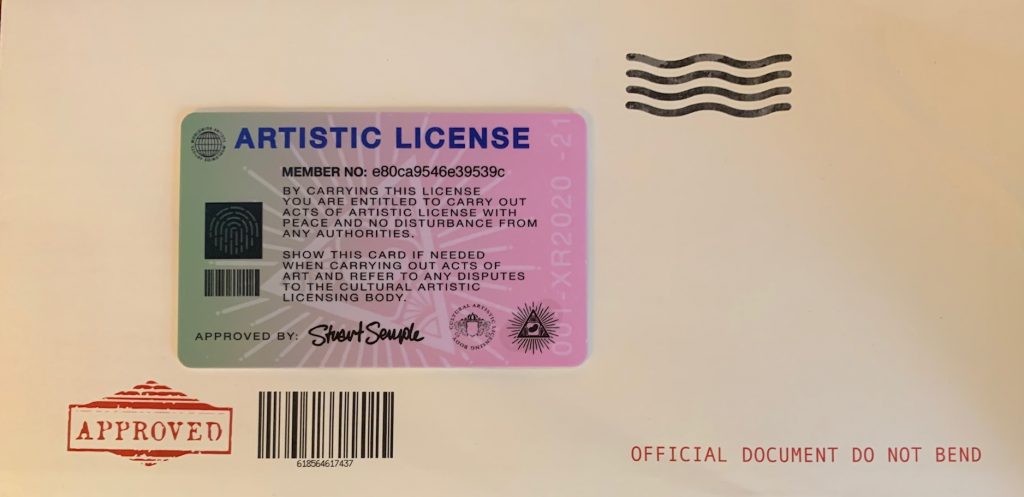 "Grayson has said Covid-19 will "clear the arts of dead wood". I believe art should be for everybody so I am revoking any implied artistic license he thinks he's got and I am banning him from using any of my art materials."

Stuart Semple, outraged at these comments,
Semple has launched an official artistic license and is making it available online to all artists except Grayson Perry. 
Artists wishing to apply for a license will have to agree to a legal waiver to ensure they are not Grayson Perry or purchasing it on his behalf. 
Grayson Perry's comments come as a time when thousands of people have lost their jobs and museums are being mothballed. 
"People from the arts are literally queuing up outside my Artist Job Centre – hoping it's real so they can retrain for a job as a ballpoint pen tester! The man must be on his lunar module! The vulnerable people in the arts at the trailblazers and the risk-takers. Those that make things that challenge and move culture forward. If the arts post Covid is made up of the same old white male household names the pandemic would have been even more devastating than any of us could have imagined."
Artistic Licenses are available to *anyone for endeavors that merit artistic encouragement.  In order to apply for an artistic license head to the website: http://artisticlicenses.com/. Artists will be required to agree to a legal disclaimer:* By adding this artistic license to your cart you confirm that you are not Grayson Perry, you are in no way affiliated to Grayson Perry, you are not purchasing this item on behalf of Grayson Perry or an associate of Grayson Perry. To the best of your knowledge, information and belief this license will not make its way into that hands of Grayson Perry.
Categories
Tags