This October, Barbican Art Gallery stages the first ever major exhibition on the groundbreaking dancer and choreographer Michael Clark. Exploring his unique combination of classical and contemporary culture, Michael Clark: Cosmic Dancer unfolds as a constellation of striking portraits of Clark through the eyes of legendary collaborators and world-renowned artists including Charles Atlas, BodyMap, Leigh Bowery, Duncan Campbell, Peter Doig, Cerith Wyn Evans, Sarah Lucas, Silke Otto-Knapp, Elizabeth Peyton, The Fall and Wolfgang Tillmans.

Michael Clark in Charles Atlas's Hail the New Puritan, 1986 Still, 16mm film transferred to video, sound, duration: 84:54 minutes. © Charles Atlas, courtesy the artist and Luhring Augustine, New York
2020 marks the 15th year of Michael Clark Company's collaboration with the Barbican as an Artistic Associate. This exhibition, one of the largest surveys ever dedicated to a living choreographer, presents a comprehensive story of Clark's career to date and development as a pioneer of contemporary dance who challenged the furthest intersections of dance, life and art through a union of ballet technique and punk culture. Films, sculptures, paintings and photographs by his collaborators across visual art, music and fashion are exhibited alongside rare archival material, placing Clark within the wider cultural context of his time. Contributions by cult icons of London's art scene establish his radical presence in Britain's cultural history.

Publicity photograph for No Fire Escape in Hell, 1986 © David Buckland
Jane Alison, Head of Visual Arts, Barbican said:
"We're thrilled to be sharing this rare opportunity for audiences to get to know the inspirational work of one of the UK's most influential choreographers and performers, Michael Clark. Michael Clark Company has been our Artistic Associate since 2005 and this exhibition celebrates the richness of Clark's provocative and electrifying presence in our cultural landscape and explores how art, film, music and fashion have been integral to his work."

Lorena Randi and Victoria Insole in Before and After: The Fall, 2001 Hebbel-Theater, Berlin.
© Andrea Stappert
Michael Clark was born in Scotland in 1962 and began traditional Scottish dancing at the age of four. In 1975 he left home in Aberdeen to study at the Royal Ballet School in London before joining Ballet Rambert in 1979. Following his participation in a summer school with Merce Cunningham and John Cage, Clark created his first independent work in 1982 and became choreographer-in-residence at London's multi-disciplinary creative hub Riverside Studios in 1983. Michael Clark & Company was launched in 1984 when he was only 22.

Michael Clark in a publicity photograph for New Puritans, 1984 © Richard Haughton
As a young choreographer, Clark brought together his classical ballet training with London's punk, fashion and club culture to establish himself as one of the most innovative artists working in contemporary dance. These impulses are highlighted in the ambitious new commission A Prune Twin (2020), by pioneering filmmaker, video artist and long-term collaborator Charles Atlas. This large-scale film installation will immerse audiences into Clark's early work and provide an opportunity to revisit Atlas' 'Love letter to London' Hail the New Puritan (1986) and Because We Must (1989). Featuring outrageous costumes and sets, Clark's iconoclastic choreography challenged notions of gender, conformity and conservative values within the context of Thatcher's Britain. A section of the exhibition will be dedicated to Clark's landmark performance I Am Curious, Orange (1988) which questioned the sectarianism and conservatism that characterised not only the 1980's but Britain's social and political history. Cerith Wyn Evans' music videos for The Fall filmed on stage are presented alongside recreated elements of set design originally conceived by Clark.
Since his meteoric rise to international recognition, Clark has developed a multi-disciplinary aesthetic language instantly recognisable in his choreographic form. His work continues to be marked by a mixture of technical rigour and experimentation, fine-tuned choreography and subcultural influences. Clark has always been drawn to artists who have challenged the boundaries of gender and normative representations of sexuality. The exhibition showcases a rare collection of Leigh Bowery's provocative costumes which proved integral to Clark's vision and radically disrupted the traditions of the dance world. These include the iconic bottomless leotards from New Puritans (1984) whose choreography was in turn inspired by The Fall's post-punk compositions and grotesque world.

Leigh Bowery and Rachel Auburn in Charles Atlas's Hail the New Puritan, 1986 Still, 16mm film transferred to video, sound, duration: 84:54 minutes. © Charles Atlas, courtesy the artist and Luhring Augustine, New York
Following Bowery's tragic death and a period of absence away from London, Clark's friendship with Sarah Lucas resulted in a shared exploration of the human body and sexuality across sculpture and dance. Lucas has conceived two installations for the exhibition inspired by their friendship and collaboration on Before and After: The Fall (2001). These include a series of hand gestures, cigarette sculptures and a wanking arm as sculptural metaphors of Clark's choreography, as well as a parodic casting of Clark's body sitting on a toilet (Cnut, 2004). Elizabeth Peyton's and Wolfgang Tillmans' portraits of Clark capture the naked intimacy of the artist as a human being, without artifice and decorum, whereas Peter Doig's painting, which seems to merge Clark's face with that of Le Corbusier, is a playful rendering of their shared interest in the famed architect of the Cite? Radieuse in Marseille. Doig's Portrait (Corbusier) (2009) is exhibited in dialogue with 16mm footage of Clark's dancers performing a pelvis-led choreography on the roof of the iconic modernist building in 2008, presented for the first time and resulting from a close dialogue with Clark and Michael Clark Company.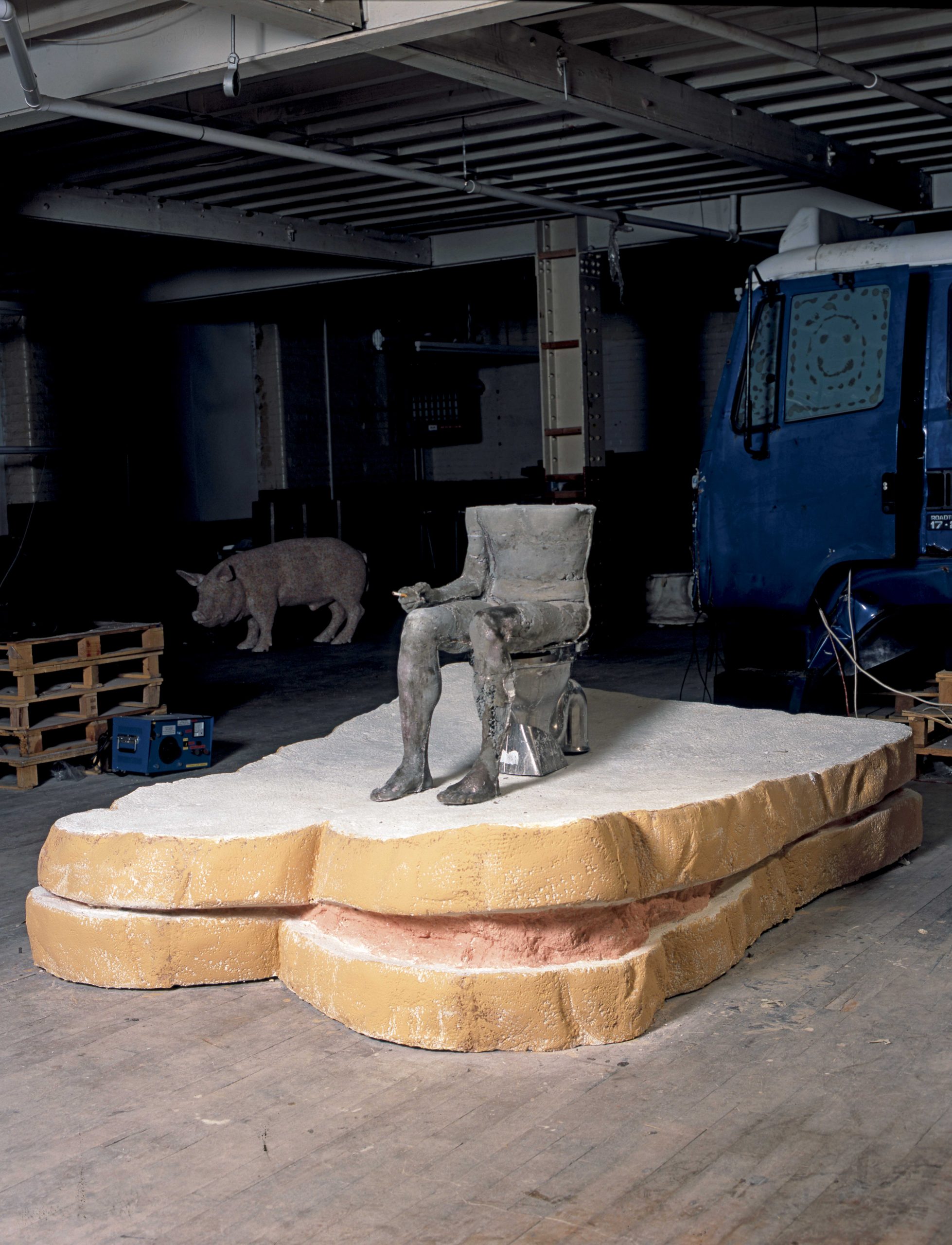 SarahLucas,Cnut,2004 Jesmonite sandwich, concrete figure, cigarette, paint, stainless steel toilet, plastic seat. Sandwich: 60 x 244 x 190 cm figure: 87 x 102 x 43 cm © Sarah Lucas, courtesy Sadie Coles HQ, London
In 2005 Michael Clark Company became an Artistic Associate of the Barbican and embarked on The Stravinsky Project, a three-year collaboration to create a trilogy of works to seminal dance scores by Igor Stravinsky. Clark's investigation of classical ballet vocabulary, extreme discipline and technical virtuosity in this trilogy inspired Silke Otto Knapp's new series of paintings commissioned for the exhibition. Clark's relentless drive to re-define classicism has seen him perform at theatres and galleries across the world. A section dedicated to Michael Clark Company's archive of ephemera, posters and programmes highlights the exposure of the company across Europe's most renowned theatre venues, with a vibrant graphic identity akin to the visual language of punk, rock and pop music echoing Clark's vision of his company as a band.

MichaelClarkCompanyinMmm…,2006 Barbican Theatre, London. © Hugo Glendinning
Michael Clark: Cosmic Dancer further showcases a large selection of archival film documentation, focusing on Clark's work with filmmakers (Peter Greenaway, Derek Jarman), fashion designers (Vivienne Westwood, Alexander McQueen, Gucci) and musicians (Scritti Politti, Laibach, Bruce Gilbert from Wire). The archive also displays a selection of interviews with Clark, as well as the documentary The Late Michael Clark (2001) by filmmaker Sophie Fiennes and the recent BBC recording of Clark's to a simple, rock 'n' roll . . . song. (2016) set to the music of Erik Satie, Patti Smith and David Bowie. The Olivier Award-nominated performance filmed in the Barbican in 2017, following a commission by the BBC, was recently re-added onto BBC iPlayer. It is available for streaming until the end of August 2020.
Artists featured in the exhibition include: Charles Atlas, Leigh Bowery, BodyMap, Duncan Campbell, Peter Doig, Cerith Wyn Evans, The Fall, Sophie Fiennes, Sarah Lucas, Silke Otto-Knapp, Elizabeth Peyton, Susan Stenger, Stevie Stewart, Wolfgang Tillmans, Trojan. Archival film presentation includes work by Angela Conway, Ann Herdman, Derek Jarman, Daniel Landin, Alexander McQueen, Scritti Politti, Laibach, Bruce Gilbert, Vivienne Westwood.
Michael Clark: Cosmic Dancer Barbican Art Gallery, London, UK 7th October 2020 – 3rd January 2021
You can book NOW: barbican.org.uk/whats-on/2020/event/michael-clark-cosmic-dancer

MichaelClark © Jake Walters
Categories
Tags