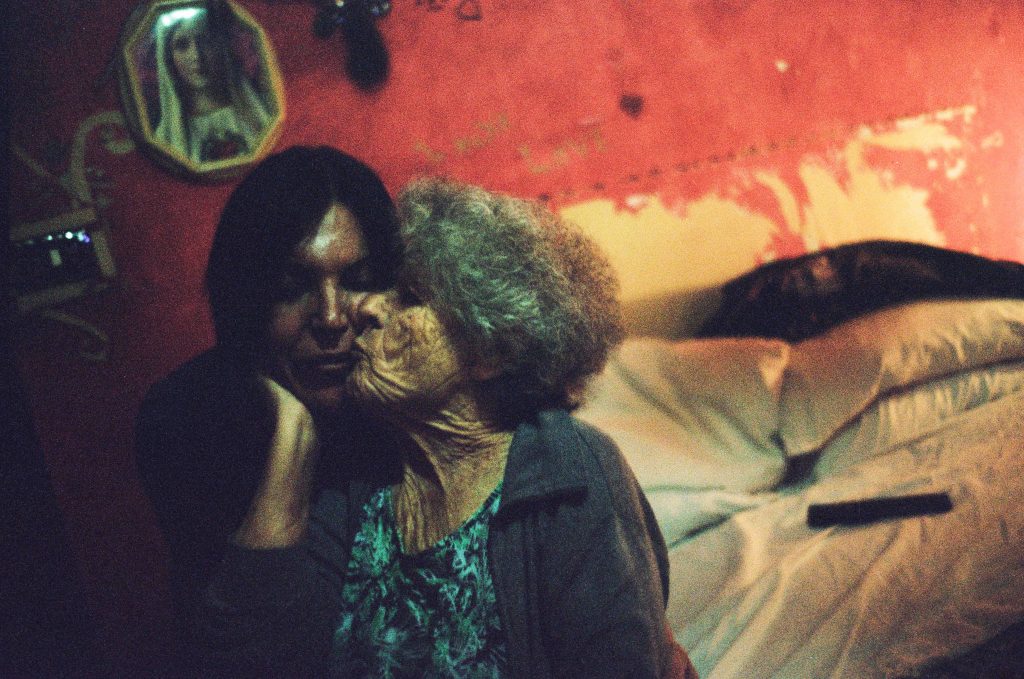 Photographer and director Jess Kohl spoke to Lee Sharrock about her solo photographic exhibition with Collettivo Zero at Palzzo delle Arti in Naples.
The exhibition titled Anime Salve features intimate portraits of 5 individuals living in Scampia, a social housing prototype built in the 1970s in Naples which fell into disrepair and became a playground for Neopolitan criminal cartel the 'Camorra'. Jess Kohl took the photographs over a period of two years, including during a residency with ShowDesk, and the mutual trust she developed with her subjects enabled her to take authentic photographs that examine gender-nonconformity in a region that has historically had a liberal attitude towards fluid sexuality.
Kohl's photographs will form part of her first feature documentary, which continues her exploration of gender identity and the examination of the 'femminielli, a term used in Naples to describe an effeminate man, traditionally seen as bringing good luck.
Anime Salve is the title of a well-known album by Italian Fabrizio De André, translated as "solitary spirits", it lends its name to Kohl's exhibition featuring monochromatic photographs documenting the architectural and developmental modifications of the Scampian urban landscape, and features local characters who "embody an intersection between queerness and Catholicism, between Napoli and Scampia". One room of the exhibition features religious iconography and has been transformed to resemble a sanctuary including images of homemade shrines that are scattered across Naples, illuminated with neon light to symbolize the protection and remembrance of the dead.
The exhibition culminates with two adjacent screens showing super 8 portraits taken by Kohl in Naples and in Koovagam, India at an ancient religious festival in India where trans women gather.
Central St Martins and Goldsmiths graduate Jess Kohl was born in London in 1989 and is an award-winning filmmaker and photographer represented by PRETTYBIRD. Her work focusses on the notion of queerness and examines marginalized communities in the UK and around the world.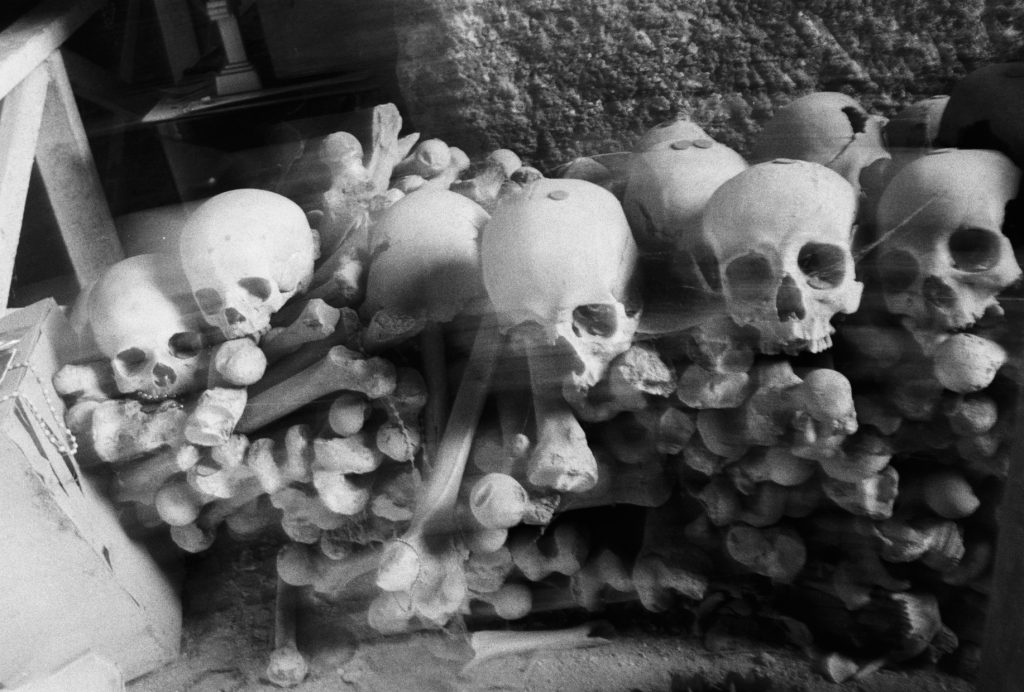 Lee Sharrock: When did the idea come to you to photograph the 'femminelli' of Napoli?
Jess Kohl: I'm interested in gender non conformity, particularly when it intersects with religion, culture and history. In 2018, I spent time in India, documenting Koovagam, an ancient religious festival for trans people to come together and celebrate. I read about the history of the femminelli, one of the oldest examples of what we now call 'non binary'. In Neapolitan culture, 'femminelli' were effeminate men, celebrated in the Campania region in the 19th century. They were believed to bring good luck. I was initially drawn to Napoli to start visually research into if these historically liberal attitudes towards gender non conformity had bled into modern Neapolitan society.
LS: You followed the lives of 5 individuals living in Scampia. Where is Scampia, is it a region of Napoli? And how did you meet these people and get involved in their lives – did you spend time living with them and documenting them?
JK: Scampia is a 'bedroom suburb' in the far north of Naples. It was built in the 60s/70's as a kind of utopian housing project, with huge housing estates constructed in the shape of sails, with walkways that were meant to reflect the communal streets of the Spanish Quarters in the centre of Naples. When the great earthquake happened in 1980's, many people were displaced and began squatting the buildings before they were habitable. Abandoned by the state, the area was taken over by the Camorrah, the local mafia, and the area became a breeding ground for drugs and crime.
I was introduced to Scampia through my subjects, who live there. In both India and Naples, I found that although historical attitudes towards queerness are positive, over time queer people have been pushed to the margins, hence my subjects living in Scampia, geographically isolated from the mainstream – the rest of the city.
LS: Your Napoli exhibition also includes some portraits of the trans community in Koovagam, India. What attracts you to document these often marginalised communities, and how do you find them – by travelling widely?
JK: I'm drawn to the margins because I think it's on the outskirts we can observe the most extreme range of human emotion. It's an interesting way to explore more universal or cultural themes – you can judge a culture by the way it treats its most vulnerable. As a queer person living in the West, shining a light on how different LGBT communities are treated feels like a worthwhile use of my privilege.
LS: The exhibition's catalogue essay was written by Paolo Valerio, honorary professor of clinical psychology at the Federico II Naples University, whose research focusses on gender identity, homophobia, transphobia and gender based violence. Is there any relation with your photographic documentation of marginalised communities and academic research?
JK: I sometimes see my work as accumulating research – an anthropological study of the human condition, with a specific focus on gender and sexuality. I met Paolo during my research in Napoli, and we share these same interests. He is a gay man, who is fascinated by the history of queerness, and the magical qualities that were once assigned to non binary people.
LS: Your film work as a director also focusses on communities embracing different sexualities, including the trans communities in India and Naples, as well as the LGBTQI+ communities worldwide and you recently made a film for Vogue's PRIDE series about a troupe of Drag Queens with Downs syndrome, and a film for PRIDE about the LGTQI+ community. How does your approach and technique differ between stills and film – do both formats still involve you spending time getting to know people and gain their trust in order to capture their true personalities?
JK: I think somehow when making a film I'm able to feel more invisible than when taking photos, which is part of the process that I prefer. Taking a photo feels more intrusive somehow – there is a certain pressure when capturing a single moment, for both the photographer and subject. When making a film, I feel more able to blend into the background and just keep the camera rolling. With both formats, I aim to spend as much time as I can with my subjects, and create long lasting bonds. I speak regularly to Aaliyah, the lead of my film in India. I have been shooting this project in Naples for 2/3 years now, and speak regularly to my contributors there. I think this helps to build trust, and to create a friendship and experience that moves beyond these single images.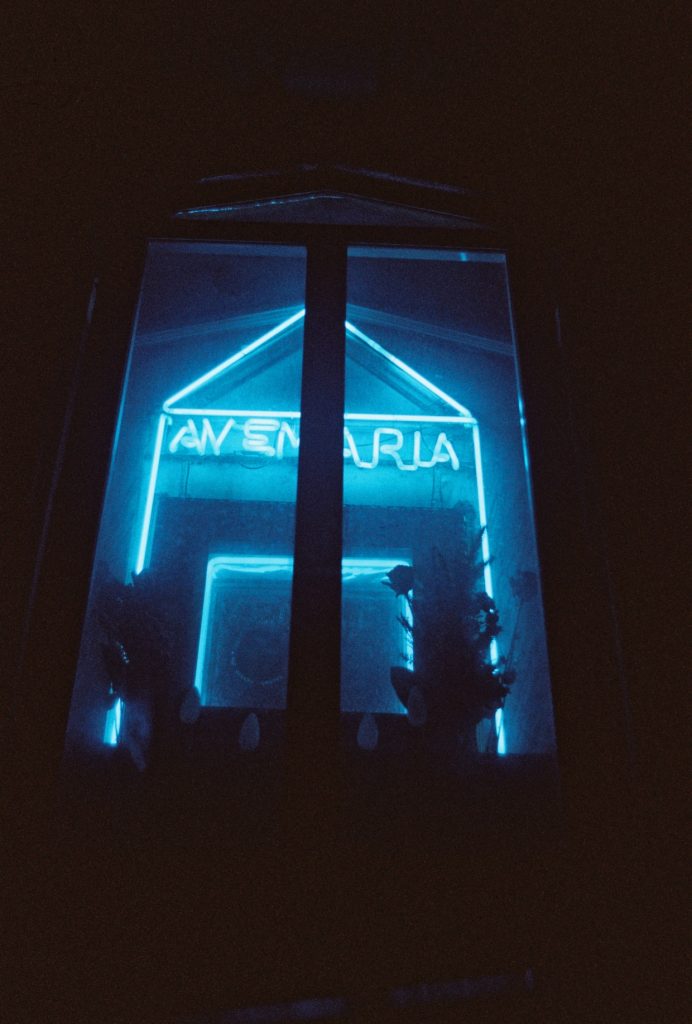 ANIME SALVE is on from 11-27 September 2020 at PAN – Palazzo delle Arti Napoli , Via dei Mille, 60, 80121 Napoli (NA), Italy. Access is permitted upon reservation at http://ingressi.comune.napoli.it
Categories
Tags