Bruce Nauman  Clown Torture 1987  Four channel video with sound (two projections, four monitors), approximately one-hour loop  The Art Institute of Chicago, Watson F. Blair Prize, Wilson L. Mead, and Twentieth-Century Purchase funds; through prior gift of Joseph Winterbotham; gift of Lannan Foundation, 1997.162  © ARS, NY and DACS, London 2020? 
This autumn, Tate Modern will present the first exhibition to show the full breadth of work by Bruce Nauman (b.1941) in London for more than 20 years. A restlessly inventive artist, Nauman's ground-breaking body of work encompasses a range of media including sculpture, sound, film, video and neon. Since the late 1960s, he has continually tested and reinvented what an artwork can be by reshaping traditional forms and creating new ones. He is now widely recognised as one of the most innovative and influential artists of the late 20th and early 21st centuries.
Through more than 40 works, the exhibition will explore the distinctive themes that have preoccupied Nauman during his remarkable 50-year career. Unfolding across a sequence of immersive installations inviting deep viewer engagement, the show will acknowledge how Nauman's works contrast the instant gratification of today's screen-based information and entertainment culture. It will also reveal how Nauman has transformed the way we think about art by exploring our understanding of language and perception of our physical and psychological place in the world.

Bruce Nauman  Walking in an Exaggerated Manner Around the Perimeter of a Square 1967–1968  16mm film on video, projected, black and white, sound  10min  Exhibition file courtesy Electronic Arts Intermix (EAI), New York  © ARS, NY and DACS, London 2020? 
Following a non-chronological structure, the opening room will present visitors with MAPPING THE STUDIO II with color shift, flip, flop & flip/flop (Fat Chance John Cage) 2001, a major moving-image installation that embodies Nauman's radical re-examination of the rarefied space of the artist's studio. A selection of early and iconic artworks such as Henry Moore Bound to Fail 1967/70 and A Cast of the Space Under My Chair 1965/68 will highlight Nauman's conceptual and often performative approach towards sculpture, the body and studio practice.
Inspired by a chance encounter with a neon advertisement leftover in his San Francisco studio, Nauman created several ground-breaking neon signs that combine text and colour to reveal the ambiguities beneath everyday phrases and expressions. A number of outstanding examples will be brought together for this exhibition, including The True Artist Helps the World by Revealing Mystic Truth (Window or Wall Sign) 1967, Human Nature Knows/Doesn't Know 1983/86 and One Hundred Live and Die 1984.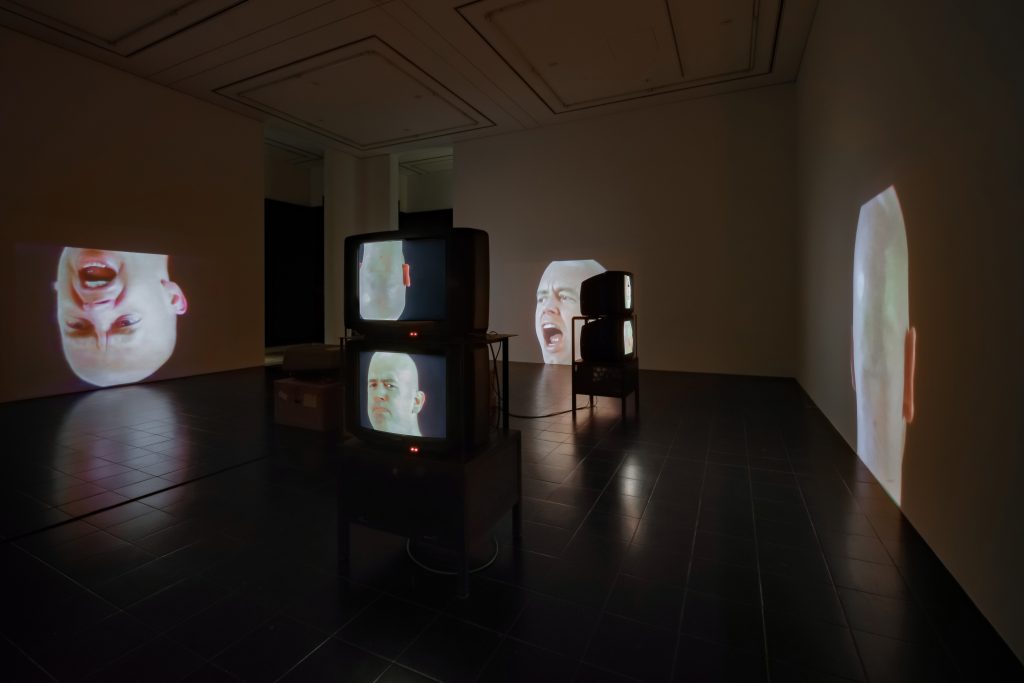 Bruce Nauman   Anthro / Socio (Rinde Spinning) 1992  Colour, sound, six video-disc, NTSC, loop  Dimensions variable © Hamburger Kunsthalle / bpk © VG Bild-Kunst, Bonn, photo: Kay Riechers to: Christoph Irrgang   © ARS, NY and DACS, London 2020 
Large-scale works such as Going Around the Corner Piece with Live and Taped Monitors 1970 and Double Steel Cage Piece 1974 reflect Nauman's interest in surveillance and societal control. These themes extend to the whole-room installation Shadow Puppets and Instructed Mime 1990 in which suspended wax heads, sound and video, provide a backdrop as a disembodied male voice gives commands to a female mime projected onto the walls. One of Nauman's most aurally and conceptually powerful works Anthro/Socio (Rinde Spinning) 1992 reveals how Nauman consistently challenges the conventions of the gallery experience and confronts viewers directly with their own physical presence. Black Marble Under Yellow Light 1981/1988 provides an encounter with Nauman's unsettling manipulation of space and light, while Falls, Pratfalls and Sleights of Hand (Clean Version) 1993, the final room in the show, acknowledges the themes of bodily presence and human perception that have engaged Nauman throughout his career.
Bruce Nauman 7th October 2020 – 21st February 2021 Tate Modern @tate
Supported by the Terra Foundation for American Art. With additional support from the Bruce Nauman Exhibition Supporters Circle, Tate Americas Foundation, Tate International Council and Tate Patrons
About the Artist
Bruce Nauman was born in Fort Wayne, Indiana, in 1941. He studied mathematics, physics and art at the University of Wisconsin before graduating with a Master of Fine Arts from the University of California, Davis in 1966, with extracurricular activities including classical music and philosophy.
Nauman's first solo exhibition was held at Nicholas Wilder Gallery, Los Angeles, in 1966 and was followed in the same year by his inclusion in Eccentric Abstraction – a group exhibition at New York's Fischbach Gallery which heralded a new era of post-minimalism. Sperone Westwater, New York, is Nauman's primary representation, where he has shown since 1976.
In 1972, at the age of thirty-one Nauman had his first retrospective exhibition at the Los Angeles County Museum of Art and the Whitney Museum of American Art, New York, followed by venues in Europe. In 1994 a large retrospective of his work was organised by the Walker Art Center, Minneapolis, and the Hirshhorn Museum and Sculpture Garden, Washington, DC, with a subsequent international tour. A further retrospective, Bruce Nauman: Disappearing Acts was presented at the Schaulager, Basel, and The Museum of Modern Art and MoMA PS1, New York in 2018–19.
Major museum shows dedicated to Nauman's work have included: Bruce Nauman, Rijksmuseum Kröller-Müller, Otterlo 1981; Bruce Nauman: Neons, Baltimore Museum of Art 1982-3; Bruce Nauman Drawings 1965–1986, Museum für Gegenwartskunst, Basel 1986; Bruce Nauman, Kunsthalle Basel and Whitechapel Gallery, London 1986–7; Bruce Nauman: Image/Text, 1966–1996, Centre Georges Pompidou, Paris and Hayward Gallery, London 1997–8. He has participated in five editions of the major quinquennial exhibition Documenta (1968, 1972, 1977, 1982 and 1992) and has presented work in the main exhibition of the Venice Biennale at least six times.
Nauman was awarded the Golden Lion at the Venice Biennale twice, in 1999 and 2009, the Japan Art Association's Praemium Imperiale Award for sculpture in 2004, the Wolf Prize for Arts-Sculpture in 1993, the Wexner Prize in 1994 and the Max Beckmann Prize in 1990.
Categories
Tags