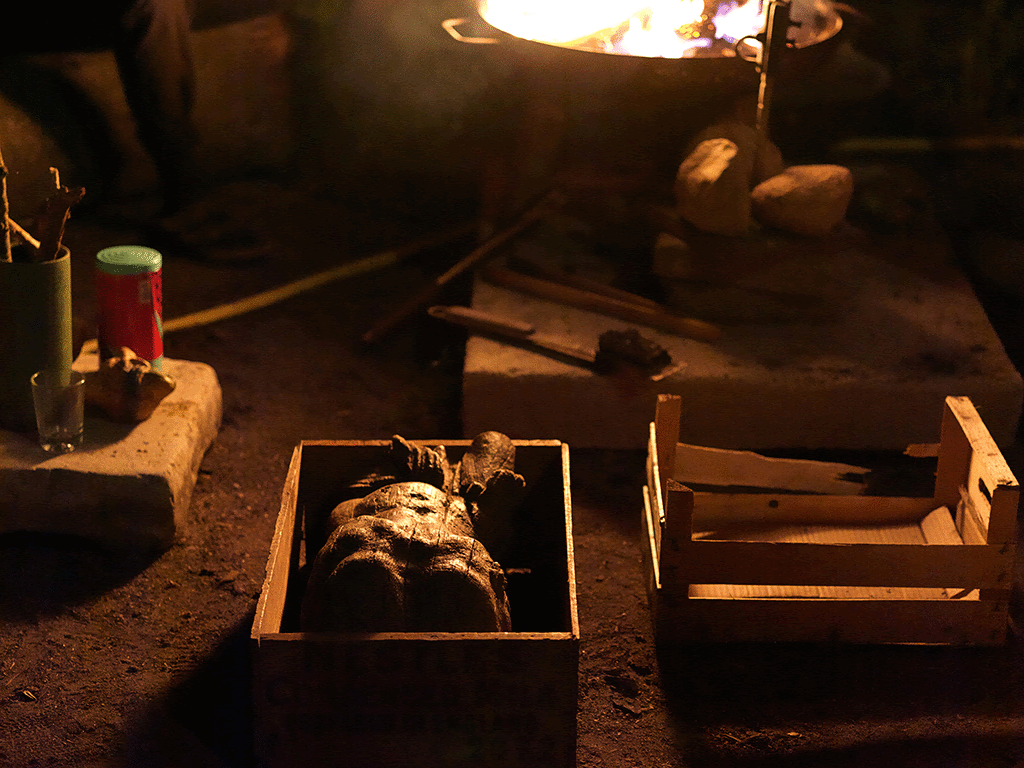 White Cube is to present a major solo exhibition by Danh Vo spanning the Bermondsey galleries.
Born in 1975 in Bà Rja, Vietnam, Vo grew up in Denmark and now lives and works across Berlin and Mexico City. During recent months he has been based in his farmhouse in Brandenburg, Germany, developing new work which often draws from his rural surroundings; from wildflower meadows and forests to the firewood used to fuel wood-burning furnaces.
Vo's critically acclaimed 2018 exhibition 'Take My Breath Away' at the Guggenheim, New York, brought together 15 years of work, including We the People (2011–2016), an installation featuring segments of the Statue of Liberty's sculpted shell, recreated at scale, and shown alone or in groups across the museum.
Last year at the South London Gallery, in his first solo show in the UK, Vo unveiled an expansive project which involved a range of collaborators, including his father, friends, lover and professor, as well as gallery technicians and a group of local children who visited his farm in Germany.
At Bermondsey, Vo will take over the entire gallery, continuing his in-depth exploration of issues surrounding identity, history, society and politics, while highlighting the collaborations and everyday lives of both the artist and his friends.
Vo's first exhibition in Japan is currently on view at The National Museum of Art, Osaka, until 11 October 2020, and he will present a solo show at Secession, Vienna, from 21 November 2020 – 31 January 2021.
Danh Vo 11th September – 31st October 2020 White Cube Bermondsey
About the Artist
In his conceptual artworks, Danh Vo often draws on personal experience to explore historical, social and political themes, charting the relationship between our inner selves, our desires, and the forces at large that determine them.
Vo addresses a central concern in his diverse production; that the self is an inexorably fluid construct, shaped not only by individual experience but also by random chance, reality and myth, past and present. Through installation, performance, sculpture, drawing, film and photography, he reconfigures an understanding of ownership and authorial status, highlighting the inherent discrepancies and fissures that exist within personal identity. He has said 'I see myself, like any other person, as a container that has inherited these infinite traces of history without inheriting any direction. I try to compensate for this, I'm trying to make sense of it and give it a direction for myself.'
Danh Vo was born in 1975 in Bà Rja, Vietnam and currently lives and works in Berlin and Mexico City. He represented Denmark at the Venice Biennale in 2015 and participated in the International Exhibition of the Biennale in 2013. Solo exhibitions include Statens Museum for Kunst, Copenhagen, CAPC musée d'art contemporain de Bordeaux, France and Guggenheim Museum, New York (2018); White Cube, Hong Kong, National Gallery Singapore, Aspen Art Museum, Colorado and Museo Nacional Centro de Arte Reina Sofia, Madrid (2016); Museum Ludwig, Cologne (2015); Musée d'art moderne de la Ville de Paris (2013); Guggenheim Museum, New York (2013); Art Institute of Chicago (2012); Kunsthaus Bregenz, Austria (2012); Kunsthalle Basel, Switzerland (2009) and Stedelijk Museum, Amsterdam (2008). In 2015, Danh V? co-curated 'Slip of the Tongue' with Caroline Bourgeois at the Punta della Dogana, Francois Pinault Collection, Venice (2015). He was the winner of the Hugo Boss Prize (2012) and awarded the ARKEN Art Prize, Denmark (2015).
Categories
Tags