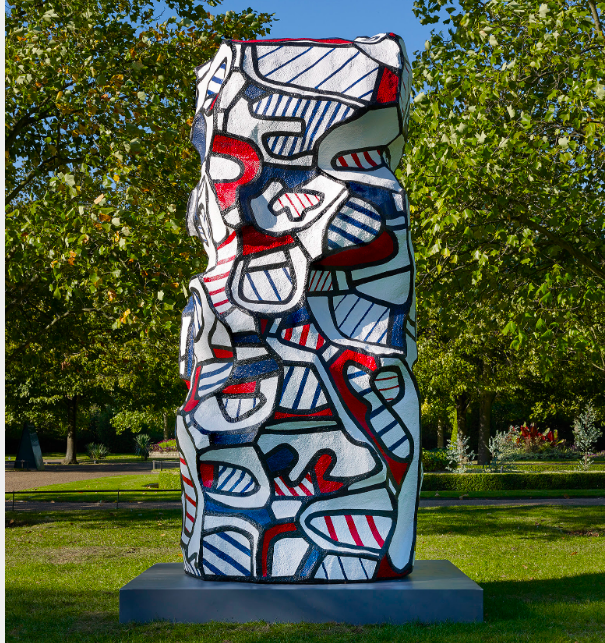 This September, Jean Dubuffet's iconic 13ft sculpture Tour aux récits is to be installed at Smithson Plaza. The ongoing arts programme from Tishman Speyer builds on the cultural heritage of Smithson Plaza, which was originally commissioned as the headquarters for The Economist and stands today as an iconic example of 1960s modernist architecture.
Dubuffet's monumental artwork finds a fitting home in Alison and Peter Smithson's sixties complex as the sculpture was initially designed for the forecourt of the Banque Lambert in Brussels, which was completed in 1960, the same decade as Smithson Plaza. The architecture of both locations has a distinctly stripped-down modernist approach, and the placement of Tour aux récits in this new location achieves Dubuffet's desire for the work to be realised in a cityscape. A series of photo montages by the artist reveals that he imagined the work to be ideally situated between two blocks of flats, a location comparable to Smithson Plaza.
The installation comes at a time of renewed focus on the radical French artist, who is often cited as one of the most powerful and provocative voices in the post-war avant-garde. A relentless innovator, Dubuffet continuously experimented with art-making materials and techniques, working across painting, drawing, printmaking, large-scale outdoor sculpture and performance. The artist pioneered a new cultural focus, one which called on creatives not to explore what was simply aesthetically pleasing, but instead, as Dubuffet explained in a 1951 essay, to produce 'an art that is directly plugged into our current life, that immediately emanates from our real life and our real moods'.
Roxana Afshar, Director of Waddington Custot, commented:
"We are delighted to help realise the installation of Dubuffet's Tour aux récits at Smithson Plaza. Placement of the monumental sculpture in this iconic public location not only allows the work to be viewed by a broader audience, but also connects to the artist's fascination with life in the metropolis."
Dubuffet declared himself an artist of the people and became increasingly interested in work made by untrained artists, children and the mentally ill, forms he believed were free from the cultural conventions governing fine art, and reflected the true dynamics of the human mind. Such values were embodied in what Dubuffet termed Art Brut or 'Raw Art'. Dubuffet's connection to society is comparable to the Smithson's architectural approach as the duo designed buildings to reflect their inhabitants, working to the communities needs instead of imposing traditional constraints.
Tour aux récits joins the iconic collection of Dubuffet's outdoor works, alongside significant sculptures including Tour aux figures, the most important edifice by Dubuffet realized to this day, which is permanently located in Paris and the 43 ft. sculpture Group of Four Trees, specifically commissioned by David Rockefeller for One Chase Manhattan Plaza in 1969. In 1970 Rockefeller commented to The New York Times that the sculpture would 'harmonize with the scale of the building and offer a fanciful contrast to the severe lines of the surrounding environment'.
These monumental works form part of Dubuffet's Hourloupe cycle, a series which originates in the artist's loose doodles and drawings started in the early 1960s. The initial sketches, with their three-dimensional continuous patterns, inspired Dubuffet to create, in his own words, 'drawings which extend and expand in space'. The artist began to create polystyrene maquettes, which advanced his Hourloupes into three dimensions.
Characteristic of Dubuffet's Hourloupe cycle, the undulating surface of Tour aux récits is delineated with black against a white ground, with the resulting negative spaces variously filled with parallel lines or solid colour in red and blue. For Dubuffet, 'L'Hourloupe' was an onomatopoeic word; in French, its sound suggests a wonderland or grotesque creature, while simultaneously evoking a rumbling threat with tragic overtones.
The installation of Dubuffet's Tour aux récits marks the fifth artist's work to take residency at Smithson Plaza, extending the dynamic public arts programme curated by Encounter Contemporary. This is also Waddington Custot's third collaboration with the initiative following the presentation of three works by American sculptor Jedd Novatt in 2019 and then a collection of sculptural pieces by octogenarian British artist David Annesley, which currently occupy the plaza.
Dan Nicholson, Managing Director of Tishman Speyer UK commented:
"We are delighted to welcome Jean Dubuffet's work as the next instalment of our ongoing public art programme at Smithson Plaza. In these unprecedented times, we see tremendous value in facilitating unfettered access to such quality sculpture in outdoor environs and we welcome the public to enjoy both Dubuffet's work and Smithson Plaza."
Monumental work by Jean Dubuffet to be installed at Smithson Plaza From 23rd September 2020 Smithson Plaza, St James's Street, London, SW1A 1HJ
Categories
Tags