After several months of closure, The Arts Club reopens with 'Block Party'. The group exhibition brings together the gallery community of Dover and Grafton Streets including: Cardi Gallery, Gazelli Art House, Galerie Max Hetzler, Sprüth Magers, Richard Saltoun, Robilant + Voena, Galerie Thaddaeus Ropac and David Zwirner.

Install shot, 'Block Party' at The Arts Club, London, 2020. Photo Kate Elliott
Such an initiative demonstrates how, in this peculiar time, there is beauty in joining forces and coming together in a collective effort to 'bring things back to normal'. As the exhibition's curator, Pernilla Holmes of Wedel Art, declared
Meaningful collaborations were already starting to happen in the artworld, with gallery 'exchange' events like Condo (where galleries from one city do shows in the spaces of galleries in another city) –  but I think COVID 19 and other global events have only emphasized the need to strengthen our bonds.  We now have major galleries like David Zwirner (who is in our show) hosting young galleries in their spaces and their website, and so many Zoom and IGTV events that democratise normally quite exclusive experiences like studio visits and panel discussions.  I'd love to see this sense of collaboration and sharing information maintained and grown post-COVID .

Install shot, 'Block Party' at The Arts Club, London, 2020, photo Kate Elliott 
The title of the exhibition itself calls to mind the idea of 'togetherness'. The community is, indeed, at the heart of a block party – a street celebration where one has the opportunity to get to know their neighbours, to be entertained, and exchange thoughts and conversations. Today, in particular, there is a surging need for a newly shaped community. Despite these uncertain times, resilience, creativity and art endure, and The Arts Club's neighbours embrace this by showing together in this exhibition.
While block parties can seem like a far away phantasy right now, this initiative wants nevertheless to celebrate an artful-event, in the hope to encourage people to get back to visiting and enjoying art in real life. The Arts Club has been at its home on Dover Street since 1896, surviving two world wars, including a direct hit on the building during the Blitz of 1940, as well as political and economic anomalies over the years. A creative collaboration in celebration of the vibrancy of the street's arts community, the exhibition shows togetherness at a time when it is needed most. It hopes to be able to host a more block party-style evening event before the end of the show.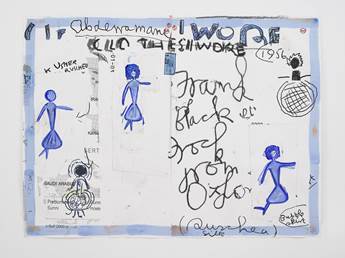 Rose Wylie, 'Clothes I Wore #21', 2019 (David Zwirner)
Each gallery will showcase an artwork from its roster of artists including:
Gary Hume, Mother's Day, 2015 (Sprüth Magers and Matthew Marks Gallery), Rose Wylie, Clothes I Wore #21, 2019 (David Zwirner), Jack Pierson, RICH KID BLUES, 2018 (Galerie Thaddaeus Ropac), Giovanni Ozzola, Splendor in Core, 2012 (Gazelli Art House), Mimmo Rotella, Venere Imperiale, 1966 (Cardi Gallery), Louise Bonnet (Galerie Max Hetzler), Helen Chadwick, Wreaths to Pleasure, 1992-1993 (Richard Saltoun), Lucio Fontana, Concetto Spaziale, 1960, and Paolo Scheggi, Curved Intersurface from Red, 1962& Curved Intersurface from Blue, 1966 (Robilant + Voena).
Over the course of the summer, The Arts Club will be introducing each of the participating galleries and artists on their Instagram account.
This exhibition is curated by Amelie von Wedel, Pernilla Holmes and Jessica Ziskind of Wedel Art, with special thanks to all of the outstanding galleries for their participation.
Categories
Tags