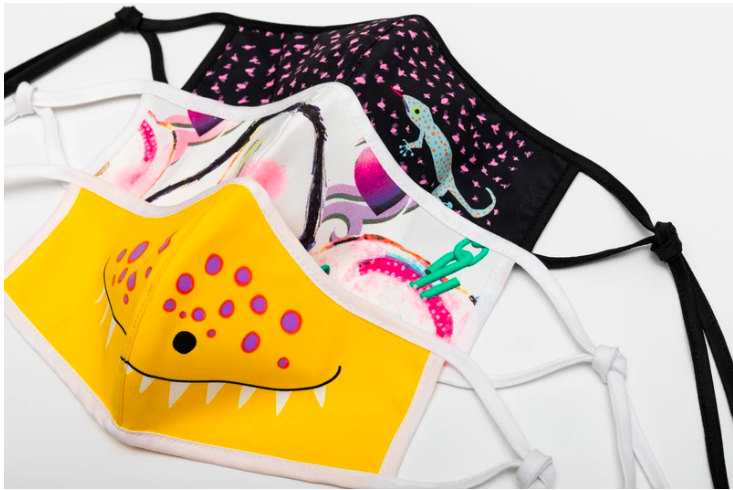 Phillips has announced the debut off limited-edition face masks designed by leading contemporary artists the Haas Brothers, Summer Wheat and Bel Fullana. Each mask will be produced in an edition of 500 available exclusively on Phillips.com. A portion of the proceeds will go towards a nonprofit of the artists' choice with the Haas Brothers benefitting The Bass Museum, Summer Wheat benefiting Artadia and The Innocence Project; and Bel Fullana benefitting NAACP.
"We're thrilled to present these artist-designed masks as well as to support vital nonprofits and arts organizations during this unprecedented time,"
says Miety Heiden, Phillips Head of Private Sales and Phillips X, Phillips' selling exhibition platform.
"These unique masks showcase the work of some of the most compelling contemporary artists at an accessible price point and we're excited to be able to share them with our clients and art enthusiasts alike."
Fabricated in collaboration with Citizens of Humanity, each mask is made from 100% cotton and is washable and reusable. The masks are available in packs of 3 for $75, featuring all three or a single design.
Available on phillips.com *USA customers only
About the Artists
Since founding The Haas Brothers in 2010, twin brothers Nikolai and Simon (b.1984; Austin, TX) have spurned arbitrary artistic boundaries and hierarchies, creating a playful and provocative world that merges art, fashion, film, music, and design. Their work explores aesthetic themes related to nature, science fiction, sexuality, and psychedelia in materials that range from brass, porcelain, and fur, to highly technical resins and polyurethane. Their first solo museum show opened at The Bass Museum of Art in 2018 and their work is held in the collections of the Metropolitan Museum of Art, the Los Angeles County Museum of Art, and the Rhode Island School of Design Museum. In 2019, they were the recipients of the Arison Award given by the YoungArts Foundation. They live and work in Los Angeles.
Summer Wheat (b. 1977, Oklahoma City, Oklahoma) received a BA from the University of Central Oklahoma and an MFA from Savannah College of Art and Design. Drawing on rich traditions from Egyptian relief sculptures to Modernist painting, Wheat's textural art objects destabilize material boundaries and elevate quotidian life through scale and movement. Wheat's practice deftly flattens hierarchies between the fine and domestic arts and crafts, embracing the intuition of felt experience as rival to conventional reason and logic. Recent solo exhibitions include the Kemper Museum of Contemporary Art, Kansas City (2020); KMAC Museum, Louisville (2019); Shulamit Nazarian, Los Angeles (2018); Smack Mellon, New York (2018). Wheat received the 2016 New York NADA Artadia Award and the 2019 Northern Trust Purchase Prize at EXPO Chicago. The artist's work is in the permanent collections of the Dallas Museum of Art, Texas; de Young Museum, San Francisco, CA; Peréz Art Museum Miami; The Henry Art Gallery at the University of Washington, Seattle; The Mint Museum, Charlotte, NC and the Speed Art Museum in Louisville, Kentucky. Blood, Sweat, and Tears, the artist's largest solo museum exhibition to date, is currently on view at the Kemper Museum of Contemporary Art in Kansas City through May 2020. Wheat will have a solo exhibition with Shulamit Nazarian, Los Angeles in 2021.
Bel Fullana was born in 1985 in Mallorca (Spain) and studied Fine Arts in Sant Jordi University of Barcelona. She has had solo shows at Galería Herrero de Tejada, Madrid, Spain; L21 Gallery, Mallorca, Spain; Kubik Gallery, Porto, Portugal and in the Vitrine of Kunsthalle Sao Paulo, Bazil. Her work has been shown In Art Fairs like Arco Madrid, Spain; Chaco, Santiago de Chile; JustMad, Madrid, Spain; Drawing Room, Madrid, Spain; Art Copenhagen, Denmark; Estampa, Madrid, Spain. She received The Prize Ciutat de Palma of Visual Arts in 2017 and had an artistic residence at Panal 361, Buenos Aires, Argentina in 2014.
The Bass is Miami Beach's contemporary art museum. Focusing on exhibitions of international contemporary art, The Bass presents mid-career and established artists reflecting the spirit and international character of Miami Beach. The Bass seeks to expand the interpretation of contemporary art by incorporating disciplines of contemporary culture, such as design, fashion and architecture, into the exhibition program.  The exhibition program encompasses a wide range of media and artistic points of view that bring new thought to the diverse cultural context of Miami Beach.
Artadia is a national non-profit organization that identifies innovative visual artists and supports them with unrestricted financial awards and connections to a network of opportunities. Artadia is unique in that it allows any artist to apply, engages nationally recognized artists and curators to review work, and culminates in direct grants. Since 1999, Artadia has awarded over $5 million in unrestricted funds to over 340 artists in 6 cities.
Founded in 1909 in response to the ongoing violence against Black people around the country, the NAACP (National Association for the Advancement of Colored People) is the largest and most pre-eminent civil rights organization in the nation. We have over 2,200 units and branches across the nation, along with well over 2M activists. Our mission is to secure the political, educational, social, and economic equality of rights in order to eliminate race-based discrimination and ensure the health and well-being of all persons.
Citizens of Humanity is a Los Angeles-based premium denim label that has captivated the world with a devoted commitment to producing the highest quality denim, without compromise. With an elevated style that exudes a sophisticated ease, this sets the foundation for the brand that continuously executes each design with intention in every detail. Since 2003, we have designed and manufactured in our company-owned facilities as well as with select production partners to ensure that our product is unparalleled in look, fit, and feel. Our LA-based designers travel the world sourcing superior fabrications and seeking inspiration in every corner of the finest vintage markets. The team continues to build powerful assortments that speaks to the core of our brand values; impeccable fits crafted in authentic fabrications and washes, providing men and women with the utmost comfort and confidence.
Categories
Tags