Elmgreen & Dragset © Elmar Vestner
PACE gallery have announced their representation of the Scandinavian artist collective Elmgreen & Dragset.
Since 1995, Elmgreen & Dragset—comprising Michael Elmgreen (b. 1961, Copenhagen, Denmark) and Ingar Dragset (b. 1969, Trondheim, Norway)—have had an artistic practice that combines sculpture, large scale installations, performance and numerous public outdoor artworks. Their work frequently challenges the way art is presented and experienced, as in their critically acclaimed project, The Collectors at the 53rd Venice Biennial in 2009, in which they transformed the adjoining Danish and Nordic pavilions into private homes, or in their exhibition, This Is How We Bite Our Tongue at Whitechapel Gallery in London in 2018, for which they turned the exhibition venue into a full-scale abandoned civic swimming pool. Through such acts of subversion, their works disrupt the normal conditions for perception, like "a grain of sand in an oyster," as Elmgreen explains, "which creates a certain irritation that later can become a beautiful pearl."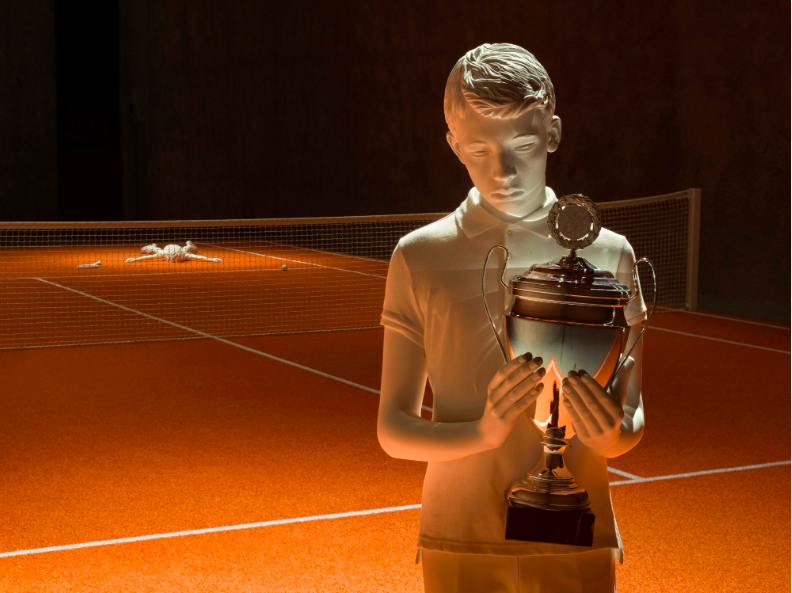 Elmgreen & Dragset's first presentation with Pace will be in September as part of an outdoor sculpture program associated with the gallery's temporary space in East Hampton. They will be showing Short Story (2020), an installation situated on a tennis court incorporating two figurative bronze sculptures of young boys following the conclusion of a tennis match—one victorious, the other defeated. The expressions of the figures invite viewers to question the fairness of the game.
Later this summer Elmgreen & Dragset will be in conversation with longtime friend, collaborator, and fellow Pace artist Fred Wilson as part of PACE gallery's digital conversation series hosted on Instagram.
pacegallery.com/artists/elmgreen-dragset
Categories
Tags