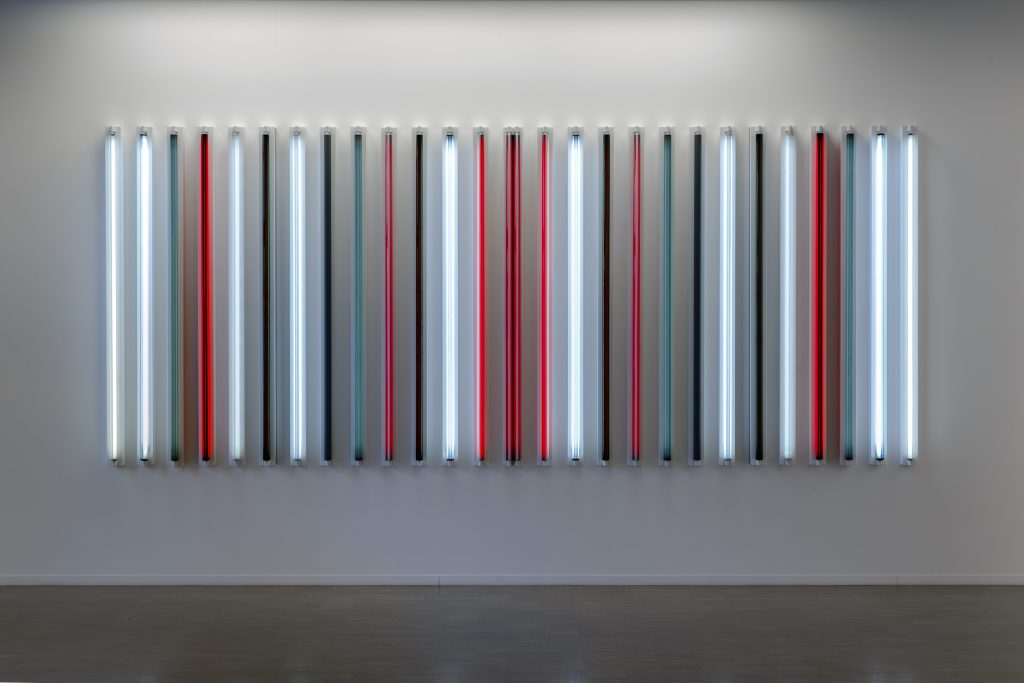 ROBERT IRWIN The Jazz-Man (#27 x 6ft.), 2014 Fluorescent light, theatrical gels, electrical tape248.9 x 440 x 10.5 cm | 98 x 173 x 4 in
Opening Thursday 18th June, and curated by Lawrence Van Hagen, WHAT'S UP TWENTY TWENTY is an exhibition and art sale for our time, one that challenges the physical exhibition space as we know it and releases viewers from the confines of one gallery in one location. Visitors and buyers alike will be invited to journey through unique geographical regions, viewing important pieces of sought after works from the 1960s right through to the present day. This sale embraces the digitalization of the art world and celebrates the narratives that define modern humanity as the vibrant and fervent force that it is today.
Van Hagen opened his first What's Up exhibition in London in 2016. The concept for the show was built on the question of what's up today – what are the artists to look out for in both public and private collections-, and championed both rising talents and significant contemporary and post war artists. This concept still holds true today, and with nine successful exhibitions in five different locations to date (London, New York, Hong Kong and Seoul), What's Up continues to rise.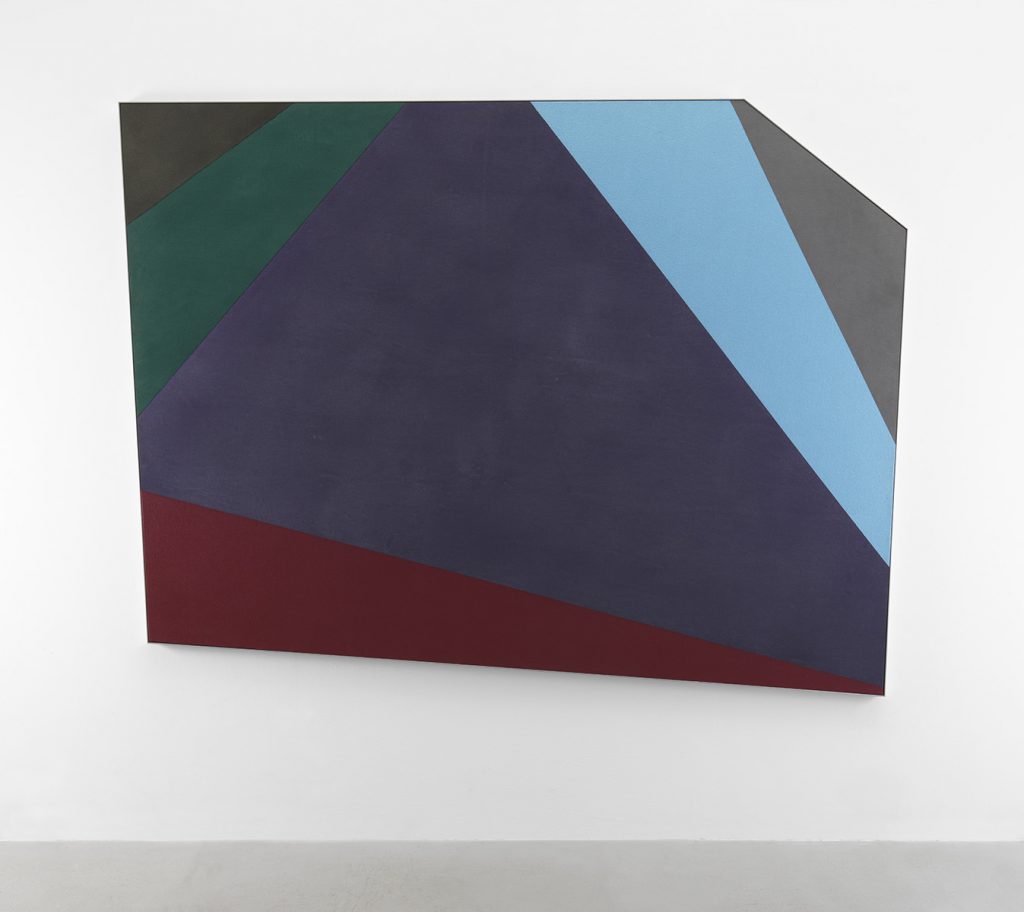 KENNETH NOLAND Flare, 1976 Acrylic on canvas 167,6 x 215,9 cm | 66 x 85 in
Spread across five digital galleries, this latest iteration brings together a spectacular selection of over 30 critically acclaimed artists and eight prominent global designers, each hailing from different backgrounds, cultural heritages and artistic influences. Viewers of the virtual version of the What's Up series will be transported into never seen before fictional spaces to experience these chosen artists in a new light.
Taking inspiration from celebrated architectural movements and intellects such as Luis Barragán, David Chipperfield or Tadao Ando, the galleries were created exclusively for the exhibition, and hope to enhance the cultural richness of the show.
Transporting visitors to places one can only dream of at the moment, each exhibition space is housed within striking, fictional corners of the world. First stop, stepping outside, in an open-air gallery of concrete walls suggestive of Japanese master Tadao Ando's architecture, a Subject sculpture by Sir. Antony Gormley and a geometric painting by José Dávila meets an interactive mirror sculpture by Jeppe Hein, reflecting the surrounding Mediterranean environment and furniture design by David Lopez Quincoces.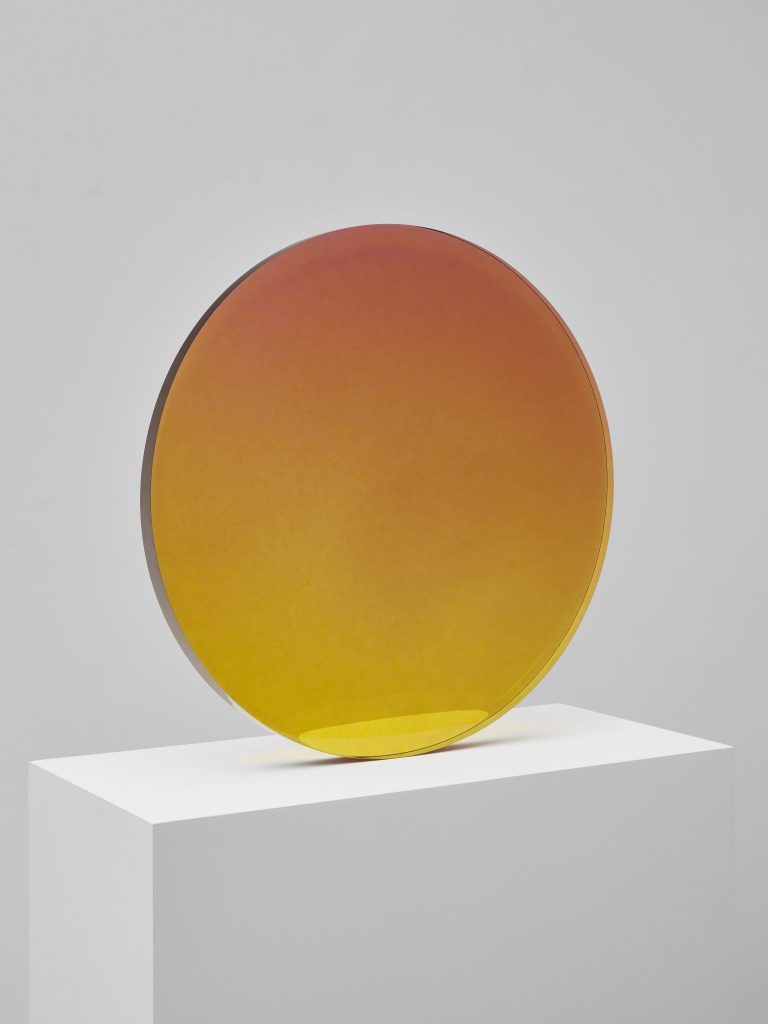 DEWAIN VALENTINE Circle Sepia to Violet, 1969 – 1975 Cast polyester resin44,1 x 44,1 x 3,2 cm | 17 3/8 x 17 3/8 x 1 1/4 In
In the sophisticated backdrop of a Parisian apartment, influenced by the seascapes and sunset hues of Southern California, a translucent sculpture by DeWain Valentine meets the black opacity of an iconic Outrenoir by Pierre Soulages and a small-scale gem by the eminent post-war German artist Gerhard Richter. Blurring the dichotomies between abstraction and figuration, a painting by emerging star Aks Misyuta, reminiscent of Picasso's Large Bathers, engages in an easy symbiosis with a painting by Harold Ancart, structured like a musical partition. The carefully curated collection in this room is completed with a large-scale abstract photograph by Berlin-based artist Thomas Ruff and a rare 1980s historical painting by Georg Baselitz.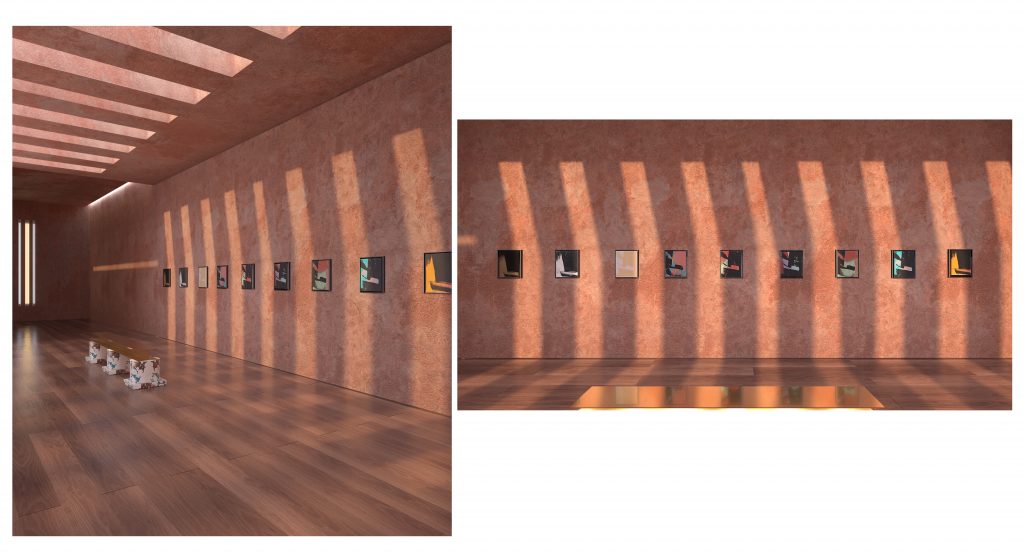 Installation shot Mexican Casa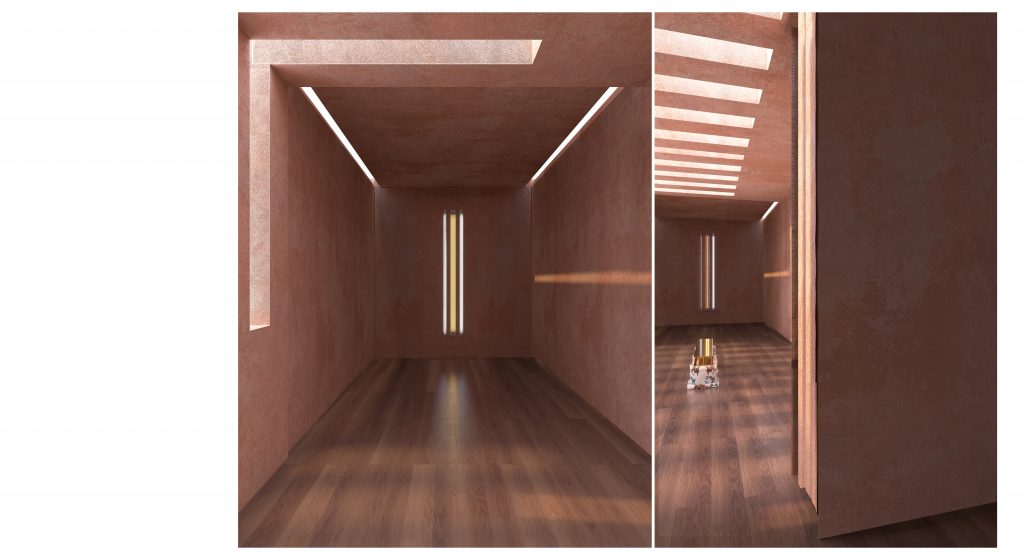 Installation shot Mexican Casa
In a Mexica Casa, inspired by the architecture of Luis Barragán's, a compilation of nine Shadow Paintings by known-to-all pop-art artist Andy Warhol –one of the artist's most sought after series- meets the relational aesthetics of a Rirkrit Tiravanija Mirror, and a cult-of-celebrity Flat by Alex Israel, placed alongside a painting by rising star Richard Kennedy, expressing his experience as a black queer man.

Installation shot Venetian Palazzo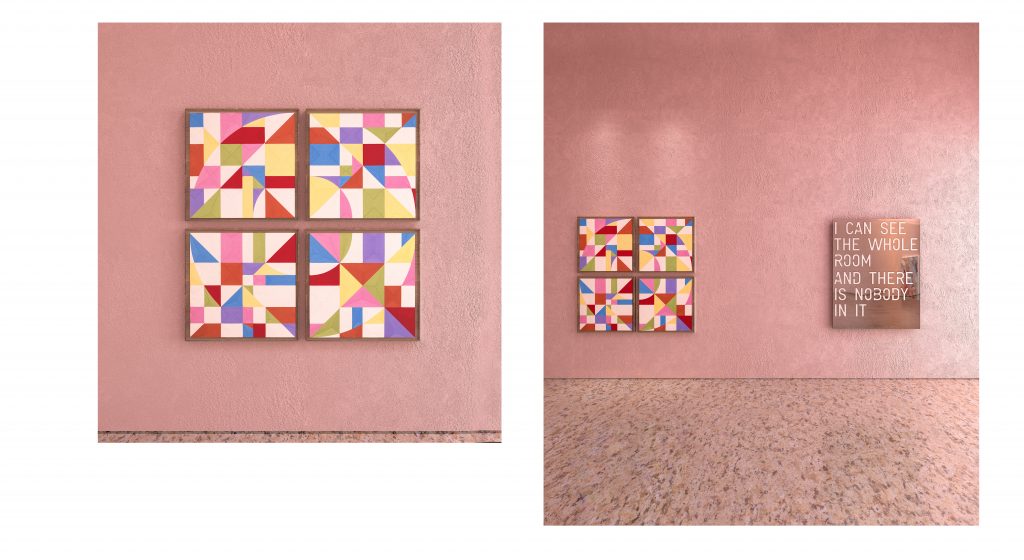 Installation shot Venetian Palazzo
On view in a space evoking a Venetian Palazzo, a monumental Target painting by Ugo Rondinone is placed in dialogue with Flare, a painting by Colour Field founding father Kenneth Noland and designer Gabriel Chipperfield. Next door, the hypnotic and spiritual temper of a large-scale painting by the young Bolivian-American artist Donna Huanca ventures into conversation with the surrealist ambiance of Swiss-born artist Nicolas Party's painting Birds. Lastly, one can wonder in awe at a monumental neon sculpture by LA Light and Space master Robert Irwin.

DONNA HUANCA DROSERA CORYMBOSA, 2019 Oil , sand on digital print on canvas
180 x 275 cm | 71 x 108 in
Lastly, in the middle of the Utah desert, a vast, contemporary looking museum resides, where a Brent Wadden hand-woven tapestry on canvas sits alongside the sophisticated design of a Pierre Paulin Tapis Siège, an Alabaster painting by Sterling Ruby and a stone and a marble sculpture by Alicja Kwade.
In these times of restricted movement and social unrest, What's Up Twenty Twenty hopes to provide an invigorating online experience that holds no confines of social or artistic movement, space or time and aims to celebrate cultural diversity. It is a digital reimaging of the traditional exhibition as we know it, and an innovative celebration of a global connectedness amongst the art world.
whatsuptwentytwenty.com from June 18th at 1pm until the end of July 2020.
Lawrence Van Hagen is the founder of LVH Art, an independent art advisory service, dealing in post-war, modern and contemporary art, as well as the curator of the renowned 'What's Up' exhibitions that take place in London, New York, Hong Kong and Seoul. LVH Art is also engaged in further curatorial projects. Operating in partnership with Smart Fine Arts Ltd. (1991), LVH Art is committed to advising clients on particular purchases as well as assessing each client's individual needs in order to build their collection. We tailor our services in order to suit the most unique requirements with upmost discretion and confidentiality. We seek out the most innovative artworks through a careful selection and extensive research from galleries, institutions, private art foundations, fairs, biennials, artists' studios and private collections around the world.
The What's Up exhibitions present dynamic surveys of carefully selected fine art pieces, bringing together a spectacular array of emerging, mid-career and blue chip artists. Curated by Lawrence Van Hagen, each What's Up exhibition is conceived within unusual settings in London, Paris, New York, Hong Kong and Seoul. The first What's Up exhibition took place in London in 2016 and had an 85% sell through rate featuring the work of 50 of some of the most significant contemporary and post war artists along with rising talents. The concept was based on the question of what's up on walls today, who are the artists to look out for right now. This idea holds true today, with 9 exhibitions in 5 different countries What's Up continues to grow. Lawrence Van Hagen's childhood was firmly rooted in the art world, by the time he left school, Lawrence had already hosted his first auction at Phillips in collaboration with Simon de Pury, raising over £1m to fund public school bursaries for underprivileged young people. Following an undergraduate degree in Computer Science at UCL and a Masters in Innovation at Imperial College, Lawrence decided to dedicate his life to art.
Exhibited Artists:
Etel Adnan, Gabriele Adomaityte, Harold Ancart, Georg Baselitz, Enrico Castellani, Claudia Comte, Jose Davila, Antony Gormley, Jeppe Hein, Secundino Hernandez, Donna Huanca, Robert Irwin,
Alex Israel,Wyatt Kahn,Richard Kennedy,Gabriel Kuri,Alicja Kwade,Aks Misyuta,François Morellet,Kenneth Noland, Katherina Olschbaur, Nicolas Party, Gerhard Richter, Ugo Rondinone, Sterling Ruby, Thomas Ruff, Francesco João Scavarda, Pierre Soulages, Eduardo Terrazas, Rirkrit Tiravanija, DeWain Valentine, Brent Wadden, Ian Wallace, Andy Warhol.
Designers
Gabriel Chipperfield, Will Cooper Deirdre Dyson, David Lopez Quincoces, Georges Mohasseb, Pierre Paulin
Pedro Reyes, Roberto Sironi.
whatsuptwentytwenty.com from June 18th at 1pm – 31st July 2020.
Categories
Tags