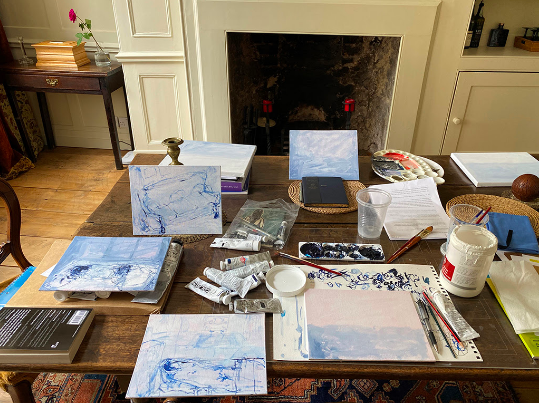 White Cube is to present an online exhibition of new work by Tracey Emin, created during the UK's recent months in lockdown.
Made in her London home, these intimate paintings capture this time of solitude and reflection, whilst offering a glimpse into the sanctuary that is her domestic environment.
On the brink of moving out of her residence of twenty years, Emin considers these works a 'thumbprint of my time being here'. Bound up with feelings of anticipation and adventure, the paintings mark the transition into a resolutely optimistic future.
My Beautiful new world. My secret life with a direct line to heaven. Sending messages via conversation with the birds. People keep asking how I am. Nine weeks alone is very easy.. ten years alone is harder. I thrive on solitude. I am an artist, I see the world in a very singular way. The more isolation, the more clarity I have. It may be warped and unreal, but it's mine. I don't want the world to suffer but I want to stay in my bubble of happiness and well being. I want to take this feeling with me, a clear slow positive energy. I WANT TO LIVE.
– Tracey Emin, 2020
Tracey Emin I Thrive on Solitude 15th June – 2nd August 2020 whitecube.viewingrooms.com/viewing-room/
Categories
Tags