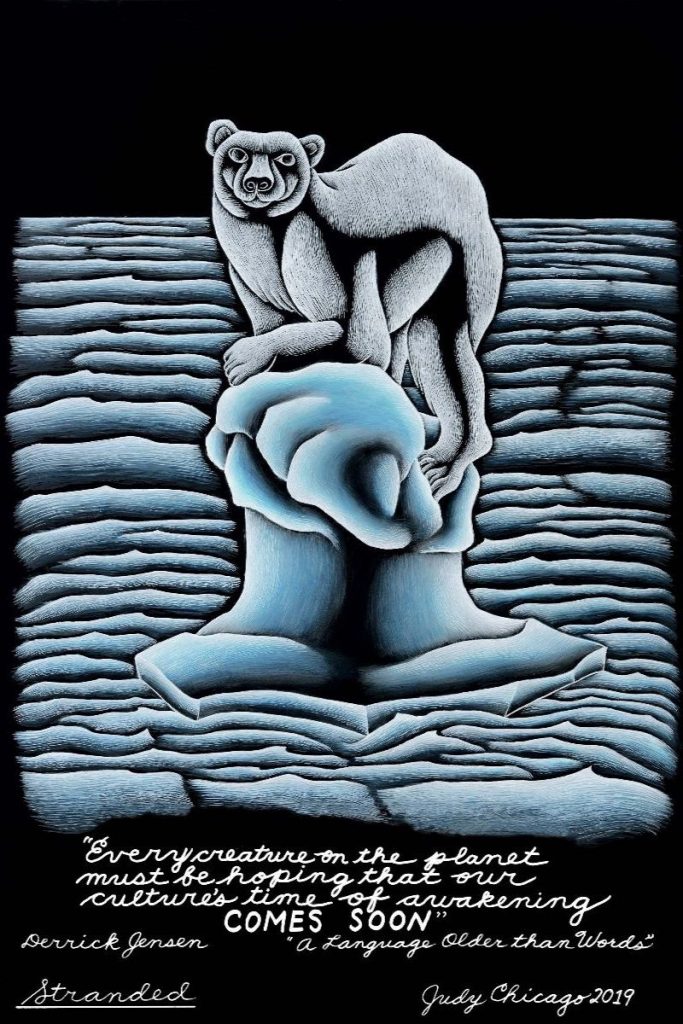 Judy Chicago, Stranded from "The End: A Meditation on Death and Extinction" (2016). Photo by ©Donald Woodman/ARS, New York, courtesy of the artist; Salon 94, New York; and Jessica Silverman Gallery, San Francisco; ©Judy Chicago/Artists Rights Society (ARS).
Artists Judy Chicago and Swoon have teamed up with Jane Fonda and her environmental initiative Fire Drill Fridays, a partnership with Greenpeace USA; the Women, Arts and Social Change initiative of National Museum of Women in the Arts (NMWA) in Washington, D.C.; and Serpentine Galleries, London. Together they launch #CreateArtforEarth, a global creative campaign to encourage art that addresses the climate crisis and inspires action. #CreateArtforEarth is conceived as part of Serpentine's Back to Earth, a new multi-year project that invites artists to propose campaigns that respond to the environmental crisis, with the support of partner organisations and networks.
Judy Chicago:
"Over the last few decades, we have witnessed the melting of the Arctic ice; the warming of the oceans; massive wildfires; dramatic changes in weather patterns; the extinction of hundreds of living creatures; and now, the coronavirus which is upending human behavior all over the planet, causing the disruption of economic systems at a level never seen before and death for many thousands of people. The most pressing issue for us today are the conditions out of which these dire occurrences have happened, which artists can help illuminate if they start addressing what matters in understandable modes."
#CreateArtForEarth campaign kicks off with an open call for anyone to submit art or messages addressing climate justice and post them to social media using the hashtag #CreateArtForEarth. Submissions can be in any form: paintings, photographs, sculptures, images, texts, poems, symbols, or any other visual representation that carries an environmental message.
Swoon:
"There are so many ways that art will be part of how we survive this climate crisis and the current pandemic, from helping us work through paralyzing fears so that we can act constructively, to keeping our hearts and minds inspired by what matters, and even using the creative process to tackle tangible solutions. I'm such a believer that the first step to action is an act of imagination."
During this period of uncertainty and social distancing, while streets are empty and in-person demonstrations are suspended, #CreateArtForEarth is a call to make protest visible and create art that reflects our mutual commitment to stop the climate crisis and protect our planet.
Jane Fonda:
"We can get through this health crisis and return to normal or we can realize that 'normal' was the problem and choose a better path. Normal meant melting ice sheets, extinct species, millions of climate refugees. That is why we are inviting you to participate in this global art project in which artists offer an alternative vision to normal, one that honors the planet and all living creatures, one that promotes equity and justice for all; one that offers hope in a world that is on the wrong track. During historic transitions, art has always been critical. It reminds us that the world as it is, is not all there is, that there are other possibilities to strive for. Art can jolt us open and penetrate our defenses so that we can see and hear what we have been afraid of seeing and hearing. We believe that #CreateArtForEarth can play a role in waking people up to the urgency and to the solutions."
#CreateArtForEarth partners will be selecting submitted artwork to be displayed and distributed across their platforms including:
Live Stream
Wednesday 22 April, 1pm EST
Artist Swoon will host a Zoom class on getting started with art at 1pm EST on Wednesday 22 April, Earth Day. To find out more follow socials:
Instagram: @swoonhq
Facebook: SwoonStudio
Twitter: @swoon 1pm EST, class hosted by @ifyouwereherenow
Hans Ulrich Obrist, Artistic Director, and Bettina Korek, Chief Executive, Serpentine Galleries: 
"At this time of public health and ecological crisis, we ask: What is our role as an exhibition space, as a facility for artists and ideas? We look to art and artists for guidance on how to shape the future. We are honoured to collaborate with three artists so esteemed in each of their fields to instigate an open call for more people around the world to make a statement for the earth. We look forward to seeing everything this initiative yields, to presenting #CreateArtForEarth online and—when the galleries re-open—to exhibiting one work here at the Serpentine."
SERPENTINE GALLERIES
#CreateArtForEarth is part of Back to Earth, a long-term project by Serpentine Galleries inviting more than 65 leading artists, musicians, architects, poets, filmmakers, scientists, thinkers and designers to propose artworks, environmental campaigns and initiatives in response to the climate emergency. Back to Earth will unfold over the coming months, with new campaigns announced regularly, and will run throughout the Serpentine's programmes onsite, offsite and online, in 2020 and beyond.
Championing the possibilities of new ideas in contemporary art, the Serpentine has presented pioneering exhibitions for half a century from a wide range of emerging practitioners to the most internationally recognised artists of our time. The Serpentine's 50th anniversary year in 2020 looks to the future with a programme that responds to the urgent issues of today. Key themes include ecology and the climate emergency, equality and education and the impact of digital and new technologies. Across two sites in London's Kensington Gardens, the Serpentine Galleries present a year-round, free programme of exhibitions, architecture, education, live events and technological innovation, in the park and beyond.
GREENPEACE
Greenpeace is a global, independent campaigning organization that uses peaceful protest and creative communication to expose global environmental problems and promote solutions that are essential to a green and peaceful future. To get involved or learn more information, visit 
https://www.greenpeace.org/usa/
 or social media channels 
Facebook
, 
Twitter
 or 
Instagram
.
FIRE DRILL FRIDAYS
In October 2019, actor and activist Jane Fonda launched Fire Drill Fridays as a weekly rally in Washington D.C. to demand action from leaders to address the climate crisis. The movement grew quickly reaching millions of people through weekly rallies and marches through the capitol's streets, star-studded arrests at the Hart Senate Building, and live-streamed teach-ins from the Greenpeace USA headquarters. In January  of 2020, Fire Drill Fridays expanded nationally with Fonda hosting actions in the Los Angeles area. Amidst the COVID-19 pandemic, the movement moved online. Each month, Fonda is hosting monthly virtual rallies as well as supplemental "Fireside Fire Drills" programming. Fire Drill Fridays aims to bring together activists, actors, youth, Indigenous leaders, climate experts, and concerned citizens to take action to pressure politicians to adopt a Green New Deal, end new fossil fuels, and enact a just transition to a renewable economy that protects workers and communities. Fire Drill Fridays is a collaboration between Jane Fonda and Greenpeace USA. To join the movement or learn more, text JANE to 877-877 or visit firedrillfridays.com/.
NATIONAL MUSEUM OF WOMEN IN THE ARTS
Women, Arts, and Social Change is a public program initiative highlighting the power of women and the arts as catalysts for change that launched in October 2015. FRESH TALK, the signature program of the initiative, expands the dialogue on what it means to be champions of women through the arts. Programs feature curated conversations with leading innovators and thought leaders from a range of disciplines discussing cause-driven topics that are relevant to diverse audiences today–including gender, equity, the environment, health, identity, education, social and economic opportunity, and more.
The National Museum of Women in the Arts (NMWA) is the only major museum in the world solely dedicated to championing women through the arts. With its collections, exhibitions, programs and online content, the museum inspires dynamic exchanges about art and ideas. NMWA advocates for better representation of women artists and serves as a vital center for thought leadership, community engagement and social change. NMWA addresses the gender imbalance in the presentation of art by bringing to light important women artists of the past while promoting great women artists working today. During the current temporary closure, the museum welcomes members of the public to explore its social media accounts and online resources. NMWA is located at 1250 New York Avenue, NW, Washington D.C. For information, visit nmwa.org, Broad Strokes blog, Facebook, Twitter or Instagram.
Explore #CreateArtforEarth and more #BacktoEarth projects on Bloomberg Connects.
Categories
Tags