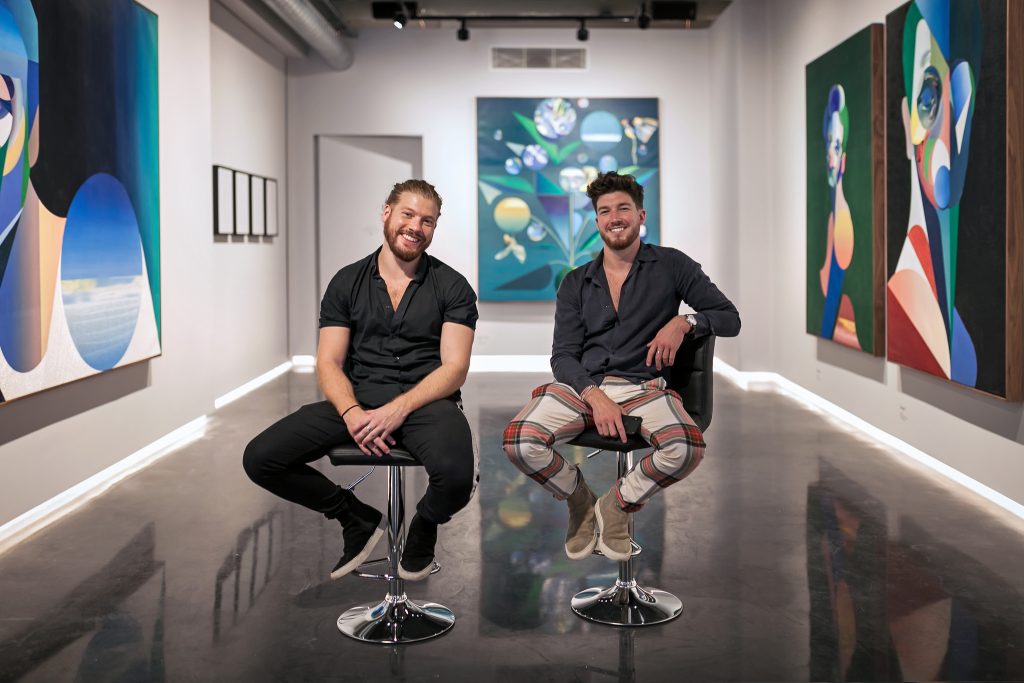 Joe Kennedy and Jonny Burt the millennial entrepreneurial duo have launched online initiatives to keep you connected with art while you're in isolation. I virtually connect with them to learn more about what they're doing at the moment and how they have had to adapt. 
Can you tell us more about the campaigns #LivingWithArt and #HereforU and how they came about?
#LivingWithArt is a fun way to engage our audience digitally. We are asking people to share photos of the art they have at home, a particular piece that inspires, challenges, moves or soothes them in these strange times. The idea is that the work can be anything: from a children's doodle or painting somebody made at school to a Grayson Perry vase, it's a fantastic way to spread the personal aspects of art ownership and your current experience.
Here for U is an initiative to support and provide much-needed exposure for younger emerging artists who may not have representation or infrastructure to help them through these difficult times. We are asking our audience to tag young artists that they know, so that we can repost some of our favourites and give them a welcome boost.
 Can anyone participate in these campaigns?
Yes absolutely, our whole gallery is founded on an idea of being open and transparent, and using social media as a means for achieving this. We love being able to hear from the people who follow the gallery.
Looking through the #LivingWithArt hashtag some of the houses and paintings are very impressive. What do you say to those who maybe have no or little art in their homes?
Like art generally, this initiative is for everyone. If you don't have a slick modernist home full of expensive paintings, it doesn't matter one dot. This is about personal inspiration and the important and often personal role that art plays in our lives, our identities and our wellbeing. Take a photo of whatever art is brightening up your room/day and tag us. We love to see the full range of artwork in all it's forms.
How have you chosen the artists to share on your instagram platform for the #HereforU campaign? Have any artists stood out for you?
It's really just whoever catches our eye. Although we have heard of some of these artists before, it's been a great way to expand our knowledge base and learn about some interesting young creatives who we may not have been aware of otherwise.
I read that you will be sharing art lectures in the upcoming month, can you tell us more about that?
The key areas of focus for us are awareness and education. We can't share too many details yet, but we are exploring some exciting ideas that will help to bring art into people's lives in immersive and engaging ways – not just through lectures, but also through interactive activities that allow our audience to be creative.
Has working remotely and digitally taught you anything about how you can push the boundaries in which a gallery operates?
Definitely. We're fortunate in some ways to have a digital DNA, online has always been a pillar for us so we're not as badly affected as some. However, it takes a smart and skilled team to generate ideas and keep people engaged when they can't actually get out and see the work. We've taken the first steps towards achieving that but it's a learning curve and something we're focused on working through in the coming months.
Categories
Tags