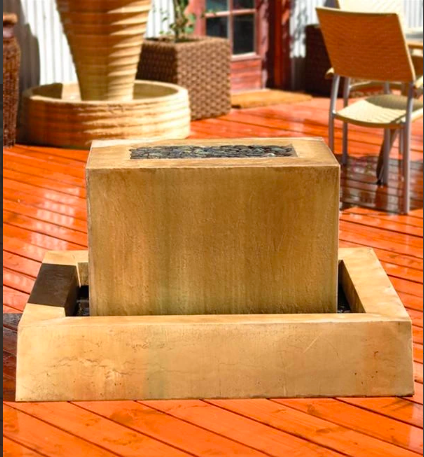 Linear Outdoor Fountain
Whether you have just purchased your first home or want to give your current property an overhaul, there are many ways to gain inspiration in terms of décor and interior design. Instagram and Pinterest are probably the most popular online sources and will provide you with loads of ideas in terms of color palettes, furnishings, and accessories. Interior design magazines are also a great way to keep abreast of current trends. 
Maybe you already have a good idea about the look you want to achieve but want to go against the grain slightly and create an on-trend room with a twist. There are many things you can do to accomplish it – you just need to know where to start. Here are 4 ways to create a wow factor in your home.
The heart of the home
If any room in your home can achieve a jaw-dropping reaction, it's the kitchen. If you carefully plan every element, it is sure to create an impact and may well become your favorite room in the house.
In terms of cabinetry, there's a vast range available these days to suit all tastes and budgets. The only problem you might have is deciding which to go for! 
Under pelmet lighting and LED lighting integrated into plinths will add to the feeling of quality and enhance the overall design. It's a good idea to spend a bit more money on countertops and taps. Even if you choose a mid-range kitchen, spending a bit more on those can make a kitchen look far more expensive than it is. 
Many kitchen design stores will create a 3D visual of your choices before you order so you can get a good idea of what the finished result will look like. If you choose wisely and plan it properly, your kitchen is sure to wow.
Art and sculptures
Art is a fabulous way to make a visual impact in your home. A huge colorful painting hung in a neutral hallway can create an incredible effect. 
If you want to incorporate something exceptionally unique, check out the range of water fountains by Soothing Company. They have many floor fountains for sale as well as a popular range which are wall mountable. You also have the option to choose from different finishes and can even add lights if you want to make things look even more impressive. Indoor fountains are very soothing and will not only add a wow factor to your home but will also create a feeling of peace and calm.
Statement lighting
Lighting can be extremely dramatic and completely change the look of a room so it's a definite contender when it comes to creating a wow factor. Choose your lighting carefully with fittings that are functional and simple to operate.  
Take into account how much natural lighting you have in your room, and choose something appropriate for the room size. For example, if you have a very large hallway or dining room, you can opt for something large and dramatic, such a multi-drop chandelier style fitting. If your room of choice is fairly small, you want to choose something that makes a visual impact with an eye-catching design but doesn't look out of place. 
Statement lighting should make your home feel warmer and bigger and is a great way to refresh your interiors.
Bring the outside in
If it's feasible, a great way to create a wow factor is to bring the outside in. Whilst most homes have french or patio doors leading from a kitchen or dining room to the garden, many people are knocking down their outside walls and replacing with wall to wall concertina doors. The doors effectively open the full width of the wall, so even when you are inside it feels like you are in the garden. It is costly, but the final result is breath-taking, particularly if you have a nice garden! 
If it's something you are considering, you should speak to your local authority and establish what consents you will require. Depending on where you live you may require a building warrant, planning permission or equivalent.
There is little point in going down this route if your garden isn't particularly appealing, so spend some time upgrading it where necessary. If you get it right, the flow from your home to your garden should be seamless. Once it's finished you will, without question, have created a wow factor that is hard to beat.  
Categories
Tags